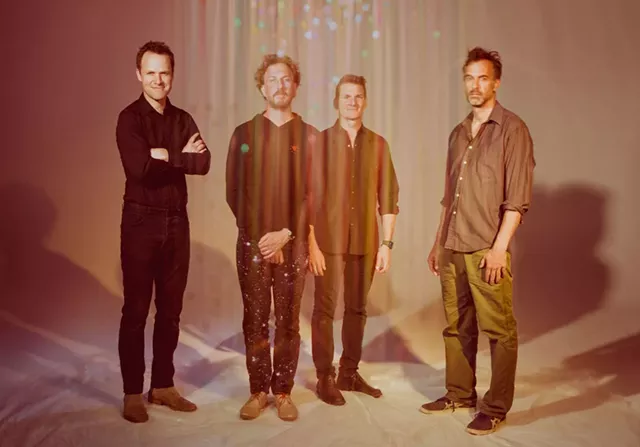 Courtesy Of Alysse Gafkjen
From left: Luke Reynolds, Ryan Miller, Adam Gardner and Brian Rosenworcel
"If you still want to record a song two years after you wrote it, it's probably gonna hold up on a record," says Ryan Miller, front person and primary songwriter of the rock band Guster. He's referring to the lengthy, piecemeal process of putting together Look Alive, his band's eighth and latest studio album.
Originally based in Boston, Guster's members are now scattered among Vermont, Maine, New York and Tennessee. But Look Alive presents a group that seems to be in the midst of a new epoch in terms of its cohesion.
In essence, Look Alive is perhaps Guster's most Guster-y album to date, in that a dauntless sense of ownership permeates its nine tracks. (The vinyl version includes a bonus track.) After 25 years, Miller says that he's done being afraid to try new things and to delve deeply into contemporary pop architecture.
He explains that there are two somewhat distinct eras of Guster. The first spans roughly the group's 1995 debut LP, Parachute, to its fourth record, Keep It Together, which came out in 2003. Acoustic guitars and hand percussion defined that period. Throughout the later years, during which Guster released four more albums, the group moved ever closer to the grandiose pop maximalism heard on Look Alive.
"We wanted a very hi-fi-sounding record in the context of what we do," Miller explains. "We're not afraid of that stuff."
Longtime fans expecting to hear the band's earlier, '90s college-rock sound won't find it here. Instead, Guster present an effervescent, electro-pop-tinged collection of songs that easily commingle with those of European outfits such as Miike Snow and Beaty Heart.
"This is the kind of stuff we never did before," Miller says.
He notes that the record's primary producer, Leo Abrahams, is largely responsible for its unabashed pop sensibilities and experimentalism.
"I don't think we've ever had a producer contribute as much as we did with Look Alive," says Miller. "It felt like he was in our band."
Look Alive hit shelves and streaming platforms in January. But due to an extremely busy touring schedule, Miller was only recently able to meet with Seven Days and listen to the album track by track.
As the songs played, Miller offered some fun facts about the new tunes, insights into their origins, and notes on production as well as lyrical content — all while gesticulating emphatically to every oddball flourish, tweaked-out synth blitz and fierce power chord.
'Look Alive'
Miller frequently uses the phrase "look alive" with his kids as he herds them off to school. But the words have a greater meaning.
"Everything's fucked," Miller says of the state of the world — especially since Donald Trump was elected president. Much of Look Alive's material was written around the time of the 2016 election and in the months thereafter.
"In some ways, ['Look Alive'] is kind of the perfect distillation of where our band is at right now," Miller continues. By placing this song up front, Guster not only signal the stylistic shift heard through molecular production nuances but also how they're feeling at this point in history. Lyrics such as, "If we're strong for once / It could get contagious" reinforce an optimistic worldview.
'Don't Go'
Pivoting from politics to romance, "Don't Go" is a retro-leaning, disco-dancing banger. Limber strings, cascading riffs and buzzing bass synth outfit the song's themes of frustration, regret and acceptance.
Wholly comfortable name-dropping influences, Miller says the band took a chance on emulating Sweden's No. 1 pop export.
"We're trying to get our ABBA on a little bit," says Miller. "We felt very unafraid. Who cares? We love ABBA."
'Hard Times'
Unlike the other songs on Look Alive, which were written months or even years before the band set foot in the studio, "Hard Times" came together at the last minute.
"I wrote the lyrics in the studio," Miller explains.
The mid-tempo track features a vicious synth bass line and punishing beats. The harsher elements underscore Miller's delicate, heavily processed and harmonized vocals. His lyrical passages are drawn out and sustained and find symbiosis with the song's themes of perseverance in, as the title suggests, hard times.
'Hello Mister Sun'
Whimsical and full of pep, "Hello Mister Sun" is a psychedelic novelty that sounds like it came from a forgotten children's rock musical.
"We started [with] mellotron on this one," says Miller. "And [Abrahams] was like, 'Ugh, don't fucking bore me with another Beatles pastiche.'"
Fortunately, Guster avoid the trap through bright, fully appointed modern production laden with glockenspiel and other symphonic accoutrements.
"Hello, Mister Sun, you can make a rainbow," Miller says, reciting the hook. "I don't think that I would have been comfortable [singing] that 10 years ago. But now, I can just own it in a way I couldn't before. I'm so much less concerned with [being cool]."
'Overexcited'
The following track, "Overexcited," is a perfect example of Miller's current attitude regarding "cool."
"I'm singing in an English accent," he says, chuckling. "I need[ed] to play this character, this dopey English guy that has no friends. And it all kind of worked."
Warbling, off-kilter mallets usher in this eccentric excursion. An orchestral bridge and shouted group vocals pay homage to '80s hits like Dexy's Midnight Runners' "Come On Eileen" and Madness' "Our House."
"What a fucking weird song," says Miller.
'Summertime'
In its first seconds, "Summertime" plays like a huge, arena-ready anthem. But the staccato orchestra stabs and sticky handclaps quickly give way to a stifled, shuffling beat. Drum-line snares and harpsichord add regal flair to the track's instrumental pre-chorus.
Miller notes the real harpsichord used for this track. The band recorded it at the National Music Centre in Calgary, Alb., home to, as Miller puts it, a "bazillion" analog keyboards.
'Terrified'
Circling back to themes of fearlessness, "Terrified" treads similar lyrical ground to "Look Alive."
"Open up your heart / Everybody's got it hard / We're built and then fall apart / We're all terrified," Miller sings.
"I didn't love this [song] at first, [but] it's crushing live," he says.
Pulling back the curtain once again, Miller notes that "Terrified" is a nod to English rock band Blur. He claims that, in the early stages, every Guster album always has a demo called "Blur Song." You can hear impressions of the Britpop juggernaut's work in the track's super high-fidelity, full-spectrum production. However, lilting oohs, giddy handclaps and a warbling, Mexican fiesta breakdown distinguish it.
'Mind Kontrol'
Guster offered a sneak preview of this thunderous track in July 2018, when the band played alongside the Vermont Symphony Orchestra at the Shelburne Museum. Local composer Matt LaRocca wrote the live arrangements, as he did when the band performed with the Omaha Symphony Orchestra earlier this month.
"People lost their minds," says Miller of the performances.
This track also has the distinction of being produced by John Congleton, known for his studio work with everyone from Explosions in the Sky to Goldfrapp. A bit more sparse and monolithic than the album's other tracks, "Mind Kontrol" is notable for its dark, menacing tone, a stylistic space Guster rarely occupy.
'Not for Nothing'
Just as the band attempts to call on Blur's stylistic language approximately once per album, "Not for Nothing" keys into another of the band's perennial favorites: French electro-pop duo Air's iconic album, Moon Safari.
You can hear the washed-out, dream-lounge vernacular of that 1998 masterpiece in Guster's arpeggiated keyboards, ethereal atmospherics and hypnagogic pacing. It concludes the record with unambiguous finality: "We're born / We die / Our stars explode to afterlives."