A century ago, Robert Frost wrote many lines of verse near Route 100, a two-lane road that snakes through some of Vermont's richest back pockets. Today's poets might be too distracted by the plethora of places to recreate — not to mention pick up a pair of boots, tuck into a plate of handmade tacos or sample local brews.
The 35-mile stretch of Route 100, anchored by the ski resorts of Sugarbush on one end and Stowe and Smugglers' Notch (technically on Route 108) at the other, is particularly poetic in the fall. That's when the entire landscape seems to exhale a sweet, end-of-summer sigh before surrendering to winter. Postcard-worthy views are everywhere — good luck coming up with new descriptions of Vermont's famous foliage!
Tired of gawking from the car? Take a hike. Rent a mountain bike. Or just stop for snacks and selfies at a roadside attraction. Ben & Jerry's, anyone? At the end of the day, the abundance of cozy accommodations assures that you won't have miles to go before you sleep.
Where to play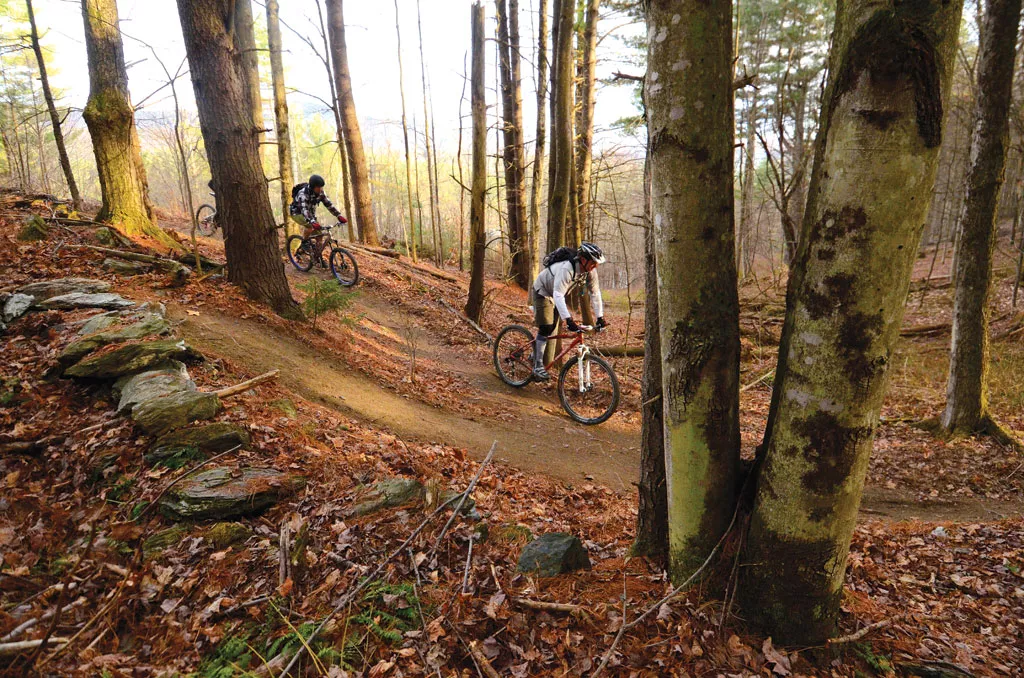 Named after a once-illegal trade route between the U.S. and Canada, Smugglers' Notch is now a state park with 1,000-foot cliffs and steep trails on Mt. Mansfield that connect Smugglers' Notch ski resort to Stowe Mountain Resort. In September and October, the drive on Route 108 through the narrow Green Mountain pass is a thrilling wriggle through foliage. Reconnect to Route 100 in Stowe village.
But first, consider hiking some of the terrain around the gentler Spruce Peak, or tackling the famous Chin atop the 4,393-foot Mansfield, Vermont's tallest peak. The Toll Road will take you to the summit by car, if you'd prefer to expend your energy mountain biking or trail running at the Trapp Family Lodge, where the hills are alive with autumn activities through November.
In the quintessential ski town of Stowe, the 5.3-mile paved Recreation Path traces the West Branch River past picnic spots, shops and restaurants, ending at the Stowe Community Church on Route 100, near the Vermont Ski and Snowboard Museum. Find bike rentals at A.J. Ski & Sports, or head south to discover standup paddleboarding, canoeing and kayaking on the 860-acre Waterbury Reservoir. The most famous fall event in the surrounding town of Waterbury is the Leaf Peepers Half-Marathon in October; register early for the 13.1-mile effort or the 5K race.
After climbing the hills of Duxbury, Route 100 descends into the neighboring ski towns of Waitsfield and Warren, the base camps for Mad River Glen and Sugarbush Resort. Kayakers continue to paddle the Mad River through the fall. The funky Big Picture Theater is not just a movie house but also a café — be sure to try the Very Small Donuts. There are easy walking trails along the Mad River Pathway and more mountainous hiking routes on the Long Trail (greenmountainclub.org), as well as road-biking loops galore.
The truly iron-lunged might consider running or biking straight up Mad River Glen in two fall races staged by the resort, or entering the O2X Summit Challenge up Mount Ellen at Sugarbush. Both ski areas offer much mellower chairlift rides to the top, along with harvest-celebrating events such as SIPtemberfest (September 27), where you can toast the end of Prohibition that opened the Notch.
Where to stay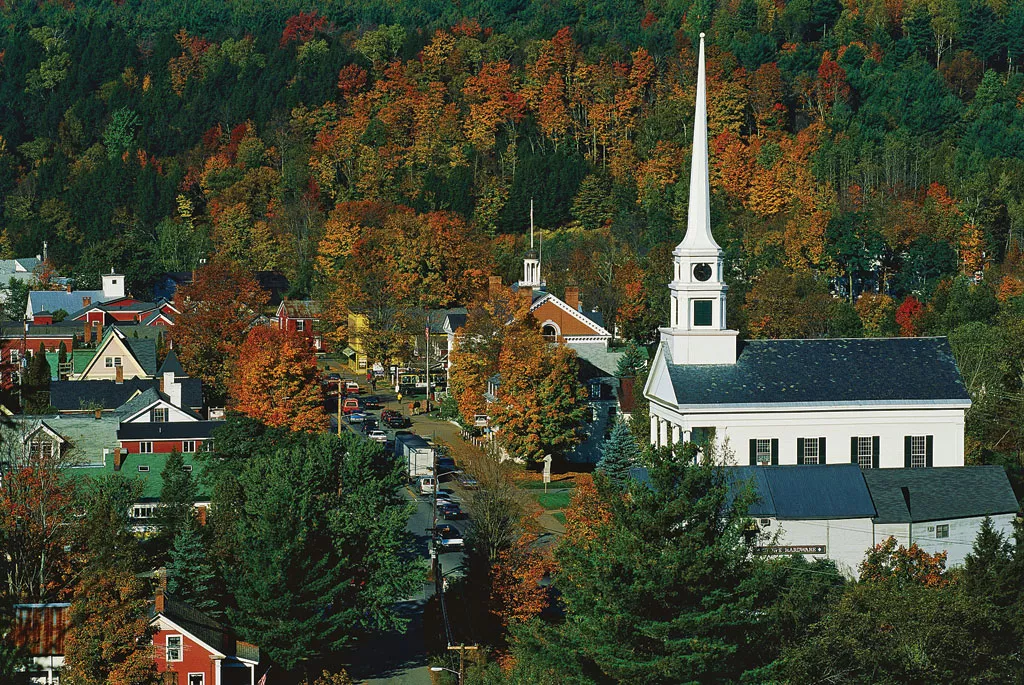 If the surrounding mountains along Route 100 are high, so are the thread counts at luxury hotels such as the 300-room, dog-friendly Stowe Mountain Lodge, whose Vermont Maple Syrup & Brown Sugar Scrub at the spa is 50 minutes of Green Mountain magic. The recently renovated Topnotch Resort & Spa and centrally located Stoweflake offer even more pampering at their spas, while the Tyrolean Trapp Family Lodge abounds not only in von Trapp family lore but also in amenities such as an on-site brewery and horse-drawn rides.
Right in the town of Stowe, the 1830s-era Green Mountain Inn sits on Route 100 within walking distance of galleries and gourmet eateries. In Waitsfield, the Hyde Away Inn is an après-ski favorite that has 10 rooms and lower rates during fall foliage, while the Sugar Lodge in Warren is a pumpkin's throw from all the area's autumnal activities.
Higher-end accommodations near Sugarbush include the slopeside Claybrook and the Pitcher Inn in Warren, where 11 architect-designed rooms and suites feature themes such as "School" and "Hayloft."
The area offers dozens of other hotels, motels, inns and bed-and-breakfasts — something for just about every budget. But if you're planning a trip during peak foliage season, book those rooms early.
Where to shop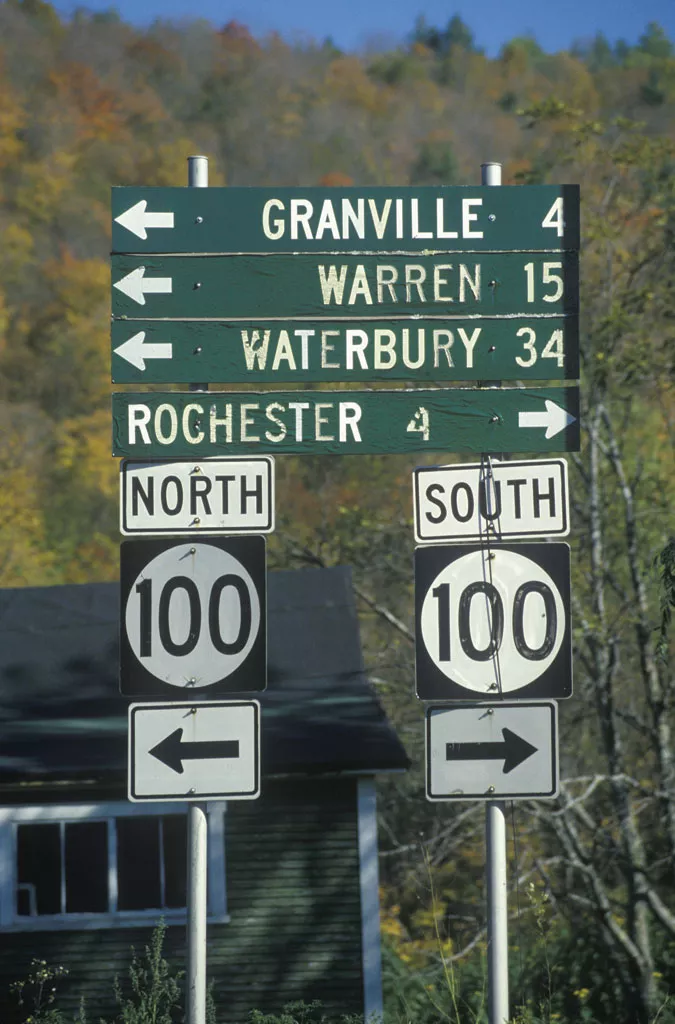 Many visitors from out of state envy the beautiful Green Mountains, but they might not know they can shop Green Envy. That's the name of a Stowe women's fashion boutique that focuses on a different kind of "green" — think sustainable fabrics. Find accompanying footwear at Well Heeled, which also sells clothes and accessories in an antique farmhouse, just off Route 100 on Route 108, aka the Mountain Road. The Stowe Mercantile, meanwhile, is the country store that Vermont visitors dream about, carrying such items as Elmore Mountain goat's-milk soap, Hatley moose pajamas, penny candy and fudge by the pound.
Speaking of sweets, look for the artisanal kind at Laughing Moon Chocolates, where handmade truffles and salted caramels sit alongside Halloween marshmallow pops. Longer-lasting souvenirs can be found on the walls of numerous venues in Stowe, including the West Branch Gallery & Sculpture Park, Green Mountain Fine Art Gallery and Helen Day Art Center. Find high-quality crafts and more at Artisans' Gallery in Waitsfield and the Parade Gallery in Warren. The latter is near the famous Warren Store, which carries just about everything, from lunch to locally made jewelry, from T-shirts to a great bottle of wine.
In Waterbury, the Cold Hollow Cider Mill allows visitors to view its pressing process and beekeeping business. For even more local flavor, swing through the Stowe Farmers Market, every Sunday through mid-October, just two miles off Route 100.
The Saturday Waitsfield Farmers Market is a bigger affair, with dozens of vendors selling everything from grass-fed beef and heirloom tomatoes to kombucha and quilts. There's even a massage station to soothe rubbernecking tourists taking in the treats along Route 100.
Food and Drink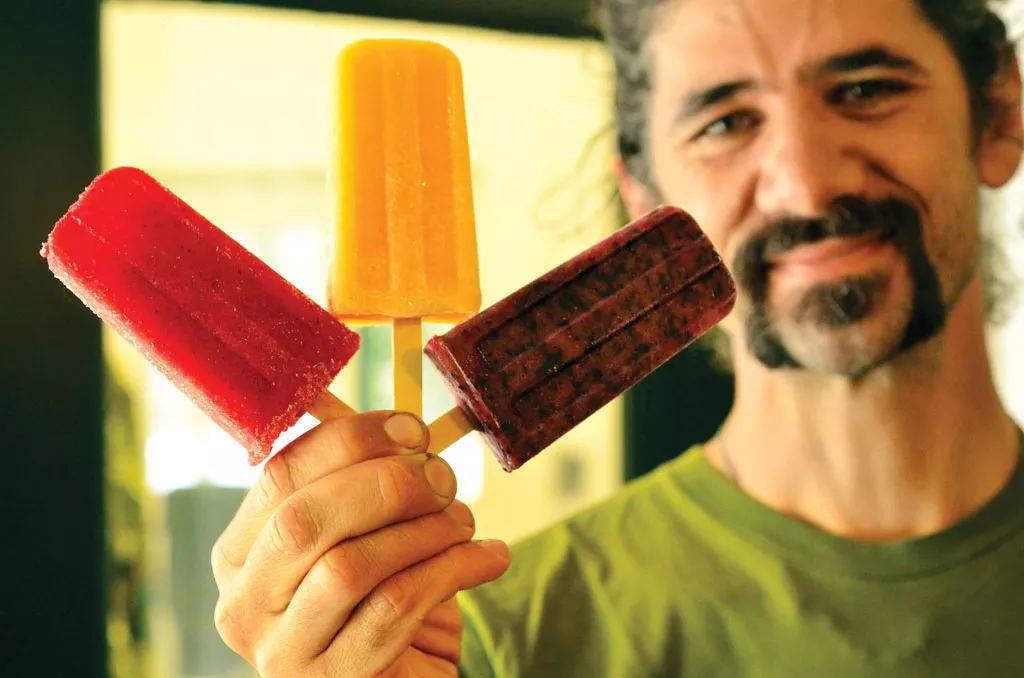 Along Route 100's central corridor, visitors hungry for a taste of the Green Mountains can sample some of the state's finest restaurants, farmers markets, breweries and distilleries. And, of course, one very special ice cream factory.
While Ben & Jerry's tends to land on any diligent tourist's itinerary, savvy snackers will pad their schedules with extra time to savor more flavors at the heart of Vermont's longest numbered highway. Here are seven local favorites, on or just off the esteemed route.
Smugglers' Notch Distillery, Jeffersonville
As Vermont's spirits industry continues to grow, this distillery handcrafts silky-smooth spirits, including its herby hopped gin and award-winning rums, vodkas and whiskeys.
276 Main Street, Jeffersonville, 802-309-3077. smugglersnotchdistillery.com
Crop Bistro & Brewery, Stowe
With a far-reaching, farm-to-table menu and beers brewed in-house, Crop Bistro offers favorites including a bourbon-braised pork shank (pairs well with a "Willi Vanilli" vanilla porter), a beefy burger and American classics such as a wedge salad and mac and cheese.
859 Mountain Road, Stowe, 802-253-4765. cropvt.com
Plate, Stowe
Since opening earlier this spring, Plate has become a neighborhood hot spot. Locals and tourists alike can be found tucking themselves into tidy bistro chairs and booths for a taste of California-inspired locavore fare. Try the grilled avocado, tuna tartar and quail-egg app. The "Messy" burger is house-smoked and ground daily. A mostly domestic, well-selected wine list goes with everything. Open for dinner only.
91 Main Street, Stowe, 802-253-2691. platestowe.com
Cold Hollow Cider Mill, Waterbury Center
Just down the road from Ben & Jerry's, this apple heaven turns out some of Vermont's best cider doughnuts and a wide array of other apple-licious baked goods and liquids.
3600 Waterbury-Stowe Road, Waterbury Center, 802-327-7537. coldhollow.com
Hen of the Wood, Waterbury
In 2005, Eric Warnstedt and William McNeil opened this restaurant in an old grist mill beside a rushing stream. Nearly a decade later — and after they added a second location in Burlington — their Waterbury original still serves farm-fresh food using the best local ingredients. It's also got a deadly good wine list.
92 Stowe Street, Waterbury, 802-244-7300. henofthewood.com
Prohibition Pig, Waterbury
Renowned for its meats, Prohibition Pig offers tender, smoky barbecue that marries Southern tradition with Vermont ingredients. Many of its two dozen draught beers hail from local world-class breweries such as Greensboro's Hill Farmstead Brewery and the nearby Alchemist. The pub also brews its own beers and boasts a stellar cocktail list.
23 South Main Street, Waterbury, 802-244-4120. prohibitionpig.com
The Sweet Spot, Waitsfield
When the weather's warm, locals head to the Sweet Spot for Scout's Honor ice cream. A better fit for cooler days, Sweet Simone's bakery (housed in the same building) makes everything from flaky morning pastries and coffee to pies, tarts, cakes and cookies.
40 Bridge Street, Waitsfield, 802-496-9199. sweetsimones.com
The Mad Taco, Waitsfield
Open from 8 a.m. to 8 p.m., seven days a week, the original Mad Taco (there's a sister restaurant in Montpelier) is a daily fiesta. Swing by for its namesake tortilla folds — stuffed with locally grown pork belly, smoked meats and roasted squash — or opt for a hearty sandwich, burrito, fajita or flauta. Wash it down with a fine local brew, or maybe a margarita.
2 Village Square, Sugarbush Valley, 802-496-3832. themadtaco.com
Events
courtesy of Big Picture Theater
Big Picture Theater in Waitsfield
Oktoberfests
'Tis the season for stunning foliage, crisp fall air ... and beer. Oktoberfests in Stowe and Warren serve up pints with a side of breathtaking mountain vistas. The Stowe Rotary Oktoberfest transforms the iconic ski town into a Bavarian-style bash to remember. This 18th annual celebration comes complete with a grand parade, German oompah bands, kids activities and Trapp Family Brewery lagers. Travel an hour south to Warren's Sugarbush Resort, and you'll find those Austrian brews at a beer garden on Lincoln Peak. Live music by the Mad Bavarian Band keeps this party going all afternoon. Little ones get in on the fun with traditional German family games and a kid-friendly Bavarian buffet. Break out bratwurst, knockwurst and sauerkraut — and lederhosen, for good measure.
Stowe Oktoberfest: Friday through Sunday, October 3-5, at various locations in Stowe. Info, 802-253-3928. stoweoktoberfest.com
Warren Oktoberfest: Sunday, October 12, at Lincoln Peak, Sugarbush Resort, in Warren. Info, 802-583-6300. sugarbush.com
Agricultural celebrations
Whether you're watching pumpkins sail through the air or attempting to navigate a sea of cornstalks, harvest happenings in Stowe make for a memorable autumn. Squashes are prolific in the garden, but they reach new heights at the Vermont Pumpkin Chuckin' Festival. Competitors craft modern versions of medieval trebuchets and launch orange orbs hundreds of feet at this high-flying event. Live music, a chili cook-off and kids activities round out the fun.
All who wander are indeed lost at the Percy Farm Corn Maze. Participants can take an easy or challenging route through this maze of maize that stretches over eight acres. No maps or clues are provided in the labyrinth, so it's best for youngsters to buddy up or stick close to adults. Everyone who enters is tracked, and if you're not out in 40 minutes, fear not, someone will come and find you.
Vermont Pumpkin Chuckin' Festival: Sunday, September 28, at Stoweflake Mountain Resort & Spa in Stowe. Info, 603-630-4800. vtpumpkinchuckin.blogspot.com
Percy Farm Corn Maze: Daily through October 31 at Percy Farm in Stowe. Info, 802-371-9999. percyfarmcornmaze.com
Arts events
It's no secret that Vermont boasts a high percentage of artists relative to its small size. Many of them live and work off the beaten path, so fairs and festivals are an ideal way to showcase their talents. More than 150 juried artisans display their wares at the Stowe Foliage Arts Festival. Held at the height of foliage season, this annual celebration of Vermont-made products features a wide range of contemporary and traditional crafts alongside original artwork and specialty food products. A dining tent filled with locavore offerings — think grass-fed burgers, organic wood-fired pizza and local beer — complements live music at this quintessential autumn event. Art lovers can see even more at the Vermont Fall Open Studio Weekend. This self-guided tour of galleries and venues statewide grants visitors behind-the-scenes glimpses of the creative process that produces eye-catching pieces.
Stowe Foliage Arts Festival: Friday through Sunday, October 10-12, at Stowe Events Field. Info, 802-425-3399 or 802-253-7321. craftproducers.com
Vermont Open Studio Weekend: Saturday and Sunday, October 4 & 5, at various locations statewide. Info, 223-3380. vermontcrafts.com
Pour tout savoir de cette célèbre voie du Vermont
Il y a un siècle, Robert Frost a composé de nombreux vers aux abords de la route 100, dont les deux voies serpentent à travers certains des plus beaux coins du Vermont. Aujourd'hui, les poètes sont sans doute trop sollicités par l'abondance d'endroits à découvrir, sans compter qu'ils peuvent s'acheter une paire de bottes, commander des tacos maison ou savourer une bière locale.
La route 100, qui s'étend sur environ 55 km entre la station de ski de Sugarbush et celles de Stowe et de Smugglers' Notch (en réalité sur la route 108), est particulièrement pittoresque à l'automne. Tout le paysage semble alors pousser un doux soupir de fin d'été avant de s'abandonner à l'hiver. Les panoramas dignes d'une carte postale sont omniprésents – d'ailleurs, bonne chance pour trouver une nouvelle description des célèbres couleurs d'automne du Vermont. Tout a été dit ou presque!
Vous en avez assez d'admirer la vue depuis votre voiture? Faites une randonnée. Louez un vélo de montagne. Ou arrêtez-vous tout simplement au bord de la route pour casser la croûte ou faire un selfie. Que diriez-vous d'un petit arrêt chez Ben & Jerry's? En fin de journée, une foule d'options d'hébergement s'offrent à vous. Vous n'aurez donc pas à chercher longtemps avant de pouvoir vous reposer.
Quoi faire?
Nommé d'après une ancienne route de contrebande entre les États-Unis et le Canada, le parc naturel de Smugglers' Notch se distingue par ses falaises vertigineuses et ses sentiers escarpés. Situé sur le mont Mansfield, il relie la station de ski Smugglers' Notch (smuggs.com) et celle de Stowe (stowe.com). En septembre et en octobre, la route 108, qui suit un passage étroit à travers les Montagnes vertes, offre un spectacle haut en couleur. Rejoignez ensuite la route 100 à partir de Stowe.
Mais d'abord, ne manquez pas de découvrir Spruce Peak, moins abrupt, ou attaquez-vous au mont Mansfield, le plus haut sommet du Vermont, dont le menton (« Chin ») culmine à 1 339 mètres. En voiture, la route à péage vous amènera directement au sommet, si vous préférez ménager vos énergies pour faire du vélo de montagne ou de la randonnée auTrapp Family Lodge (trappfamily.com), qui offre des activités automnales jusqu'en novembre.
À Stowe, paradis des skieurs, la Recreation Path, une voie asphaltée de 8,5 km ponctuée d'aires de pique-nique, de boutiques et de restaurants, longe la rivière West Branch et débouche à l'église communautaire de Stowe, sur la route 100, près du Vermont Ski and Snowboard Museum (vtssm.com). Louez un vélo au magasin A.J. Ski & Sports (stowesports.com), ou allez plus au sud pour découvrir les 3,5 kilomètres carrés du Waterbury Reservoir, où vous pourrez faire de la planche à rame, du canot et du kayak (umiak.com). À l'automne, l'événement le plus couru dans la ville voisine de Waterbury est le demi-marathon Leaf Peepers, en octobre (leafpeepershalfmarathon.org); inscrivez-vous sans tarder au 21 km ou au 5 km.
Une fois passées les collines de Duxbury, la route 100 descend vers Waitsfield et Warren, où se trouvent les stations Mad River Glen (madriverglen.com) et Sugarbush Resort (sugarbush.com). Même en automne, la Mad River continue de ravir les kayakistes. L'excentrique Big Picture Theater (bigpicturetheater.info) n'est pas seulement un cinéma, c'est aussi un café – ne manquez pas de goûter aux mini-beignes! On trouve des sentiers faciles le long de la piste Mad River Pathway (madriverpath.com) et des parcours plus escarpés sur la Long Trail (greenmountainclub.org), sans oublier les nombreux itinéraires de vélo de route.
Les sportifs les plus aguerris se laisseront tenter par les courses (à pied ou à vélo) organisées à l'automne à la station Mad River Glen, ou encore par le défi O2X Summit Challenge (o2x.com) à Sugarbush, sur le mont Ellen. Les deux centres offrent également un service de télésiège permettant de se rendre au sommet sans effort, ainsi que des événements entourant la période des récoltes, comme le SIPtemberfest (27 septembre), où vous pourrez porter un toast à la fin de la Prohibition, qui avait entraîné l'ouverture du col.
Où loger?
Les montagnes qui bordent la route 100 vous laissent pantois? Attendez de voir ce qu'ont à vous offrir les hôtels de luxe de la région, comme le Stowe Mountain Lodge (stowemountainlodge.com). Cet établissement de 300 chambres, qui accepte les chiens, propose un soin exfoliant à base de sirop d'érable et de cassonade du Vermont, à 50 minutes seulement des Montagnes vertes. Le Topnotch Resort & Spa (topnotchresort.com), récemment rénové, et le Stoweflake (stoweflake.com), qui jouit d'un emplacement central, offrent un vaste éventail de traitements de spa, tandis que le Trapp Family Lodge (trappfamily.com) – en plus de mettre en valeur l'héritage tyrolien de la famille von Trapp – comprend sa propre brasserie et des tours de calèche.
En plein cœur de Stowe, le Green Mountain Inn (greenmountaininn.com), de l'époque des années 1830, est à distance de marche de galeries d'art et de restaurants gastronomiques. À Waitsfield, le Hyde Away Inn (hydeawayinn.com), avec ses 10 chambres et ses tarifs avantageux pendant la saison des couleurs, est un « après-ski » incontournable, tandis que le Sugar Lodge, à Warren (sugarlodge.com), est situé à un jet de pierre de toutes les activités automnales de la région.
Les hôtels de catégorie supérieure près de Sugarbush comprennent le Claybrook (sugarbush.com), niché à flanc de montagne, et le Pitcher Inn, à Warren (pitcherinn.com), qui propose 11 chambres aménagées par des designers et suites thématiques : l'école, la ferme, etc.
Les hôtels, motels, auberges et gîtes touristiques se comptent par dizaines dans la région. Il y en a pour tous les goûts et toutes les bourses. Si vous prévoyez séjourner au Vermont pendant la saison des couleurs, réservez le plus tôt possible!
Où magasiner?
Nombre de visiteurs de l'extérieur de l'État envient les magnifiques Montagnes vertes, d'où le nom de la boutique de mode féminine Green Envy (vermontenvy.com), qui se spécialise dans les tissus durables. Une autre façon de penser « vert ». Pour trouver des chaussures assorties, rendez-vous chez Well Heeled (wellheeledstowe.com), qui vend également des vêtements et des accessoires dans une ancienne ferme située au bord de la route 108 (surnommée « Mountain Road »). Pour vous procurer des produits typiques du Vermont, comme le savon au lait de chèvre du mont Elmore, les pyjamas Hatley à motif d'orignal, les bonbons à un sou et le fudge vendu au poids, passez par The Stowe Mercantile (stowemercantile.com).
Vous avez envie d'une petite douceur artisanale? Laughing Moon Chocolates (laughingmoonchocolates.com) confectionne des truffes, des caramels à la fleur de sel et des guimauves d'Halloween. Ceux qui cherchent des souvenirs plus durables iront sans doute visiter les nombreuses galeries d'art de Stowe : West Branch Gallery & Sculpture Park (westbranchgallery.com), Green Mountain Fine Art Gallery (greenmountainfineart.com) et Helen Day Art Center (helenday.com). Vous trouverez des objets d'artisanat de grande qualité – et beaucoup plus – à la Artisans' Gallery, à Waitsfield (vtartisansgallery.com) et à la Parade Gallery, à Warren (paradegallery.com). Tout près de cette dernière se trouve le célèbre Warren Store (warrenstore.com), qui vend pratiquement de tout : vous pouvez y dîner ou encore vous procurer un bijou fabriqué localement, un t-shirt ou une bonne bouteille de vin.
À Waterbury, le Cold Hollow Cider Mill (coldhollow.com) permet aux visiteurs de se familiariser avec le procédé de pressurage et l'apiculture. Pour découvrir encore plus de saveurs locales, rendez-vous au Stowe Farmers Market (stowefarmersmarket.com), tous les dimanches jusqu'à la mi-octobre, à seulement trois kilomètres de la route 100.
Le samedi, le Waitsfield Farmers Market (waitsfieldfarmersmarket.com) regroupe des dizaines de marchands qui vendent de tout : bœuf engraissé à l'herbe, tomates de variétés anciennes, kombucha, courtepointes, etc. On y trouve même un kiosque de massage. Idéal après un long trajet en voiture!
Manger et boire
Les visiteurs à la recherche de saveurs typiques des Montagnes vertes ne manqueront pas de s'arrêter le long du segment central de la route 100, où l'on trouve certains des meilleurs restaurants, marchés publics, brasseries et distilleries de la région. Sans oublier un fabricant de crème glacée très spécial.
Ben & Jerry's fait partie de l'itinéraire de tout bon touriste, mais les fins gourmets prévoiront du temps pour s'arrêter à d'autres bonnes adresses sur la plus grande route numérotée du Vermont. En voici sept parmi nos préférées, directement sur la route 100 ou juste en retrait.
Smugglers' Notch Distillery, Jeffersonville
L'industrie des spiritueux au Vermont poursuit son essor. À preuve, cette distillerie locale fabrique des boissons onctueuses de grande qualité, dont un gin houblonné aux fines herbes ainsi que des rhums, des vodkas et des whiskys primés.
276 Main Street, Jeffersonville, 802-309-3077. smugglersnotchdistillery.com
Crop Bistro & Brewery, Stowe
Le Crop Bistro offre un menu étoffé, à base de produits locaux, ainsi que des bières brassées sur place. Le jarret de porc braisé au bourbon (à goûter avec le « Willi Vanilli », un porter vanillé), le burger de bœuf et les classiques américains, comme la wedge salad et le mac-and-cheese, sont des incontournables.
859 Mountain Road, Stowe, 802-253-4765. cropvt.com
Plate, Stowe
Depuis son ouverture au printemps dernier, Plate connaît beaucoup de succès dans la région. Ses chaises et ses banquettes de style bistro ainsi que sa cuisine d'inspiration californienne attirent autant les gens du coin que les touristes. Essayez l'entrée composée d'avocat grillé, de tartare de thon et d'œufs de caille, ou encore le burger « Messy » : la viande, fumée sur place, est hachée le jour même. La carte des vins, intéressante, comprend surtout des crus américains qui s'accordent avec tous les plats. Ouvert pour le souper seulement.
91 Main Street, Stowe, 802-253-2691. platestowe.com
Cold Hollow Cider Mill, Waterbury Center
À quelques pas de Ben & Jerry's, ce paradis de la pomme offre certains des meilleurs beignes au cidre du Vermont et de nombreux autres produits de boulangerie et boissons à base de pommes.
3600 Waterbury-Stowe Road, Waterbury Center, 802-327-7537. coldhollow.com
Hen of the Wood, Waterbury
En 2005, Eric Warnstedt et William McNeil ont aménagé ce restaurant dans un ancien moulin, à côté d'un torrent. Près de dix ans plus tard, après l'ouverture d'un deuxième établissement à Burlington, le restaurant original de Waterbury offre toujours des plats frais, composés des meilleurs ingrédients locaux, et une carte des vins spectaculaire.
92 Stowe Street, Waterbury, 802-244-7300. henofthewood.com
Prohibition Pig, Waterbury
Réputé pour ses viandes tendres et fumées, Prohibition Pig allie tradition du Sud et ingrédients du Vermont. Bon nombre de sa vingtaine de bières pression proviennent de brasseries locales de premier plan, comme Greensboro's Hill Farmstead Brewery et Alchemist, située tout près. Le pub brasse également ses propres bières et propose une carte de cocktails impressionnante.
23 South Main Street, Waterbury, 802-244-4120. prohibitionpig.com
The Sweet Spot, Waitsfield
Par temps chaud, les crèmes glacées Scout's Honor font le bonheur des gens du coin. Par temps frais, la pâtisserie Sweet Simone (qui partage les mêmes locaux) sert viennoiseries, cafés, tartes, gâteaux et biscuits.
40 Bridge Street, Waitsfield, 802-496-9199. sweetsimones.com
The Mad Taco, Waitsfield
De 8 h à 20 h, tous les jours de la semaine, c'est la fiesta au Mad Taco de Waitsfield (qui possède également un petit frère à Montpelier). Goûtez aux délicieuses tortillas garnies de porc, de viande fumée ou de courge grillée, ou optez pour un copieux sandwich, burrito, fajita ou flauta. Arrosez le tout d'une bière locale ou d'une margarita.
2 Village Square, Sugarbush Valley, 802-496-3832. themadtaco.com
Événements
Oktoberfest
Qui dit octobre, dit couleurs d'automne, temps frais et... bière! À Stowe et à Warren, c'est dans un décor montagneux saisissant qu'a lieu l'Oktoberfest. L'emblématique village de ski de Stowe prend alors des allures de fête bavaroise. Au programme de cette 18e édition : grande parade, orchestres à flonflon, activités pour enfants et lagers de la Trapp Family Brewery. À une heure de route au sud, à la station Sugarbush de Warren, les bières bavaroises coulent à flots à Lincoln Peak et le Mad Bavarian Band bat la mesure tout l'après-midi. Les tout-petits ne sont pas en reste puisque des jeux traditionnels allemands et un buffet bavarois leur sont tout spécialement destinés. Enfilez vos lederhosen et venez goûter aux bratwurst, knockwurst et sauerkraut : on vous y attend!
Oktoberfest de Stowe : Du vendredi 3 octobre au dimanche 5 octobre, à différents endroits à Stowe. Info : 253-3928. stoweoktoberfest.com
Oktoberfest de Warren : Le dimanche 12 octobre, à Lincoln Peak, Sugarbush Resort, à Warren. Info : 583-6300. sugarbush.com
Fêtes agricoles
Lancers de citrouilles, parcours dans les champs de maïs, les activités entourant la période des récoltes ne manquent pas à Stowe. Les courges poussent en abondance dans les jardins... et atteignent des sommets au Vermont Pumpkin Chuckin' Festival. Lors de cet événement, les concurrents catapultent des potirons à des hauteurs vertigineuses à l'aide de trébuchets d'inspiration médiévale. Musiciens sur place, préparation d'un chili en plein air et activités pour enfants complètent le programme. Saurez-vous déjouer le Percy Farm Corn Maze, un labyrinthe de tiges de maïs qui s'étend sur plus de huit acres? Que vous optiez pour le parcours facile ou difficile, sachez qu'aucun indice n'est fourni. Veillez donc à ce que les plus jeunes soient accompagnés d'un ami ou d'un adulte. Cela dit, tous les participants sont munis d'un dispositif de suivi. Si vous n'avez toujours pas trouvé la sortie au bout de 40 minutes, soyez sans crainte : quelqu'un viendra vous chercher!
Vermont Pumpkin Chuckin' Festival : Le dimanche 28 septembre, au Stoweflake Mountain Resort & Spa, à Stowe. Info : 603-630-4800. vtpumpkinchuckin.blogspot.com
Percy Farm Corn Maze : Tous les jours jusqu' au 31 octobre, à la Percy Farm, à Stowe. Info : 371-9999. percyfarmcornmaze.com
Événements artistiques
Ce n'est un secret pour personne : malgré sa petite taille, le Vermont possède un important contingent d'artistes. Bon nombre d'entre eux vivent et travaillent hors des sentiers battus. Les foires et les festivals représentent donc pour eux une occasion idéale de mettre en valeur leurs talents. Plus de 150 artisans s'exposent au Stowe Foliage Arts Festival. Tenue au plus fort de la saison des couleurs, cette fête annuelle de l'artisanat du Vermont présente un vaste éventail d'objets contemporains et traditionnels ainsi que des œuvres d'art originales et des produits alimentaires spécialisés. Une tente-cuisine propose une multitude de produits pour les locavores – burgers à base de viande d'animaux engraissés à l'herbe, pizzas biologiques cuites au four à bois et bières locales –, avec musiciens sur place. Parlant d'art, le Vermont Fall Open Studio Weekend ravira les amateurs. Cette visite autoguidée de divers espaces et galeries de l'État offre aux visiteurs un regard privilégié sur le processus créatif à l'origine de certaines des plus belles œuvres vermontoises.
Stowe Foliage Arts Festival : Du vendredi 10 octobre au dimanche 12 octobre, au Stowe Events Field. Info : 425-3399 or 253-7321. craftproducers.com
Vermont Open Studio Weekend : Le samedi 4 octobre et le dimanche 5 octobre, à divers endroits au Vermont. Info : 223-3380. vermontcrafts.com