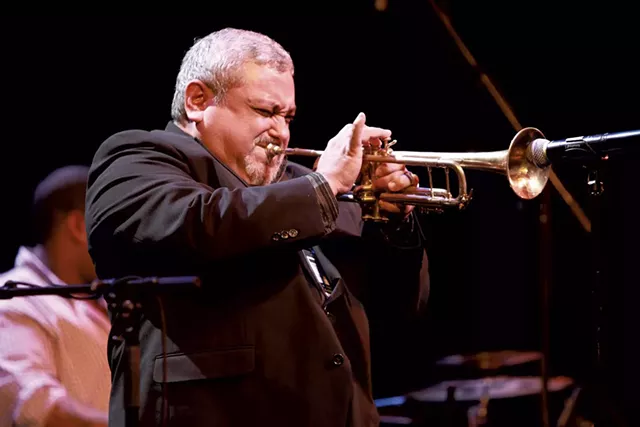 So, we're smack in the middle of the 2016 Burlington Discover Jazz Festival — are you having fun yet? The annual 10-day bash got off to a hot start, with stages all over the Queen City bustling with great music, from icons such as Randy Newman to up-and-coming local hepcats and just about everything in between. As the curtain rises on the fest's second act, there are really only two questions. One, what to do for an encore? And two, how to enjoy the rest of the festival on the cheap?
Last week, we highlighted some of the best free shows happening during the first half of BDJF. We're here to help again with more great no-cost gigs to close out the festival.
Wednesday, June 8
Cure your midweek blues with some midweek jazz courtesy of Montpelier's Ira Friedman Trio. Grab some lunch to go — we find the Red Onion's signature sandwich pairs well with piano jazz — and mellow out at the BCA Plaza. Then, maybe cut out a little early from work and swing by Radio Bean for some late-afternoon experimental "iNprov" jams from locals the Le Duo. Stick around for more heady tunes from Made by Robots.
Once happy hour sets in, head to American Flatbread and get reacquainted with local sax whiz Bryan McNamara. He's recently been doing the cruise-ship circuit. This BDJF show marks a welcome return for one of Vermont's great young players. And if you miss him today, fret not. McNamara is playing a bunch this week.
Assuming the weather cooperates, hit up the City Hall Stage on Church Street and dig on the Will Sellenraad 3, which features NYC's Sellenraad (guitar), Brooklyn's Rene Hart (bass) and local Gabe Jarrett (drums). Perhaps you've heard of Jarrett's dad, Keith? If you like what you hear, Sellenraad joins local trumpet giant Ray Vega, bassist Dana Hart and drummer Eric Reeves as part of the New York-Burlington Connection at Juniper.
Thursday, June 9
McNamara highlights the Thursday slate, too. You can catch him at the City Hall Stage with his band. But the real treat happens later in the evening at Bleu Northeast Seafood, where McNamara and local jazz great James Harvey play as a duo. Pianist Harvey, by the way, will warm up with a quartet gig earlier that night at Radio Bean.
Speaking of the Bean, Thursday is a weekly boon for local jazz heads, and that's especially true during BDJF. In addition to Harvey, catch sets by the Shane Hardiman Trio and, later, prodigal guitar monster Nick Cassarino, who plays both a solo set and with a "slam jazz" side project, Return of the Ego Alien. Meanwhile, Sellenraad offers a reprise performance a couple of doors down at the Light Club Lamp Shop, with support from local free jazzers the Ethan Snyder Group. Portland, Maine, trio Micromasse close out the night.
Even if you don't have tickets for Béla Fleck and the Flecktones at the Waterfront Tent, you could do worse than head lakeside Thursday — possibly with a pit stop at Juniper to catch the Tyler Mast Organ Trio on your way down the hill. Local John Abair plays a solo set at Foam Brewers, followed by local rockers Rumblecat. Just down the street, acoustic funky bunch Upstate Rubdown groove on the patio at the Skinny Pancake.
Friday, June 10
The marquee show Friday is the annual WPTZ Channel 5 Block Party. Headlining this year are Madaila. And no, the ascendant dance-pop band is not remotely jazzy. Deal with it.
On the early slate, local gypsy-jazz outfit Queen City Hot Club play the lunchtime slot at BCA Plaza. Later, catch the Jake Whitesell TRIO at Red Square. You might know Whitesell as the sax player for Kat Wright & the Indomitable Soul Band. But dude's a fine bandleader in his own right. If you miss them, they'll be at American Flatbread later the same evening.
If vocal jazz is more your style, hit up Audrey Bernstein and Friends at Juniper. The sultry chanteuse released one of the better jazz records in recent memory with her 2015 album, Alright, Okay, You Win. And she tends to roll with some pretty talented friends, such as Joe Capps, Tom Cleary, John Rivers, Geza Carr and Ray Vega, to name a few local luminaries known to sit in with her.
Over at Light Club Lamp Shop, Dwight & Nicole's Dwight Ritcher plays a solo set that promises to be a bluesy good time.
Saturday, June 11
It wouldn't be jazz fest without the Onion River jazz Band. For more than 30 years, the local ensemble has kept traditional New Orleans jazz alive in Vermont. Catch their lively brand of Dixieland during an evening set at the Top Block Stage on Church Street.
Actually, you could make a day of it on the Church Street Marketplace. The Vermont National Guard's 40th Army Band play two afternoon sets on the Top Block Stage. Jam out with the genre-bending Left Ear Trio on the Center Stage or the globe-trotting World Trio on City Hall Stage. Later, the 15-piece gospel-rock band Jesus on the Mainline tear up the Top Block Stage, while the explosive modern jazz ensemble cPhour ignite the Center Stage. And local jam-rockers the Aerolites fly high on the City Hall Stage.
Turning to the club scene, surf-rockers the High Breaks, who debuted at the BDJF two years ago, celebrate their anniversary with a garage-door-window gig at Nectar's. Just down the hill at the Skinny Pancake, shoot the curl with another of Burlington's great surf bands, Barbacoa.
If salsa is your groove, catch the Ray Vega-led all-star band Son de los Montes at Juniper, featuring Tom Cleary, Giovanni Rovetto, Daniel Gaviria, Caleb Bronz and Scott Dean.
Sunday, June 12
All good things must come to an end, including epic jazz festivals. The closing Sunday of BDJF is typically a mellower day. But that's not to say there aren't some fine shows on tap. At American Flatbread, dig on a brunch-time tribute, called Through the Alley, to the late, great pianist and composer and one-time BDJF headliner Allen Toussaint. Then pop down to Pizzeria Verità for Gin & Jazz, featuring an all-star local lineup of Paul Asbell, Ray Vega, Tom Cleary, Gabe Jarrett and Anthony Santor.
Speaking of supergroups, catch Tyler Mast & Paradise Divide on the City Hall Stage, which is the last Church Street show of the festival.
In the evening, close out the event at the Light Club Lamp Shop for "sloppy sexy" free-jazz band LBJ: A Tribute to El Beej. That band features drummer Sargent Cody (Cody Sargent), bari saxophonist Beejy (Luke Laplant) and guitarist and vocalist Darth Vapor (Joe Adler).