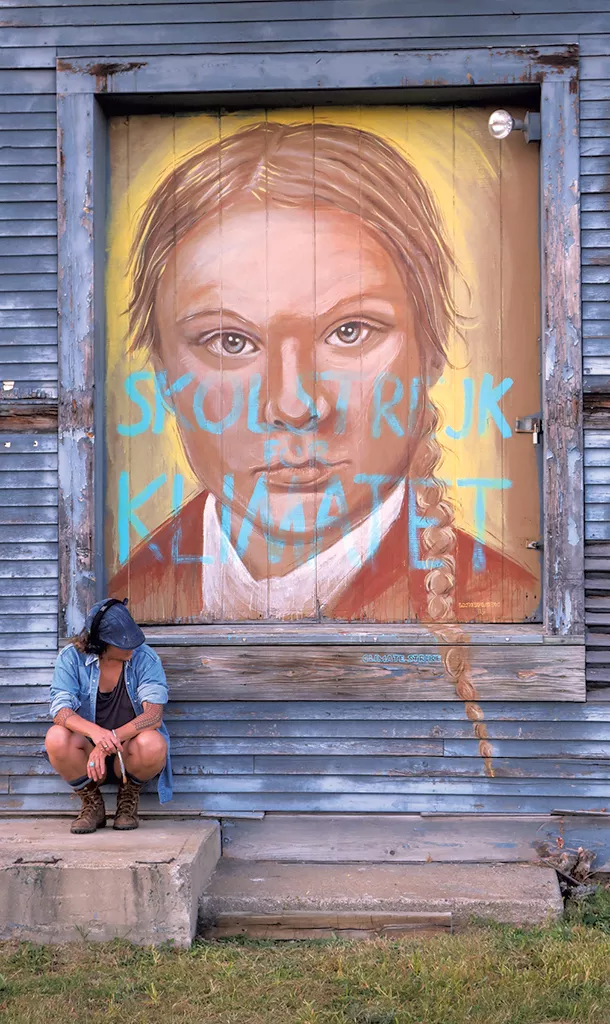 Photos Courtesy Of Lopi Laroe
Greta Thunberg mural, with artist LMNOPI, before it was vandalized
The artist-activist Lopi LaRoe, aka lmnopi, is no stranger to taking political stances. This past month, she did that in Rutland with a timely public mural — and then did it all over again.
In September, just before the youth-led global climate strike, LaRoe painted an evocative portrait of Swedish climate activist Greta Thunberg on one of the buildings of the Vermont Farmers Food Center in Rutland. The approximately 8-foot-tall depiction of the blue-eyed, blond-braided 16-year-old, looking characteristically defiant, took her "three or four days," LaRoe says.
It took less than that for someone to deface it.
LaRoe was in Colorado at the time, painting a mural for the Street Wise Boulder festival. Her friends "didn't tell me — they didn't want to upset me," she says. But she learned about the vandalism on social media.
LaRoe's isn't the only Thunberg mural that has been vandalized; the Huffington Post and other outlets covered the October 20 defacement of a similar mural by multiple parties in Edmonton, Alberta. "This is oil country," one perpetrator told a CBC reporter. "We don't need foreigners coming in and telling us how to run our business, support our families, put food on our tables."
LaRoe thinks the culprits in Rutland were probably kids, even as she acknowledges the triggering politics of the situation. "Greta has confronted people about the climate crisis and is calling out grown-ups for what they've done," LaRoe remarks. "Instead of accepting the truth of what she's saying, they punish her. I don't know — maybe some people don't like her message."
Messaging is nothing new to LaRoe herself. With her recent move to Vermont, the artist hasn't exactly come full circle, but she is close: Born in a small town in the Adirondacks in 1964, she arrived about a year ago in Rutland.
During the years between, LaRoe lent her artistic talents and her passion to numerous social-justice movements, from Earth First! to Domes for Haiti to Occupy Wall Street to the Dakota Access Pipeline. She founded and ran an arts center in Santa Cruz, Calif., for six years before returning to the East Coast on the inauspicious day of September 11, 2001. She went on to earn a degree in painting and printmaking from the State University of New York at Purchase.
After living for years in New York City, LaRoe says, she was eager to find a new home base. Vermont beckoned: A friend had invited her to participate in an exhibition at the Southern Vermont Arts Center in Manchester. At the same time, she says, a genealogical exploration suggested that her ancestors had founded Rutland. "It turns out they weren't my ancestors," she quickly adds, citing misinformation about the family tree.
Nevertheless, LaRoe made her way to the Marble City, where she discovered a lively art scene and affordable rent. "Rutland is great in so many ways," she says. "I feel it deserves a lot of creative energy."
And that's what she has applied to repairing her Thunberg mural. In the tradition of street art, LaRoe says, the response to vandalism is to "come back hard and fix it."
LaRoe repainted the mural entirely, giving Greta a cap and extending her braids to a concrete platform below the wall. She also rewrote the original text: "Skol Strejk for Klimatet" ("school strike for climate").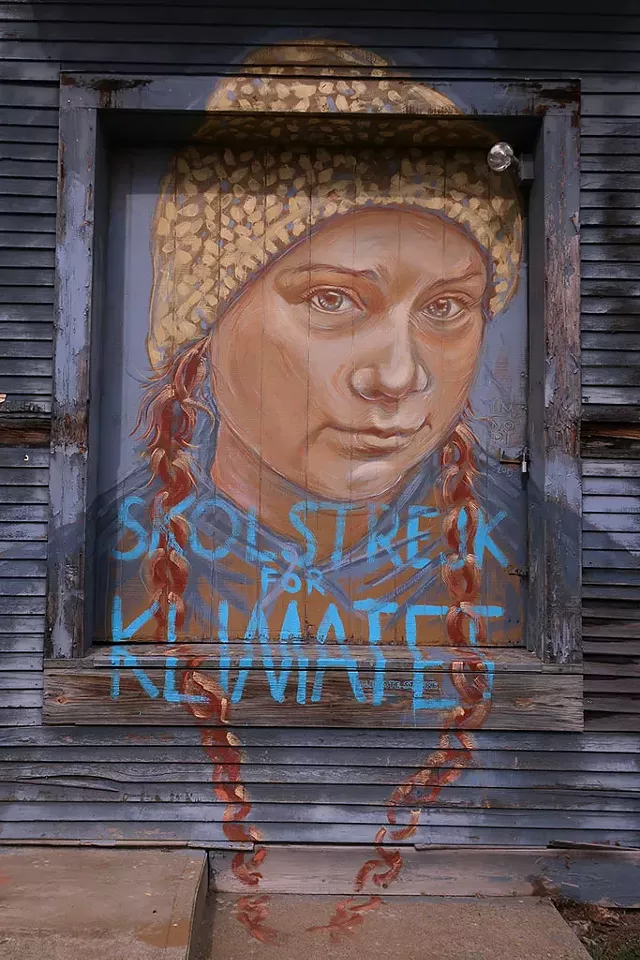 Photos Courtesy Of Lopi Laroe
Repainted Greta Thunberg mural by LMNOPI
Greg Cox is a founding member and board president of the Vermont Farmers Market Education Center, which is the umbrella nonprofit for several initiatives, including the food center where LaRoe's mural appears. The home of the local winter farmers market, the center is in "a neighborhood that's a little challenged" where there is "a fair amount of childhood mischief," he says.
Cox, who gave LaRoe the green light for her Thunberg mural, has a proposal for averting future vandalism: Give the kids their own wall to paint.
When the education center purchased the former 19th-century iron works on West Street in 2012, Cox says, the group petitioned the city — and Vermont Rail System, which he says owns the land — to fix up a nearby path leading to downtown Rutland. "We used to pick up needles on that path," he says.
Along that corridor is a concrete retaining wall that Cox estimates is about 100 feet long and varies in height from four to seven feet. That's where he'd like to "let the kids have at it," creating their own murals, perhaps with the mentorship of local artists and donated paint. He believes art making would "give them a sense of ownership."
"These kids need help, not to be swatted down," Cox continues. "We've found that, if all you do is call the cops and hassle people, it doesn't work. If you treat people with respect, you'll get it in return — most of the time."
Cox aims for that project to get under way next spring.
Meantime, LaRoe is negotiating to paint more murals in the area, applying for commissions and continuing to make paintings on wood "that people do buy," she says. She also sells limited-edition prints embellished with paint. One of her pieces resides in a Museum of Modern Art collection of Occupy posters from around the world; her work is also in academic collections, including that of the University of Vermont.
"I'm excited to be in Vermont," she says, "and paint anywhere in Vermont."