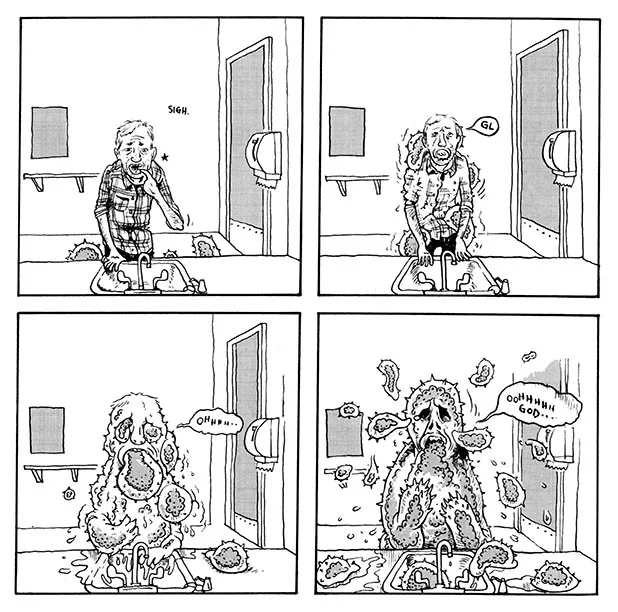 What do you do after you're diagnosed with a sexually transmitted disease? If you're cartoonist Gabby Schulz, you write a graphic novel about it.
Schulz, 37, resides in White River Junction; he was a fellow at the Center for Cartoon Studies during the 2006-07 school year. In September, comics press Secret Acres published Monsters, his semi-autobiographical account of living with herpes. Schulz wrote it using the pseudonym Ken Dahl, a name he created while drawing a weekly comic strip a decade ago. His first book, an anthology of his work from 1997-2007, is called Welcome to the Dahl House.
Schulz explains his nom de plume in a phone interview. "When I was going to college, I worked at a place where there were nice office ladies," he says. "I didn't want to be associated with what I drew."
Yet Schulz doesn't mind being associated with a 200-page book about herpes. That's less surprising than it sounds. Monsters is both informative and, believe it or not, entertaining. It's received critical acclaim from the Onion AV Club and Bookgasm, and has appeared on Best Books of 2009 lists at the Seattle Weekly and Forbidden Planet International.
Monsters opens in 2002; Ken keeps getting cold sores but doesn't know why. At the end of 2003, his girlfriend experiences an outbreak of genital herpes. A blood test reveals they both have the virus, and it appears Ken gave it to her. The resulting guilt and shame tear them apart.
Afterward, Ken tries to remain celibate but fails. He also fails to reveal his infection to some of his sexual partners. Schulz's depictions of Ken's postcoital self-loathing are among the strongest images in the book. In one panel, he wakes up next to a woman he believes he's just infected after a drunken hookup. She sleeps beside him as he lies there, eyes wide open, a gaping hole in his chest.
Creating those images "was almost subliminal," he says. "When I was doodling, it would just sort of come out. I didn't think about it too much.
"Comics," he adds, "seem to operate on a more raw, emotional level. You're expressing things without text, so the frontal cortex doesn't have to do a lot of work. There's a lot of monkey or lizard brain at work there. Sometimes that generates some pretty cool results."
Ken eventually learns more about herpes, including the fact that about 75 percent of American adults have the virus, though many never show symptoms. At one point, he discovers images of herpes sores online, which Schulz depicts in lavish detail. "Yeah, it's disgusting," he admits, "but I think that's one of the strengths of comics. You can really take it over the top with that stuff."
Schulz remembers being diagnosed with herpes and feeling like "this is so awful and hideous and contagious, and no one will want to be with me or touch me again." Writing the book, he says, was a way of demystifying the disease for others who might be as ignorant as he was when he was first diagnosed.
"It's just a skin rash," he explains. "But at the same time, it's the most embarrassing, awful thing in the world, going through it with all the stigma."
Schulz says he's been surprised and pleased by the book's success, but he's done with being "the herpes guy." He's moving on to another project: a comic about a leper colony in his home state of Hawaii. "It combines all my favorite things," he says. "Hawaii, diseases and people put in awful situations."