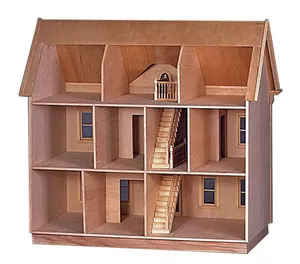 The most memorable Christmas present I ever received was the dollhouse I got when I was 5. It was 3 feet tall and 4 feet across — huge, but made from wood that was almost as thin and flimsy as cardboard. "It was a piece of crap," my mom confided recently.
Still, I had so much fun with it. My mom and I picked up wallpaper and carpet sample books at the hardware store, cut out the small scraps inside and glued them to the walls and floors. I made tiny curtains to adorn the dollhouse windows and arranged miniature furniture.
Unlike other gifts I received — the moon shoes I begged for, the green glitter eyeshadow, countless stuffed animals that I quickly abandoned — the dollhouse captured my interest and held it. I was in middle school before I stopped redecorating and rearranging the furniture in its rooms.
What I loved more than anything else about that dollhouse was its broken chimney. When I discovered the gift on Christmas morning, it was accompanied by a handwritten apology from Santa Claus. The dollhouse was so big, he explained, that he had accidentally dropped it on the roof of our house.
I had heard the thud the night before. The letter confirmed the noise really had been Santa.
Beloved gifts often come with a backstory or an extra, personalized touch, something local toy- and booksellers confirmed in our annual holiday gift guide ["That's a Wrap," p. 18].
This month's "Art Of" on designing homemade cards [p. 17] also encourages creative flourishes. As Annemarie Buckley, owner of Scout's Honor Paper, points out, personalized notes "show the recipient that you spent time thinking about them and that you care."
As we head into the holiday season, the pressure's on to just buy stuff and dole it out. We hope this issue inspires you to be more discriminating, and remember what Mom always said: It's the thought that counts.