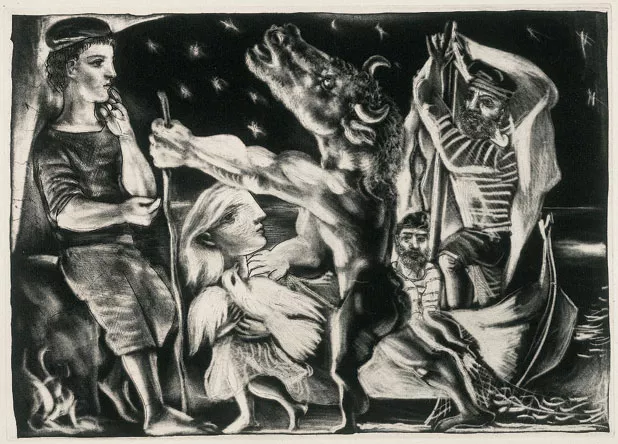 Blind Minotaur Led by a Little Girl in the Night (1934)
Pablo Picasso burst onto the art scene with an exhibit in 1901, and over ensuing decades became a household name. He is arguably the best known — and best, period — artist of the 20th century, an innovator who upended the very rules of art and, in turn, changed how we see it. The artist, who died in 1973, would have had it no other way; his ambition was the equal of his talent.
What observers outside the art world may not know is the name of the person responsible for launching Picasso's career with that 1901 exhibition. That was Ambroise Vollard, at the time the mightiest contemporary art dealer in Paris, carrying the likes of Cézanne, Renoir, Gauguin and van Gogh.
The dealer's name lives on, forever conjoined with Picasso's, in the Vollard Suite, a series of 100 etchings that Vollard commissioned and Picasso produced between 1930 and 1937. Some 300 sets were made, but most were divided, the prints sold individually. In 1965, Dartmouth College alums Ellen and Wallace Harrison (class of 1950) gifted a complete, unblemished set of the etchings to the Hood Museum of Art, which is displaying them through December 20.
In addition to the Vollard Suite, the exhibit includes several extraordinary etchings by Rembrandt and Goya, two earlier artists who influenced Picasso. An auxiliary exhibit titled "Cubism and Its Legacy" shows the artist's direction; the neoclassical etchings represented a "break" from that trajectory, explains Hood director Michael Taylor.
Working on the prints allowed Picasso to tackle the exceedingly difficult technique of etching. Not surprisingly, he mastered it — you can see how the works get better and more complex from 1930 onward, Taylor notes of the prints, which are hung in chronological order. Picasso experimented and innovated within the medium, as well.
But why did the artist, better known for his paintings, set himself this challenge? Why a suite of 100 etchings? And why did Picasso make them for Vollard? The dealer had dropped Picasso after he painted "Les Desmoiselles d'Avignon" (1907), Taylor says. "Vollard couldn't accept it as art, couldn't go into cubism," he explains. "He really was a dealer of 19th-century art."
But Picasso's success was meteoric, and Vollard realized his mistake by the late 1920s, Taylor continues. He offered Picasso the opportunity to work on a special project — with complete artistic freedom — and the two agreed on a box set: The artist would create 100 etchings in exchange for two paintings he coveted in Vollard's collection — a Renoir and a Cézanne.
The Vollard Suite doesn't just show the brilliance and evolving skill of the artist; these works also reveal personal and political factors in his life at the time. One theme is the artist in his studio. In these prints, the artist resembles a classical hero — nude, bearded, wearing an ivy wreath. A young woman who resembles Picasso's model and mistress at the time, Marie-Thérèse Walter, often accompanies him. Though intimate and sensuous, these works are also contemplative. Some are even humorous. Picasso's hand is steady and economical, setting scenes with simple line drawings and judicious cross-hatching.
It's just a step from these tableaux to more openly erotic works featuring satyrs and minotaurs. While some depict sexual aggression, others are playful — such as "Minotaur With a Goblet in His Hand and a Young Woman," in which the reclining creature seems to be considering the qualities of his wine. And some are tender, if voyeuristic — "Minotaur Caressing a Sleeping Woman."
Some of Picasso's minotaurs party with naked humans in a Dionysian artist studio, but the mythical beast is also central to far darker scenes. In a number of Goya-inspired works, Picasso substitutes the minotaur for a bull in the ring. Many of these works are heart-wrenching. In "Dying Minotaur," the creature clutches his speared chest in agony as a female spectator reaches out to him from the viewing stand, as if to soothe him in his final moments.
Picasso was deeply disturbed by the political turmoil escalating in Europe by the mid-'30s, particularly the Spanish Civil War. Thus the embattled minotaur becomes allegorical, representing "irrational, unconscious forces and uncontrolled sexual aggression and violence," as Taylor writes in his description of the exhibit.
The Vollard Suite also underscores Picasso's fear of blindness, as in several iterations of "Blind Minotaur Led by a Little Girl in the Night." In "Minotauromachy," which Taylor says was "arguably the greatest print made in the 20th century," the bison-headed figure is again sightless and helpless, guided by a young girl holding a candle. Bigger than the other prints, this one was actually not included in the Vollard box set, but it is on view in the Hood exhibition, and it is riveting.
It's remarkable to be able to see such important, world-class works — and for free! — outside of museum-rich cities. Though intended to benefit Dartmouth students at this teaching institution, the Harrisons' donation is a gift for all of us.
"Picasso: The Vollard Suite," Hood Museum of Art, Dartmouth College, Hanover, N.H. Through Decembert 20. Info, 603-646-2808. hoodmuseum.dartmouth.edu