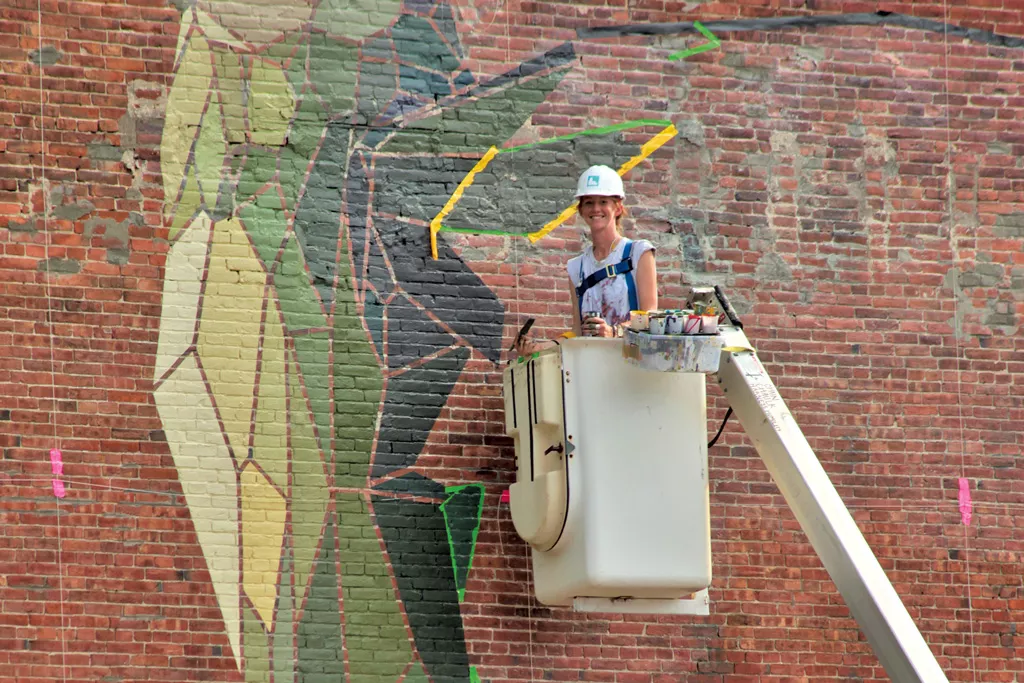 Matthew Thorsen
Mary Lacy
The tiny ruby-throated hummingbird is a familiar sight in Vermont, where it darts about flowers and backyard feeders every summer. But the hummingbird that has just alighted in downtown Burlington is several kinds of unusual.
For one thing, it's not a bird but a painting thereof. For another, it's enormous: At about 28 feet tall, it's more than 100 times the size of an actual ruby-throated hummingbird. Over the next two weeks, muralist Mary Lacy, 24, will finish up the artwork that may soon become an icon of Burlington's downtown.
The wingspan of Lacy's mural extends across a large brick wall of the building at the corner of St. Paul and College streets, just across from City Hall Park. With only a small parking lot to its north, the hummingbird is hard to miss. Its greens and pale yellows stand out against the ruddy brick, while the bird's eponymous ruby throat helps it settle into its urban environment.
The avian mural is Lacy's biggest and most noticeable project to date. That's ironic, as a nearly invisible set of her paintings led directly to landing this plum commission. Last year, Lacy spent four months painting interior murals at the Moran Plant on Burlington's waterfront. (Seven Days interviewed her in December 2014.) On the crumbling walls, she painted images of the flora and fauna native to the site. "In the basement, it was frogs, and in the very bottom, it was a sturgeon," Lacy says. "In the rafters, I put an owl."
Those paintings were executed in her signature geometric style resembling stained glass or tiles, and they weren't meant to last — given the imperfect surfaces and exposure to the elements. But they did last long enough to attract the attention of the partners of American Flatbread, who happened to tour the Moran last year, and who are leasing part of the St. Paul building for storage. Co-owner Rob Downey says he secured permission from building owner Joe McNeil for the mural.
Lacy's work — which adorns the barn of her family's home in Jericho, as well as sites in San Francisco and New York City — is inspired by the natural world. That doesn't mean it lacks "deeper" content.
"Many muralists' works have 'issues,'" she says. "They're about class or race; some are about industry. I don't want to be depressing about the environment, but I want that to be part of what my work is. So I'm trying to bring nature back into these spaces ... aesthetically."
Though her hummingbird is colossal, it does not cover every brick in the wall. Lacy has left plenty of "empty" space in which the bird might theoretically flutter its wings. "If I were to cover the whole wall in a mural, it would feel like I would be painting a scene, and trying to hide the wall ... trying to take the viewers somewhere else," she says. "I want to work with the space so it can be more of a bringing together, to remind us about the animals in a more hopeful way, a happy way."
Just before starting the mural, Lacy made an unusual investment that's already begun to pay off. Instead of using her savings to move into a new apartment, she opted to buy a "bucket truck": a van with an extendable cherry picker mounted on its roof. Though electrical workers chiefly use such vehicles, Lacy has found her new wheels to be indispensable for reaching the heights required of muralists.
Learning to manipulate the cherry picker has been harder than expected, she admits. "I thought I was ready, and I wasn't, after just practicing in my driveway," Lacy says. "I'd go up and do some twirls and come back down. But when I got up there [to paint the mural] ... it was really nerve-racking. After the first day, I went to my middle school [parking lot] and practiced at 9 p.m. on a Saturday."
After Lacy's mural is complete and she has decorated the walls of her new vehicle, she hopes to use the van to embark on a "mural tour." Once it gets too cold to paint in Vermont, she'll hit the road for warmer climes: New Orleans, Austin, San Diego. Her idea is to model her travels after those of a touring rock band, calling ahead and booking potential mural gigs in far-flung cities.
"Murals are in right now," Lacy says. "There are a lot of new mural festivals around the world, and they're getting incorporated into more city projects. I see myself as part of that movement. I mean, I'm not up there yet, but I think I have a brand that people recognize."
Does she feel like her career is going places? "I do, I do," she says, conveying both confidence and humility. "I'm feeling like it might be possible."