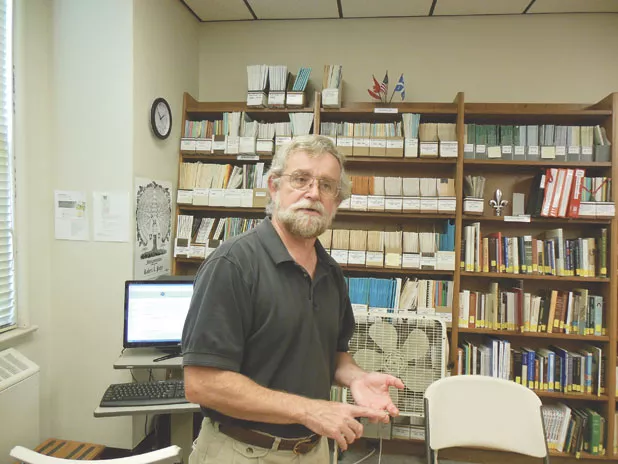 Her red hair was one of the mysteries of history that led Breanna Willard to the Vermont Genealogy Library in Colchester. "No one else in my family has red hair," she says. "I wanted to find out where it came from."
Two years ago, Willard used the opportunity of a senior project at Champlain Valley Union High School to delve deep into her ancestry, consulting the copious resources available through the library housed in Fort Ethan Allen's DuPont Building. The 70 hours she spent conducting research there were actually a capstone to her longstanding curiosity about her family's past. Willard was especially keen to trace the forebears of her father, who had died when she was 8 years old.
"I've always been interested in learning how I got where I am and how that interacted with history," says Willard, now a 19-year-old sophomore at Salve Regina University in Rhode Island. "I had googled my name, but I couldn't tell if all the information I found was real or not."
Ed McGuire, president of the genealogical library, became Willard's mentor. He helped her determine which of the library's 4000 books might be useful, and he guided her to online sources that enabled Willard to trace her roots from New Jersey to Arizona and then to Ireland, Germany and France — all the way back to a French Huguenot born in 1635. Willard's red hair was apparently inherited from an Irish ancestor, she deduced along the way.
McGuire and other volunteers offer similar assistance to anyone who shows up at the library during its public hours of 3 to 9:30 p.m. on Tuesday and 10 a.m. to 4 p.m. on Saturday. The librarians will conduct the research for a fee, but "most people who come here want to do it on their own," McGuire notes. "We help them figure out how."
It isn't as daunting as it might seem to a newbie, McGuire assures. "You can walk in knowing nothing, and in one afternoon you can go back eight generations."
Visitors are able to search 250 years' worth of Vermont's vital records on microfilm. They can also consult more than 60 volumes of church records of baptisms, marriages and burials. The library offers Saturday classes on a range of genealogical topics. And a $30 annual membership buys access to a variety of electronic sites, including ancestry.com, a particularly valued database that charges individuals $35 a month for unlimited searches.
"It's not like we're living in the Stone Age," McGuire says in regard to the library's extensive online reference material. But, pointing to the books and binders that fill shelves purchased when Borders went out of business, he adds, "A lot of people still do love handling books."
The library publishes some of its own, McGuire notes. To preserve fading birth, wedding and death records — some of them handwritten in Latin — the library has printed about 50 copies from 44 Vermont churches. The published volumes are sold to individuals and institutions, including the Vermont Historical Society, the University of Vermont's Bailey/Howe Library and the New York Public Library.
McGuire got interested in genealogy for the same reason Willard did: curiosity about his past. "Chemistry and physics was my thing in school," the retired IBM engineer says, "but I really loved history, too." Although he now devotes much of his time to the library, McGuire describes genealogical research as "one of my hobbies," along with woodworking and windsurfing.
The library's own roots reach into the basement of the St. John's Club in Burlington's South End. It was situated there for 11 years after its founding in 1995 as the Vermont French-Canadian Genealogical Society. The library has expanded its resources to include data on Scottish, English, Irish and German family trees, with efforts under way to assemble records on Italian and Polish ancestry, as well. But, like many genealogical repositories in the United States, it houses scant information on African ancestry, and, as far as McGuire knows, a black Vermonter has never visited the library.
The Vermont Genealogy Library should not be confused with the Genealogical Society of Vermont, which was established in 1971 but does not have a physical locale. That society is also a membership organization, explains its president, Jonathan Stevens. It charges members $25 a year to receive Vermont Genealogy, a semiannual journal, as well as the society's quarterly newsletter.
"You start off with your own family," Stevens says in response to a question about how he became the society's president. "And you expand from there, until you're into the whole field of genealogy."
McGuire tells of a similar immersion that began when he dipped into his own family's past in Connecticut. "It can't be cured once you get going," he warns with a smile. "You spend hours and hours researching dead people, and then you die and somebody researches you."
The Vermont Genealogy Library open house, at the DuPont Building in Fort Ethan Allen, Colchester. Saturday, September 7, from 10 a.m. to 4 p.m.