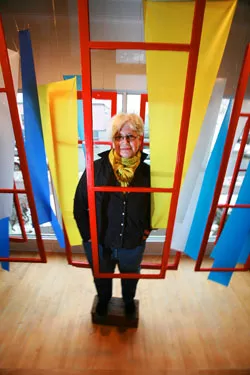 Jordan Silverman
Liza Cowan
According to the search engine Technorati, 115 million blogs were in use as of December 2007. For anyone who has spent time looking at random samples of the bloggers' art, sifting the wheat from the chaff is a task filled with both epiphany and horror. Recently Liza Cowan, owner of Pine Street Art Works in Burlington, jumped into the fray with her own art- and community-oriented blog, See Saw (www.seesaw.typepad.com). What's most compelling about the medium to her is its extraordinary potential to foster communities, as reflected in See Saw's ambitious mission: unite "art, collecting, advertising, retail, architecture, products and people."
"It is kind of a mouthful, isn't it?" Cowan comments with a laugh as she gestures at samples of the photographs, paintings, furniture and cultural artifacts in the former Fuller Brush factory she converted into a gallery two years ago. "But as you can see," she notes, "my tastes do tend to meander. I've been a designer, photographer, a radio producer, worked in advertising . . . [and] completed coursework for an anthropology PhD. A little of all of those interests is here."
One of her first entries in See Saw is a tribute to illustrator Mary Louise Spoor (1887-1985), because she was so struck by the uncluttered, Japanese-style inspiration in Spoor's chromolithograph trade cards and other advertising illustrations. Cowan is quick to mention that without the blogosphere, featuring this prolific artist's work would have been a lot tougher.
"In a few hours of research, I was able to trace [Spoor's] lineage to the Essany movie studio in Chicago that her brother operated, which led me to information about her extended family, and finally to her grandson. I was then able to contact him. None of that would have been possible without the blog world," Cowan says. "And, because of my site and blog, he could vet me and determine if I was a nut or someone he should consider replying to."
As an interactive and more adaptable extension of her gallery's website (www.pinestreetartworks.com), See Saw will feature write-ups of artists on display. But Cowan, a former New Yorker who moved to Burlington in 2001, is equally interested in how art space and/or retail business creation can foster community growth — or hinder it.
"People just shop differently here," she explains. "Yankee thrift is a large factor in Burlington. People are cautious about spending money, as opposed to [in] New York, where shopping is a contact sport. I'm interested in — from methods of display to content to store-frontage — how retail can better serve the community it's in . . . to actually help create that community. And, as long as the blog is as much a resource for artists as it is for locals to get a sense of what makes Burlington unique," she concludes, "I'll be satisfied."