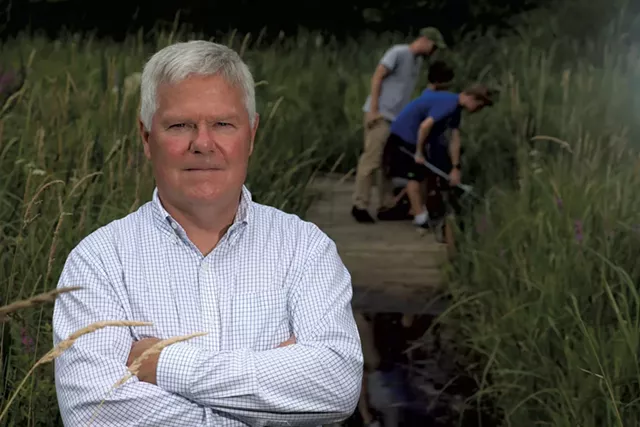 Matthew Thorsen
Nick Warner on a wetlands trail at the Ethan Allen Homestead
Earlier this year, Williston town manager Rick McGuire gave the Winooski Valley Park District an ultimatum: Lower our annual fee or we're out.
Williston pays more than $30,000 a year to the regional organization that was founded three decades ago to create public parks in Vermont's fastest-growing county.
By its own calculation, Williston is getting a raw deal: Of the 1,750 acres WVPD owns and manages, only eight acres of the Muddy Brook Wetlands Reserve fall within the town's borders.
Unless the park district changes its funding formula, McGuire said, Williston taxpayers could vote to opt out of the conservation organization that counts seven Chittenden County municipalities as members. Last January, the selectboard decided to put the question to residents in March 2018, figuring it's "the only way to gain any leverage in the situation," as McGuire phrased it.
As a result of Williston's threat, the WVPD is trying to start a community conversation about the future of the organization.
The park district currently owns 18 parks in Burlington, Winooski, Williston, Essex, Jericho, South Burlington and Colchester. Its holdings include the well-worn paths that encircle Colchester Pond, the lawns and gardens of the Ethan Allen Homestead and the protected Heineburg Wetlands alongside Route 127 in Burlington.
This year's WVPD budget is $346,000 and covers staff salaries, trail and building maintenance, and educational programs. Instead of having to maintain separate parks departments, explained executive director Nick Warner, member communities benefit by sharing the costs.
Those towns fund about 80 percent of the WVPD budget. They make annual contributions determined by a formula that takes into account the value of a town's grand list and the size of its population — in other words, whoever can pay the most gets the biggest bill.
In 2017, Burlington contributed more than $97,000, while the smallest municipality, Jericho, paid about $11,000. There are no fees to use the parks, which are open to the public. Grants and donations from organizations and foundations fund land purchases.
Twenty percent of the park district's budget comes from an assortment of sources: fee-for-service work in other town parks, an outdoor education summer camp, land rented to farmers, and garden space leased to the Association of Africans Living in Vermont and the Visiting Nurse Association of Chittenden and Grand Isle Counties. The Forest School, a preschool, also pays rent to use a classroom on the homestead.
"We're a lean organization that runs a lean operation," said Warner, 59, who joined the park district three years ago after nearly a decade in Burlington's Community and Economic Development Office.
According to Warner, WVPD may be unique in the country. Technically a union municipal district — able to contract with other towns like a municipality — it is also a nonprofit. A board of trustees with a representative from each member town oversees operations.
"It's a good model," said Katherine "Deac" Decarreau, a former Winooski city manager whom the district hired last spring as a temporary strategy consultant. But, she added, "It's got to grow and change constantly to stay effective."
Each fall, Warner pitches the member towns at selectboard meetings, pleading for their annual contributions. Historically, they have opened their checkbooks.
Until now.
There's a "pretty lively debate," according to South Burlington town manager Kevin Dorn, about whether towns with limited or no district parkland, such as Williston and Winooski, should be held to the same funding formula as a town like Colchester, which has more than 1,100 acres of parks maintained by WVPD.
Williston officials have complained for almost 10 years, according to McGuire. The town's 2018 fee of nearly $32,000 is a tiny fraction of Williston's $10 million budget, but residents pay a lot per capita because of high property values on the town's grand list, he said.
For a short time, the WVPD did free maintenance on the 12 miles of town-owned trails in Williston — as a form of compensation. But in 2012, it stopped that service on grounds it wasn't fair to the other towns. "In recent years, the Winooski Valley Park District has been burdened by conflicting expectations" is how Sonja Schuyler, chair of the park district board, explained the decision.
Williston does "still support that regional vision" of the WVPD, assured town conservation planner Melinda Scott, predicting that the town and district would come to an agreement before next March — which would obviate the public vote.
"If the WVPD wants the town to stay, I think they'll be able to figure out how to adjust their funding," Scott said.
It doesn't have much choice. The WVPD has no taxing authority and, therefore, little leverage. If a town decides to skip payments, as Winooski has done in the past, there's no real recourse, according to Warner.
"Even when Winooski was flat broke, you could still walk across the bridge and go fishing at Salmon Hole," he said.
In 2015, South Burlington faced "budget pressures," according to Dorn. The city never paid its full annual fee — about $50,000 — but did resume payments the following year, he added.
What residents want from the park district and what they're willing to pay varies from town to town, Decarreau explained. "The towns, despite being really close, are all really different," she said. "Everyone has their own issues they're trying to solve. They don't overlap until it's, 'How do we pay for it?'"
WVPD is asking that question, too. This summer, the park district contracted with the Castleton Polling Institute to survey the public on issues such as park usage and the value placed on land conservation. The online survey, which is ongoing, also asked about potential funding alternatives for the district, including donations and user fees.
Warner has explored various ways to raise cash. Last September, for instance, South Burlington paid the park district $12,000 to take over management and improvements at Red Rocks and Wheeler Nature parks.
"They have the expertise, and we don't have the capacity to do it," said city manager Dorn.
WVPD oversees varied types of terrain that offer people opportunities to hike, cross-country ski, watch wildlife and picnic. Its preservation efforts are focused on obtaining "high level conservation assets" such as riparian habitats, wildlife corridors, and habitats of rare and endangered species, said Warner.
The effort dates back to 1970, when lawmakers approved Act 250, the state's land use and development law, to slow an unprecedented development boom. "There was a legitimate fear that Vermont was going to be hacked into pieces and overdeveloped," Warner said.
Two years later, five communities — Burlington, Winooski, Colchester, Essex and Williston — teamed up to conserve land along the verdant Winooski River corridor, which meanders its way northwest through Chittenden County to Lake Champlain.
The towns petitioned the legislature to create a joint organization and the WVPD was born. In 1974, the organization made its first purchase — 135 acres of the Ethan Allen Homestead in Burlington's Intervale, now home to its current staff headquarters. One by one over the next two decades, surrounding towns voted to become regular paying members. Williston and Jericho, the last towns to opt in, didn't officially join until 1987.
Today, three full-time park district staffers operate out of an old chicken coop-turned-garage-turned-office that looks out across the 284 acres of community gardens, walking trails, a caretaker's cottage, and the farmhouse once owned by Vermont state founder and Revolutionary War hero Ethan Allen.
The WVPD is still growing its holdings. The newest park facilities are at the Wolcott Family Natural Area in Colchester, and there's a green space behind the Bayberry Commons development in South Burlington. Three other acquisitions are also in process, Warner said, though he declined to elaborate. None of them, he added, are in Williston.
More land would likely mean a bigger budget next year for an organization already grappling with funding uncertainty. To fix that, Warner said, "We want to make sure the decision we make lasts for generations."