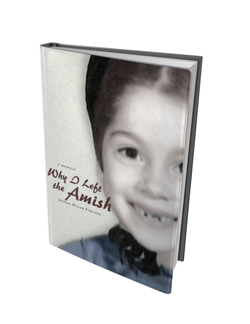 Most of us take our hot showers for granted. Not Saloma Miller Furlong. Furlong, who grew up in an Amish community in Ohio, remembers lugging water, heating it and showering under a watering can that hung from a nail.
"I've noticed that I can relate to people's stories who are a generation or even two generations older than me," the former Vermont resident says. But, if she could exchange her childhood for an easier one, she wouldn't. "I learned from the hardships," she says. "They make me appreciate what I have now."
By "hardships," Furlong doesn't just mean living without electricity, or conforming to the dictates of a strict religious community. In her new memoir, Why I Left the Amish, she describes growing up with a father who was mentally ill and a mother who worked furiously to feed her seven children.
"At some point," Furlong writes, "I realized our family was serving a purpose within the community — we were used as an example of what could go wrong if one was lazy, didn't help oneself, or didn't properly adhere to the Amish ways." Still, she and her siblings strove to be good members of the community — until, for some of them, the pressures were too much.
Furlong first tried to leave the Amish in 1977, when she was 20. Her chosen destination was Vermont — a place she knew only from poring over Vermont Life magazines. She settled in at the Burlington YWCA, where her family soon found her, and brought her back into the fold.
But in Vermont, the young woman had made a friend named David Furlong. He visited her in Ohio, where she did her best to "turn off" her feelings for him and send him away, she recalls. But "when I saw his retreating back, I thought, Oh, my God, there goes my future. What have I done?"
Three years after her original flight, Furlong left the community for good. She returned to Vermont, where she married David and had two sons.
Now a Massachusetts resident who works at Amherst College, Furlong visits Burlington this week to launch her memoir about growing up Amish — and leaving. Four of the people who helped her on what she calls her "healing journey" — counselors and a life coach — will be there, too.
Over 12 years, Furlong reshaped her book several times and worked with two agents, but publishers kept rejecting the manuscript. Finally, when she was considering self-publishing, the book found a home at Michigan State University Press.
The memoir offers a fascinating insider's view. We learn, for instance, why a particular Amish community decides to allow chainsaws while another might not, and why young people's church-sanctioned courting involves sharing a bed.
Furlong also broaches a more sensitive issue: sexual abuse among the Amish. No one knows how prevalent the phenomenon is, and social workers may feel leery of interfering. The key, says Furlong, is to stop "romanticizing" the community and understand that, in this regard, "the Amish are no different from anyone else."
The book also contains loving descriptions of good parts of Amish life — home-cooked meals, communal labors and celebrations. Furlong says her upbringing gave her a "sound work ethic" and a love of "what I call the homespun art ... The things we did together as a community, I still like to do now."
Another legacy of her childhood: "I temper my joining the rat race by not having the latest developments in technology," Furlong says. She feels as skeptical of modern market trends as she once did of the bishop who told her women should be submissive to men. "I almost resent it when people tell me I need an e-reader," Furlong says. "My Amish background has really made me aware that, in many ways, these things do not simplify our lives — they make them more complicated."