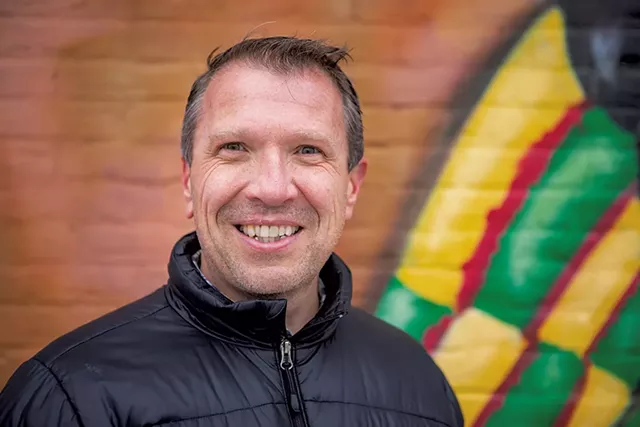 Luke Awtry
Tiki Archambeau
Tiki Archambeau was working from home last June when a man having a mental health crisis wandered into his driveway in Burlington's Old North End.
Archambeau called the police, who arrived quickly and helped peacefully resolve the situation. That evening, Archambeau used Front Porch Forum to thank the officers for their work.
He didn't expect the backlash that came next.
A neighbor charged that Archambeau's words of gratitude were tone-deaf amid a nationwide reckoning over policing. The person accused Archambeau of diminishing the racial justice efforts in Burlington, where activists had demanded cuts to the police force — a call the six Progressive members of the city council had embraced.
Archambeau has always considered himself a Progressive — and has twice chaired the local party — but he was stunned by the council's willingness to "defund the police" without another plan for public safety.
Six months later, Archambeau is running against Central District incumbent Perri Freeman, a first-term Progressive councilor at the center of the very police reforms that Archambeau says were too rushed. The day before Archambeau posted on Front Porch Forum, Freeman was among the dozens of activists who marched to Mayor Miro Weinberger's home to demand reform of the city police force.
To Archambeau, council Progressives such as Freeman have abandoned any semblance of compromise and collaboration — principles he pledges to restore if elected on Town Meeting Day in March. But Freeman argues that the Progressive Party has become more inclusive, not less, by fighting for justice.
"The changes that I've advocated for look at power and redistributing it ... and that definitely makes people uncomfortable," said Freeman, who uses gender-neutral pronouns. "I think that discomfort is something that anyone in a position of [power] right now should really lean into."
Freeman was elected to the city council in March 2019 as a political newcomer, besting council veteran and Progressive Party stalwart Jane Knodell in the district, which is composed of Wards 2 and 3. Freeman's victory — and that of fellow Councilor Jack Hanson (P-East District) the same year — signaled a sea change on the city council, where six of 12 seats now belong to Progressives.
Two years later, the situation is reversed in the Central District: The more moderate candidate is looking to unseat the far-left Prog.
Indeed, Freeman has sponsored some of the caucus' leftmost-leaning initiatives. The councilor introduced and helped pass resolutions to create a reparations task force and to bar local police from collaborating with federal immigration authorities. Last spring, Freeman introduced a "just economy" plan to tax the wealthiest Burlingtonians; the measure was shelved as talks of defunding the police ramped up.
That's when Archambeau began considering his options. He's lived in Burlington for two decades and is no stranger to civic service. As a public works commissioner for the last nine years, he has helped create a policy to remove snow from city bike lanes. He chaired the Burlington Progressive Party — from 2003 to '05 and again from 2012 to '14 — and has served stints as an elections inspector and on his local Neighborhood Planning Assembly.
Last June, he was shocked to watch as Progressive councilors voted in lockstep to reduce the police force through attrition from 90 to 74 officers and attempted to slash a $13,800 line item for equipment, including bulletproof vests.
"The level of micromanagement ... was uncalled for," Archambeau said, adding that he supports police reform, "but you've gotta have a plan going in."
Archambeau's concern only grew late last year, when Freeman proposed creating an "independent community control board" to investigate police misconduct and discipline officers. The civilian-led body would have had the power to fire cops, including the chief of police. Archambeau supported Weinberger's subsequent veto of the measure.
Like the mayor, Archambeau said the control board would have further accelerated officers' departures from 1 North Avenue. Nine cops have already left since June, many of them citing city council decisions as factors.
Archambeau also said Freeman didn't adequately address the concerns raised by the police chief, police commission and police union before the council vote earlier this month. Archambeau doesn't have his own proposal for reform, but if elected, he said, he'd want to hear from all stakeholders before making a decision.
A self-proclaimed "small-p progressive," Archambeau won the Democrats' nomination in December but said he's running as an independent to avoid being pinned to a party label.
"It's not teamwork," Archambeau said of the Progs' approach to governance. "Can we not operate pragmatically and at least pretend like we hear other concerns?"
Archambeau's criticism extends beyond issues of policing. He argues that Freeman and other Progressives ignored landlords and "cherry-picked" advocates to speak at meetings about banning no-cause evictions in the city. Progressives, however, argued that renters were disenfranchised in the process when Councilor Joan Shannon (D-South District) invited landlords to a subcommittee meeting on the topic. The item will be on the ballot in March.
Archambeau, who rents out the top floor of his home, opposes the measure. He said evictions are a tool for landlords who have problem tenants or who need to make repairs to their buildings. (The proposal, however, says that evictions in those situations would be allowed as long as the property owner gives renters adequate notice.)
Archambeau said he understands Freeman's desire to uplift marginalized residents in policy debates but said people with differing viewpoints should be given equal consideration.
"We [can't] just listen to the voices that have backed us and got us into office. That doesn't work," he said. "You don't just govern certain segments of society; you govern everybody."
Luke Awtry
Perri Freeman
For their part, Freeman said they've never suppressed dialogue and have even advocated for longer public forums to hear more input. Freeman said they reached out to the administration and other councilors about the control board proposal, but many never responded or waited until the last minute to propose an alternative.
"If the question is whether I'm willing to hear people who have a different perspective, of course [I am]," Freeman said. "I might not agree with them, but I'm willing to hear them."
Gene Bergman, a former assistant city attorney and longtime Progressive, said Archambeau's assertion that Freeman and other Progs are uncompromising is "wrong and unfair." For one, Bergman said, Freeman amended the control board proposal after hearing concerns from Weinberger and council Democrats, albeit not enough to avoid a mayoral veto. Archambeau's support of the veto — and his opposition to the eviction proposal — indicate to Bergman that Freeman's challenger doesn't support Progressive policies.
Freeman, Bergman said, "is fighting for working people, fighting for people who need to have a voice."
Councilor Hanson agreed that Freeman's strength is in engaging with constituents. He met Freeman in the summer of 2017, when they both canvassed for the Vermont Public Interest Research Group, a nonprofit focused on climate advocacy. Knocking on doors and rallying supporters for VPIRG prepared Freeman to serve on the council, Hanson said.
Hanson, who is running for reelection unopposed, credited Freeman for taking the lead on social justice issues, including workers' rights and housing. As evidence, he pointed to Freeman's "just economy" resolution, which included provisions to levy a "luxury sales tax" on property sales exceeding $500,000, establish a minimum wage for Queen City workers and protect renters from unjust evictions. Hanson said Freeman is unafraid of confronting emotionally charged issues.
"It's pretty brave and commendable that Perri's been willing to really get out there and fight for what they believe in," he said. "It's hard to balance policy making with activism and organizing, and I think Perri's done a good job at straddling those worlds."
Bob Kiernan, an Archambeau supporter and 16-year Central District resident, isn't so sure. Kiernan said Freeman's hard-line ideology may make them less likely to reach out to political opposites.
"I can't say that [Freeman] completely ignores people who think different ways," Kiernan said, "but [they're] certainly somewhat ignoring me by being so supportive of [their] own view."
Kiernan said he's voting for Archambeau because he has appreciated the candidate's balanced view as a public works commissioner. Kiernan doesn't always agree with Archambeau, but he thinks Burlington needs a councilor who weighs all sides of an issue.
Former councilor Knodell is also supporting Archambeau. With six votes and typically at least one ally, council Progressives have been able to pass almost any measure without compromising, she said. With Archambeau aboard, they'd be forced to work with others, Knodell suggested.
"Tiki is offering Central District voters an alternative, someone who's going to listen to the activists but is not going to let the activists write the legislation," she said. "People will have an opportunity to decide whether they are looking for some kind of different representation."
The mayor's race could also change the council dynamic. Weinberger is facing challenges from both Council President Max Tracy (P-Ward 2) — whom Freeman is supporting — and Councilor Ali Dieng (I-Ward 7). Archambeau hasn't decided whom he'll vote for, and Weinberger has yet to publicly endorse either council candidate.
As a councilor, Archambeau said, he'd work on affordable housing in Burlington. He pitched a plan to help developers turn multiunit apartment buildings into condos for first-time home buyers. He also thinks the city should work with the University of Vermont to create more student housing.
If reelected, Freeman wants to continue the council's anti-racist work and improve public transportation in the city. Freeman said they'd also like to revisit the just economy proposal.
"I'm excited about continuing to fight alongside this community for the things we really need to see change," Freeman said.
Candidates will have to campaign differently this year since door-knocking and meet and greets are on hold during the coronavirus pandemic. Archambeau said he plans to hit the phones and make himself available on Zoom. Both he and Freeman will participate in a virtual candidate forum sponsored by the Wards 2 & 3 Neighborhood Planning Assembly on Thursday, January 14.
While the pandemic creates a layer of uncertainty, Freeman said there's no denying the energy surrounding today's Progressive Party. More than 1,400 people voted in the nominating caucus last month, a party record and an indication to Freeman that its message is resonating with Burlingtonians.
Of their candidacy, Freeman said, "Certainly it's not going to be the right fit for everyone ... but I think that we're also seeing that it is the right fit for a lot of people right now."
Correction, January 13, 2021: A previous version of this story inaccurately described an aspect of the situation in Archambeau's driveway.