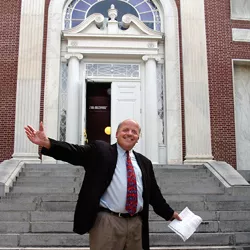 Peter Clavelle was about 5 years old when he asked his mother, "What can I be when I grow up?" Eleanor Clavelle remembers. She replied, "You can be whatever you want to be."
As it turned out, Clavelle became city manager of his native Winooski in the 1970s and was appointed in 1983 by then-mayor Bernie Sanders as the first director of Burlington's Community and Economic Development Office. The prematurely bald and round-faced French Canadian known as "Moon" went on to become the longest-serving mayor in Burlington's history, winning seven of eight elections and holding the office for a total of 14 years.
Now, at age 62, Clavelle has moved to Albania. He has a five-year contract to oversee a local governance project in the eastern European country. Albania is about the same size as Vermont, but has a population that is five times larger.
Eleanor Clavelle says she's proud of what the second oldest of her five children has achieved. "He was always the biggest risk taker of the bunch," she notes.
Moving to Albania may not entail much of a physical risk — except, Peter Clavelle notes, from the "crazy drivers" — but it's an adventure most Social Security-eligible Vermonters would be unlikely to contemplate. Language may be the biggest challenge. Albanian is a blend of two dialects, Gheg and Tosk, "but with a bigger influence of Tosk as compared to the Gheg," according to Wikipedia.
"People our age are keying for transitions," says Clavelle's wife, Betsy Ferries, 64. "For some, that means a warmer climate. In my own life, I've gained a lot of richness from living in other countries."
In separate interviews, Clavelle and Ferries each identified as a transformative experience the two years they spent on the Caribbean island of Grenada in the mid-'90s. It persuaded them to commit to overseas development work once their children were grown and Vermont politics was no longer at the center of their lives.
Burlington voters decided "it was time for me to take a sabbatical," Clavelle says of the outcome of the 1993 election, won by Republican Peter Brownell, that left him unexpectedly jobless. The ex-mayor found work as a project manager in Grenada through Associates in Rural Development (ARD), a Burlington-based international consulting firm.
Clavelle had already begun giving concrete expression to the internationalist interests that he says he inherited from his mother. "She was always very fond of geography," Clavelle says, adding, "She encouraged us to explore." As mayor, he played a key role in establishing or sustaining Burlington's relations with such far-flung cities as Puerto Cabezas in Nicaragua, Yaroslavl in Russia, Bethlehem in the Israeli-occupied West Bank and Arad in Israel itself.
It was through ARD, founded in 1977 by Vermonter George Burrill, that Clavelle was tapped to work in Albania under a contract with the U.S. Agency for International Development. Since 2007, ARD has been a subsidiary of California-based Tetra Tech, a global services corporation with 13,000 employees and annual revenues in excess of $2.5 billion.
Clavelle has been an ARD employee since leaving the mayor's office in 2006, working for part of that time in sketchy settings such as Afghanistan and South Sudan. Conditions there were "challenging," Clavelle says, but the work was "fascinating." He has also held consultant posts in Gaza, Jordan and Uganda. Ferries says veteran U.S. foreign-service workers describe Albania, in contrast, as "about as easy as it gets in the international-development field."
Tirana, Albania's capital, is a pleasant, walkable city with leafy streets and numerous cafés, Clavelle says via Skype. He's negotiating a lease on a high-rise apartment in downtown Tirana so as to live among Albanians rather than in an expatriate enclave. A short distance from both Greece and Italy, Tirana is becoming a cosmopolitan center where English is widely spoken, Clavelle notes. Although most of its citizens are Muslim, Albania is a secular country and "the most pro-American place I've ever been to," the world traveler adds.
It was not always thus. During the 40-year communist era that ended in 1990, dictator Enver Hoxha isolated the country not only from the rest of Europe, but from the Soviet empire as well. Albania earned notoriety — and locked itself into poverty and ideological zealotry — as a close ally of China until the death of Mao Zedong in 1976. Not long after the collapse of communism, and years before Bernie Madoff's swindles were exposed, a national Ponzi scheme caused Albania's economy to crumble.
The country's turnaround has been startling, observes Clavelle, who first visited in 1996 to inaugurate a program twinning Lake Champlain with Lake Ohrid, which straddles Albania and Macedonia. Today, Ferries points out that Albania is best known internationally as the birthplace of Mother Teresa and, in the U.S., as the ancestral home of both John Belushi, a "Saturday Night Live" comedian who died of a drug overdose, and Ferid Murad, the inventor of Viagra. The country's unspoiled Adriatic coast has also become a down-market hipster version of the Riviera.
Albania has some serious social problems, including sex trafficking of young women, often from the country's Roma minority. Ferries says she hopes to find work, either as a volunteer or paid employee, with an organization combating sexual enslavement. A teacher and counselor in the Essex schools for many years, Ferries worked most recently as director of Mercy Connections, a Burlington charitable organization associated with the Sisters of Mercy.
Interviewed in the kitchen of her home on South Union Street, Ferries confesses that it isn't easy to leave Burlington behind. Three of the couple's four children — Luke, 27; Will, 23; and Awil, 20 — live in the Queen City, while Jae, 24, works for an international development company in San Francisco. Ferries and Clavelle are the legal guardians of Awil, a refugee from Somalia who's set to graduate in June from Burlington High School.
Because they're selling their house, Ferries must find an adoptive home for the couple's 12-year-old terrier, Freddie, who still bounces excitedly when she tosses him a toy.
It's easy now to stay in touch via the internet, Ferries notes — unlike the difficulty of international communication "back in the day." Email and internet phone calls are not, however, a sufficient substitute for physical proximity, Ferries continues, saying, "There's no way I'll let more than six months pass without seeing my kids, either here or there."
When she and Clavelle do return to Burlington, they'll find it governed by a mayor who, for the first time in 31 years, does not have close ties to the Progressives. Clavelle, a Prog who became a Democrat prior to his unsuccessful race for governor in 2004, says he left Burlington with "mixed emotions," including concern for his eightysomething parents who still live in Winooski.
He expresses pride and confidence in the prosperity and "dynamism" of a city that remains "a very comfortable place to live." Burlington will overcome its current difficulties, Clavelle predicts, noting that when he was mayor he grappled with budget problems that sometimes seemed unsolvable. "Oh, my God," he recalls saying on occasion. "How are we ever going to balance the books?"
Current Mayor Bob Kiss "gets a bad rap in some ways," Clavelle asserts. While acknowledging the "daunting" challenges posed by all-but-officially-bankrupt Burlington Telecom, the ex-mayor cites Kiss' record of avoiding an increase in property taxes and carrying out extensive repairs of the city's streets and sidewalks.
So does he miss starring as king of the Queen City? "Not really," Clavelle responds. "I had a great run and now I'm working on a new chapter of my life."