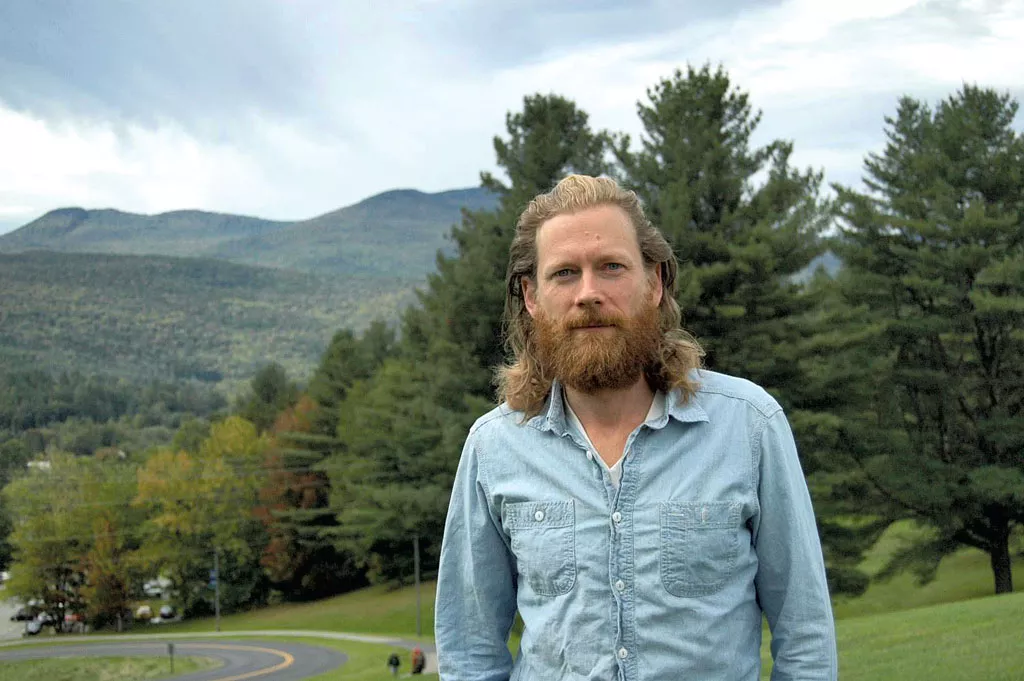 Molly Zapp
Isaac Littlejohn Eddy
Actor, director, improv artist and cartoonist Isaac Littlejohn Eddy has put away his makeup and bald cap — at least for now. Originally from Randolph, the 36-year-old Renaissance man left Brooklyn to become a visiting professor at Johnson State College, where he teaches Acting I and a class on interpreting contemporary dramatic literature. Before JSC, Eddy's "job job," as he puts it, was performing with Blue Man Group, a percussive and visually stimulating performance troupe. For the last three of his 12 years as a Blue Man, he helped write and develop the group's material.
On the side, Eddy created "Cat, Dog, Stoop," a series of short, witty animations, and his cartoons have been published in the New Yorker. He also crafted interactive "subversive theater" pieces as part of his MFA program at City University of New York, Brooklyn College. Clearly, the man likes to stay busy.
"I feel the most excited and settled if I'm working on multiple different levels at the same time," says Eddy from a swing on JSC's campus that overlooks Sterling Mountain. "I really miss the [Blue Man] community, and the element of performance — the exercise, the sweating and engagement, the adrenaline. But what I'm doing right now feels totally where I need my brain to be."
Eddy and his wife are expecting their second child any day now; he says they moved to Vermont so their kids could grow up in a rural setting, and because he wanted to teach.
Seven Days talked with Eddy about trading the blue face for the Green Mountains — and about seasons, white privilege and hair.
SEVEN DAYS: Blue Man group is a more recognizable brand than the other work you've done. But is it cool in 2015?
ISAAC LITTLEJOHN EDDY: The show has definitely evolved since 1991, when it opened off-Broadway. In '91, it was this avant-garde, hip thing that was definitely relatable and translatable to a lot of different generations. In that original iteration, I think people thought of it as insider art — that it was commenting on contemporary art and making fun of it, and everyone who was in the know would get it. But the original few [Blue Men] were outsiders, these actors and artists trying to find their own voice in New York City like everyone else, and they created this piece as outsiders, for everybody.
That was kind of the point from the beginning: How do we talk about art from this literal outsider perspective, this alien, nonspeaking perspective? Having studied a lot of art, I love it from the perspective of Jasper Johns, Rothko, Yves Klein — but it also has resonance even if you aren't into that [kind of] contemporary art. It was like, Wow, they come out into the audience, and all this really kind of crazy stuff for off-Broadway at the time, which is really not crazy now.
It's really interesting how this nonspeaking, innocent shaman punk trickster reacts to our culture right now, versus our culture in 1991. It's a complex enough character that, every time we move on as a culture, I want to see how the Blue Man reacts to it.
SD: Vermonters moving to New York, New Yorkers coming back here — this is a bit of a thing, right? How is that readjustment? Do you like the darkness here?
ILE: I can handle the darkness. I feel awkward if I don't have the hard seasons — I need to pay for my summers. I definitely went soft in New York.
SD: New York made you soft?
ILE: New York made me soft in that I want spring to happen in the beginning of March, and I know that that's not a Vermont thing.
Leaving Vermont, I had a way, way different concept of what "privileged" meant, the concept of white privilege, the concept of space. When I grew up in Vermont, I felt really lucky, but I always thought I came from simple means. I went to a politically progressive college [Wesleyan University], but it wasn't until living in New York City that I realized, wow, I am an actual race. It's not just me, nice guy, thinking that everyone should be not racist anymore. It was like, I am a part of it, and where I come from, it's extremely privileged to have this space, this quiet, this clean air.
I went to a public high school, and I could leave my book bag just sitting around and it wouldn't get stolen. That allowed a lot of my brain space to not be on guard, and I just never thought about that. I feel like, personally, it's not OK to not be aware of that now.
SD: Do you find that your students are open to these conversations?
ILE: Yes. I've had a lot of discussions with students about critical race theory, feminist theory, post-colonial theory — and I find high school students now, because of how those gender and sexual orientation discussions are going, are primed to have this kind of discourse. That makes a lot of them more understanding of this kind of perspective shift. The sources of power tell the story this way, but what about it from this perspective? I'm not saying that I'm trying to change your mind; the point is to learn how these different ways of analysis are used. The point of a classroom is for you to learn how to look at a play from different perspectives than your own.
SD: In some ways, the classroom is a much safer, easier environment for these discussions — "Let's talk about these things we read, or some of our own experiences." But then, what do you do when you're out with friends and one of your white friends says something that is racist, homophobic or a microaggression?
ILE: I find that hard still. It's the Donald Trump thing: I'm just having fun; you misinterpreted me. It can so easily be flipped to being on you for just being uptight. I follow comedy, and this is being talked about a lot right now, and political correctness. [Within today's social climate,] there's more room for comedy now than ever before, and if you can't navigate that, you should be doing something else. The point is to get smarter. With each step of the way, I have to ask, am I promoting these old tropes, or am I helping stories evolve to be more just, more inclusive? That doesn't mean everything has to be this heavy political doctrine. It can still be art, still be good storytelling.
SD: I notice that you have a sizable beard. Is this new, post-Blue Man?
ILE: You do have to be clean-shaven for Blue Man. For 12 and a half years, I've been looking forward to this moment. I didn't even know that my beard was red. This is a very exciting moment. It's gonna go ZZ Top. I'm definitely not cutting it any time soon.