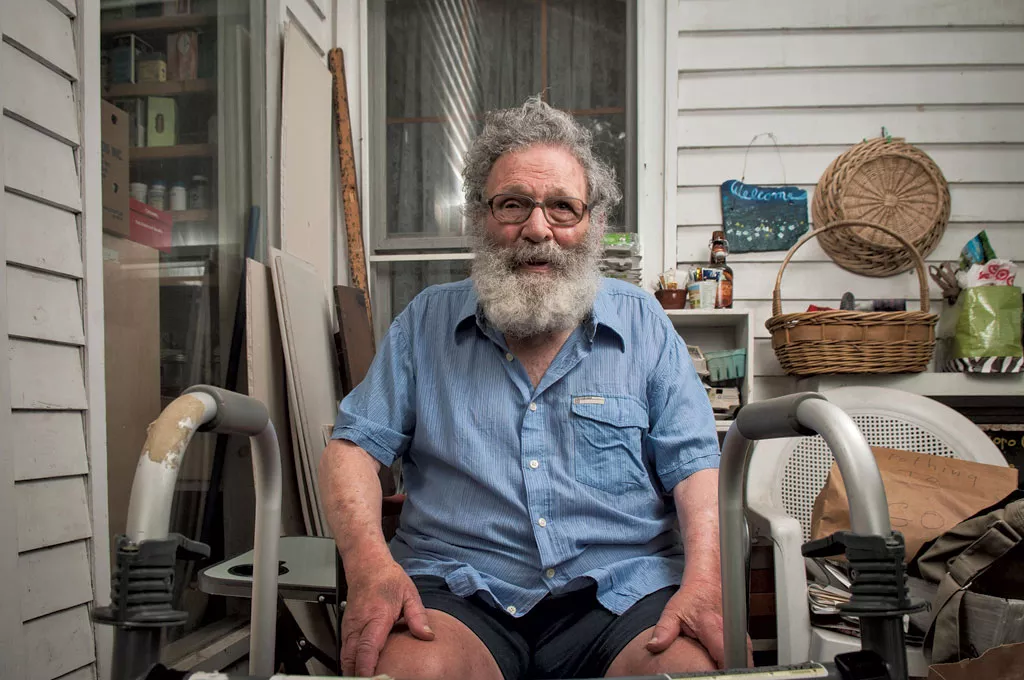 Zachary Stephens
Peter Diamondstone
Peter Diamondstone, the longtime standard-bearer of Vermont's leftist Liberty Union Party, has always been forthcoming with reporters. But on a recent afternoon, he stumbled when confronted with an obvious inquiry: Has it been difficult for him to watch Bernie Sanders' presidential campaign catch fire?
Diamondstone and Sanders were once political equals, close allies in a struggle to spread their brand of socialism in Vermont. It was Diamondstone who, one year after he helped create the party, welcomed Sanders onto the team. The pair used to stay up all night, talking politics and strategizing.
But after a bitter falling-out three decades ago, their paths diverged.
Sanders quit the Liberty Union Party and, while remaining a "democratic socialist," went on to support Democratic Party candidates. He rose to become a respected leader in Vermont and is now a presidential contender.
Meanwhile, Diamondstone hasn't budged an inch politically. He has entered every Vermont state election since the early 1970s and never won more than 7 percent of the vote. He is known as much for his antics and unconventional appearance — bushy beard and thick, curly hair — as for his socialist views.
As Sanders has been jetting around the country this summer, speaking to adoring crowds, Diamondstone has been recuperating from complications from heart and liver failure. He's been confined to his Dummerston home since Medicare stopped paying for his stay in a respite facility. Clad in compression socks, he uses a walker to get around.
When he looks at his old friend, does Diamondstone ever think, "That could have been me?"
Sitting in his living room, the 80-year-old Socialist paused but couldn't summon a direct answer. He noted that it has been decades since he and Sanders have exchanged a friendly word.
"There's no 'friends' there for me," said Diamondstone. "There's nothing, from my point of view. He went in a certain direction, and that was the opposite of mine. Sanders and I suffered a hostile divorce. He was moving to the right, and I was moving to the left."
Diamondstone did admit feeling annoyance that Sanders gets credit, in Vermont and nationally, for an unwavering dedication to his beliefs — as the guy who has been saying the same thing for years, no matter how unpopular.
If that were true, Diamondstone said, Sanders' career would look an awful lot like ... Diamondstone's. He views Sanders as just another sellout who moderated his image and compromised his beliefs to win elections.
"He's a different political person than he was in the good old days," Diamondstone said. "It's changed, big time. It's two different people."
Diamondstone and a handful of others founded the Liberty Union Party in 1970, at the height of the Vietnam War. They espoused an ideology Diamondstone described as "nonviolent revolutionary socialism." They stood for free and universal health care and childcare, and government control of resources and wealth; the party officially opposed nuclear power.
Sanders joined a year later, and, because of a shortage of candidates, volunteered to run in a special election for U.S. Senate. He won 1 percent of the vote. In all, Sanders ran for office four times under the Liberty Union banner, never winning more than 6 percent of the vote.
In the process, he became the party's spokesman. "He was a genius at that," said Diamondstone, who nicknamed Sanders "silver tongue."
"The Liberty Union platform is really borrowed in large part from Sanders. There are things he did for Liberty Union that need to be remembered," he said.
Sanders was tight with Diamondstone and also his wife, Doris Lake. In 1976, Lake ran for Congress and Sanders for governor on the Liberty Union ticket. They often made joint appearances. When it was Sanders' turn to speak, Lake would keep an eye on his son, Levi. When it was her turn, Sanders would watch the Diamondstone kids. There are four: Aaron, Jessy, Ian and Paula.
"There was a real sense of community," Lake said.
Diamondstone and Sanders had a lot in common. Sanders was from Brooklyn; Diamondstone, from Queens. Sanders had enrolled in the University of Chicago just as Diamondstone was graduating, and they both ended up in Vermont.
Diamondstone remembered sleepless sleepovers at Sanders' place. Although they shared an uncompromising leftist ideology, the friends found plenty to debate: capitalism, military intervention. Diamondstone remembered one extended verbal battle about the minimum voting age.
"We were yelling at each other all night," Diamondstone recalled. "Finally, one would say, 'We've got to go to sleep.' Five minutes later, we'd go off again, until the sun came up."
In 1977, Sanders left Liberty Union to become an independent — presumably, because he was tired of losing.
"It certainly has not gone as far as I wanted it go to, and in that sense it's a failure," Sanders said of the party in an Associated Press story at the time.
Both his departure and his 1981 election as Burlington's mayor stung Diamondstone. He felt further betrayed when Sanders began endorsing Democratic candidates for president.
Still devoted to the party's initial goals of a socialist revolution, Diamondstone stayed behind with Liberty Union and immediately engaged in a new battle: giving Sanders what Diamondstone called a "shitload" of grief at every opportunity.
In 1984, when Sanders campaigned for Walter Mondale, Diamondstone drafted anti-Sanders fliers, mocking him as a sellout. He hand delivered one to Sanders at a Mondale campaign event in Bennington.
"It said, 'Sanders Is a Quisling.' That's about the worst insult you can give to someone who calls himself a socialist. Boy, was he pissed," Diamondstone said. Sanders spokesman Michael Briggs did not respond to requests for comment on this story.
Diamondstone, who worked as an attorney, landlord and newspaper delivery driver at various times in his life, soldiered on with the Liberty Union Party's mission. He's averaged 2 percent in his many bids for U.S. Senate, Congress, governor and attorney general. Diamondstone has run against Sanders eight times, labeling him a "war criminal" for supporting military spending and other perceived offenses.
In contrast to Sanders, Diamondstone said winning isn't the point. "Do I look at it from the point of view of measuring results — that is, votes?" Diamondstone asked himself. "You know, I'm a happy guy. It didn't ever dawn on me to change. It's not enough to get votes."
In 2006, while running for a U.S. Senate seat against Sanders and Republican Rich Tarrant, Diamondstone relentlessly attacked Sanders during a debate at Vermont Law School and called two students in the audience "shits" for seeming to direct more questions at Sanders and Tarrant than at himself. Diamondstone refused to stop talking when his allotted time was up. After sheriff's deputies escorted him from the stage, he continued to protest and was charged with disorderly conduct.
While he can be abrasive to politicians who disagree with him, Diamondstone became a nurturing leader of the Liberty Union party after Sanders left, according to longtime party member Jerry Levy.
"Peter basically has kept the party alive all these years," Levy said. "He's a kind of conscience of the left in Vermont. Sticking to his style ... of course he sacrificed a type of conventional success that politicians strive for, and he may have some doubts about what he's done."
Though he is usually a clear, consistent spokesman for his party's platform, Diamondstone is often dismissed by the media as a "perennial candidate." In a mention in his memoir, former U.S. senator Jim Jeffords, whom Diamondstone challenged in several elections, called him "colorful."
Last year, Diamondstone participated in a Vermont PBS gubernatorial debate the national media described as "insane," "bizarre," and featuring the "kookiest loons ever on stage." The inclusive debate allowed all seven candidates on the ballot to participate, including Cris Ericson, who wore a large hat and warned that the state would get sued for not having enough bathrooms on the highways, and Emily Peyton, who suggested funneling health care funds to "healers."
Diamondstone contributed: "We have to overturn what is destroying our society and our environment, which is capitalism, represented, I guess, by this bottle of water on my table here."
Some reports mocked him for wearing shorts to the debate. No one revealed — because no one asked, Diamondstone said — that he was there against the advice of his wife and doctor. As a result of recent heart and kidney problems, Diamondstone had painful leg sores that made it difficult to stand and uncomfortable to wear pants. Racked with pain, he had lain across the backseat while his wife drove him to the debate.
"He was a very sick man, but he went out there anyway," Levy said. "He basically risked his life by being as active as he was. In his own way, he is a very dedicated, conscientious politician."
Days after the election, in which he won 0.9 percent of the vote, Diamondstone collapsed and had to be rushed to the hospital. He returned home in April, weeks before Sanders stood on Burlington's waterfront and told the country he was running for president.
Diamondstone won't be voting for him.
"He's carrying the message and raising issues that nobody raises, and that's all right," Diamondstone said of Sanders. "I wouldn't be a bit surprised if he became the candidate. He's talking to the people. But it's not a message of socialism. People call him that. You can't be socialist and talk about rebuilding the middle class. Socialists want to destroy all the classes."
The success of the Sanders campaign has brought a few national reporters to Diamondstone's doorstep. He's been happy to talk to Politico, Mother Jones and the Washington Post.
He's also willing to revisit questions left unanswered. After an afternoon of conversation, Diamondstone returned to those queries that had stumped him earlier: Did he regret his choice to remain a political outsider? Was he envious of Sanders?
"Maybe there's some of that in me," Diamondstone said. "I have to recognize it, because it could have been me, if I changed my views in order to get more votes. I watched that happen to Sanders, and I hated that in him, and I would hate it in myself if it was me."