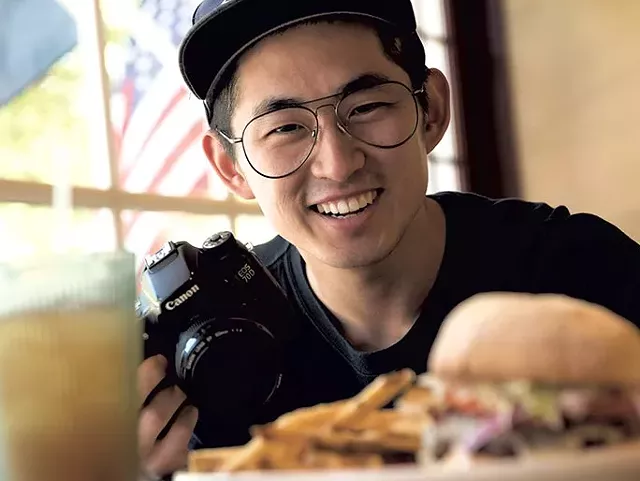 Caleb Kenna
Rocket
It's 10 a.m. at the Diner in Middlebury. A waitress arrives at Rocket's table carrying a strawberry milkshake and a plate of loaded home fries. Rocket carefully positions his milkshake next to the still-steaming platter, a shock of pink beside the heap of fried potatoes, bacon, caramelized onions, melted cheddar and two poached eggs.
Instead of reaching for his fork, this patron fishes for his camera. Then he climbs on a chair to take a top-down photo of his breakfast.
"I need to shoot a picture that'll make people hungry," says Rocket, 24, as he hovers over the table. "Sweet and salty are the easiest ways to do that — those tastes are craved any time of day."
It's part of Rocket's job — and, yes, that's his legal name — to pique a person's interest, and appetite, from a photo of food or drink. As the creator of the Instagram account @eatvt, or Eat Vermont, the Middlebury-based photographer and videographer travels the state to restaurants, bars, cafés and culinary artisans to snap pictures of the various edibles provided. Rocket then uploads the image to Eat Vermont and supplies a brief caption.
Sometimes he describes free-food deals, daily raffles or house specialties to spark an influx of business — both for him and the venue pictured. Although, as Rocket states, "I haven't made a dime from Eat Vermont. I've saved money in the fact that I've bartered for food, and I've found work as a freelance photographer. But, so far, there's no monetary gain."
Courtesy Of Rocket
Breakfast at The Diner
Rocket decided to let @eatvt build its repertoire and cultivate a following before charging artisans and restaurants to grab a spot on the account's daily lineup. Developing a system of fair pay, however, is the end goal. "People spend a lot of money on print marketing, and returns are hard to track. With [Instagram], I can give you an idea of how many people are exposed to the content, where they are coming from and how much response you're getting for your dollar."
Since its launch in January, @eatvt has steadily gained in popularity — at last count it had 6,656 followers. An extensive list of local food and drink businesses, mainly in Addison and Chittenden counties, are displayed in the scroll of photographs on the Eat Vermont feed. And as an online mobile service for sharing photos and videos across one's social network, Instagram is more about the image than the words.
"Instagram is mostly visual," Rocket says, "and a picture is the closest thing you can get to food without being there yourself."
To Rocket, good social media content isn't just a factor of point-and-shoot camerawork enhanced by Instagram filters. Lighting and focus — "two main things most people screw up" — are his first photo requisites. When shooting food and drink, Rocket looks for bright, natural lighting and uses filters sparingly.
"A lot of people will add color tones to their Instagram images," he says. "I mean, I can still see your bacon through a Gingham filter, but who wants to eat off-white bacon?"
Which images make followers drool? Rocket breaks it down simply: Indulgence more readily catches the eye. Salads, he explains, might look beautiful and colorful, but they don't make you hungriest; they aren't as crave-worthy as something palpably decadent. A bag of doughnuts, says Rocket, is a different story. Images that cause a visceral reaction will inspire his followers to seek out the subject in real life.
Rocket might take a bite of the food before snapping the photo, a move meant to imply the intimacy of interaction. For images that don't qualify as "food porn," context is critical. "By 'food porn,' I mean an emotional or physical reaction to food," Rocket explains. "That's harder with something like beer — there's no obvious taste or smell or texture. The picture is a colored liquid in a glass."
So beer must be put into context to make it desirable — to "give it life," in Rocket's words. A glass of beer is better photographed as someone brings it up for a sip, or as the focal point of a table crowded with friends.
"If there's evidence of human life around an image, it makes it more relatable," he explains. "A static shot can be beautiful, but [with Eat Vermont] I'm going for relatable, not beautiful."
The growing popularity of Rocket's Instagram account suggests that these incentives work. A second account, entered with his given name, Ryan Kim, targets a national audience with the title America's Best Friend. This one, described as his way of "celebrating everyday life in the USA," has more than 18,200 followers.
"I often get misinterpreted as trying to sell social media services when I'm not," says Rocket as he starts to eat his loaded home fries. "I'm trying to build a platform that everyone can profit from. As [Eat Vermont] gets bigger, it can benefit a huge community of people. Restaurants, farmers, visitors, locals ... I love that engagement."
One example: On May 16, Rocket pitched a raffle idea to Folino's Pizza in Shelburne — "Tag two friends for the chance to win a large pizza!" Folino's would front the cost of the free pizza, and the restaurant's exposure on Eat Vermont would, in theory, spark their sales. That raffle pitch, paired with a photo of eager hands grabbing slices of Folino's pie, got more than 100 comments and 300 likes within the day.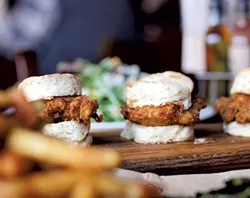 Courtesy Of Rocket
Fried chicken biscuits at Prohibition Pig
"These partnerships go beyond Instagram," says Rocket. To him, social media is just the starting point. What drives him to keep his account running, he emphasizes, is the human interaction and community culture built around the Vermont food world.
"It feels good in your bones to see where your food comes from," says Rocket. "People call it 'farm to table,' but, like 'food porn,' that's just a term. What Vermont does is something beyond that.
"Vermont is such a beautiful state, and such a demographically mixed state," he continues. "It's impossible to avoid bumping shoulders with someone who produces food." Rocket clarifies that these people don't have to be farmers or small business owners — they're also people who brew beer at home, raise their own chickens or need to get their garden in the ground.
"The food scene in Vermont is awesome," Rocket enthuses, "but the social media aspect is behind. Advertising in print is not a bad thing, it's just a bit dated. Eat Vermont is about capturing the Vermont food world in a more modern way."
Yet the older and more traditional side of the food spectrum also inspires Rocket. That's why he enjoys eating at diners like the one in Middlebury. Ultimately, though, he'll share his milkshake and home fries in a most contemporary way: through an uploaded image, a quick caption and a collection of likes.