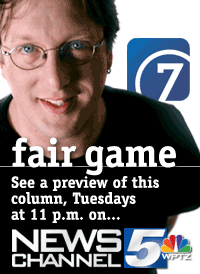 Watching Gov. Peter Shumlin in action over the past week or so, you'd think he was on the campaign trail. Shumlin has been crisscrossing the state and holding almost daily press briefings while he offers hugs, handshakes and promises to fix the lives of Vermonters reeling from the effects of Tropical Storm Irene.
Shumlin recently traded in his chopper for a four-wheel drive Ford Expedition. Why? The gov told Fair Game that seeing recovery efforts firsthand, and hearing directly from individual Vermonters, keeps him energized and focused on the big tasks ahead. Surveying the storm damage from thousands of feet only discourages him.
"I hate going up in the chopper anymore because I just can't stand to see the swaths of devastation," Shumlin said as he toured flood-devastated Duxbury last Saturday.
Shumlin is in his element when he's out meeting people one on one; a consummate retail politician. That was evident as he toured Duxbury's Patterson Trailer Park and several nearby single-family homes. He offered hugs to residents who were on the verge of tears and promised to help those left homeless by the disaster.
In Shumlin's wake, a gubernatorial aide jotted down names, contacts and concerns of residents, and, at the gov's insistence, snapped photos of him posing with flood victims and volunteers. Shumlin's team is not only tasked with making follow-up calls to flood victims to assure their various problems have been addressed; his staff is getting their email and mailing addresses so the pics can be delivered.
As Shumlin went from trailer to trailer, he heard the same story: With fewer than 15 minutes to grab personal belongings before a surging Winooski River consumed them, residents salvaged what few mementos, toys and other items they could from their soon-to-be-condemned homes.
Worse, perhaps, is the isolation the Patterson residents have said they felt as hundreds of volunteers have poured into neighboring Waterbury and helicopters have passed overhead, distributing food and supplies to cut off communities farther south.
By showing up on their doorsteps, Shumlin no doubt aimed to deliver a positive message.
"It's nice to get some recognition," Patterson resident Mike Lavigne told the governor. "For a few days there, we didn't think people even knew about us."
"Well, we're here for you," Shumlin reassured Lavigne and his wife, Susan. "Where are you staying?"
Their daughter's basement, they replied.
"We're gonna get you a place with windows, for starters, OK?" said Shumlin.
The months ahead will test the gov's ability to deliver on this and countless promises he's made to hundreds of other Vermonters like the Lavignes.
Shumlin's got the emotional-support thing covered, too. Nearly every conversation with a flood victim ends with: "Keep smiling. Keep up the good work. We'll get through this." It's become Shumlin's mantra.
Since taking office in January, Shumlin has been dealt not one, not two, but three significant weather events that have strained state, local and private resources.
The near-apocalyptic weather is as much out of Shumlin's control as is the federal budget. There Vermont could see a drought, not a deluge, as Republican leaders call for more budget cuts to defray the federal portion of storm cleanup costs.
Those cuts could come from aid programs that support Vermonters short on housing, food, health care and home-heating fuel — needs likely to increase given the hundreds of displaced residents, especially as winter arrives.
Shumlin knows time is short, but for now he's trying to lift people's spirits.
"We're all under siege right now," he said. "There's no other way to describe it. But we're tough, tenacious, and we stand together. That gives me hope."
Workers of UVM — Unite!
Outrage about golden parachutes at the University of Vermont is sparking new interest among nonunion workers in forming a union of their own.
About 31 percent of UVM's head count of 3321 is unionized. The 680 full- and part-time profs are members of the American Federation of Teachers. The 350 maintenance and custodial staff are members of the United Electrical, Radio and Machine Workers of America. UVM's 25 police officers are Teamsters.
Now, somewhere between 1200 to 1500 clerical, research and administrative support staff want to align with the Vermont chapter of the National Education Association, according Maxwell Tracy, an admissions counselor who is on the organizing committee.
"The UVM staff are the most fired up in at least a decade, and certainly the most fired up since I've been here," said Tracy.
What's changed? UVM is asking its lowest-paid workers to contribute more toward health insurance premiums, accept a zero percent raise this coming year and pay more for health care when they retire.
Meanwhile, UVM is doling out half-million-dollar-plus severance packages to top execs after an investigation of the wife of outgoing president Dan Fogel.
"We've reached a tipping point," said Tracy.
Baruth's Barrage
University of Vermont English professor and State Sen. Philip Baruth (D-Chittenden) is biting the hand that feeds him. This week, Baruth plans to use his legislative position on an obscure subcommittee to urge his fellow subcommittee members to withhold $180,000 of taxpayer money from UVM's endowment.
On Thursday, September 8, the higher education subcommittee of the PreK-16 Council — which is charged with handing out money to UVM, the Vermont State Colleges (VSC) and the Vermont Student Assistance Corporation (VSAC) from Vermont's Higher Education Trust Fund — will decide whether to give each of these entities $180,000.
Baruth told Fair Game that he supports giving the money to VSC and VSAC.
In a three-page letter to UVM trustees, he detailed his reason for opposing UVM's allotment: "I have been genuinely and deeply appalled — unfortunately there is no more politic word — at the administration's policies with regard to the intimately related issues of executive and staff compensation."
Baruth said money should be withheld until trustees review UVM's executive pay policies — a review prompted by the $34,000-a-month severance package former President Dan Fogel will be receiving through the end of 2012. In 2013, Fogel is expected to join Baruth in the English department, where he'll be paid $195,000 a year. Baruth, who has taught there for roughly 20 years, earns $95,000.
"It is my hope that the board will then enact meaningful executive compensation reform, through its own deliberative process, well in advance of negotiations with the incoming president," wrote Baruth. "But if not, I cannot conscience the direct transfer of taxpayer funds into an endowment, and a general university economy, managed with such open and continuing disregard for frugality, equity, and justice." "Conscience" as a verb? Hey, he's the English professor.
Last week, Baruth hinted at even more radical action if UVM fails to settle on a fair labor deal with maintenance workers.
"This building will be taken over," he said last week during a union rally on the steps of UVM's Waterman Building. "And that's a promise." The crowd cheered.
Baruth said he was ashamed of the university for squeezing workers at the bottom of the pay scale while rewarding those at the top.
"There is a deliberate attempt to increase the gap between the highest-paid workers and the lowest-paid workers," said Baruth. "That's what is wrong with America and that's what is now happening here."
Citi vs. City
Last Friday, Citibank finally filed its multimillion-dollar lawsuit against the city of Burlington and the law firm of McNeil Leddy & Sheahan in an effort to recoup more than $37 million in lease payments on equipment at Burlington Telecom.
The lawsuit was served after months of back-and-forth talks between Burlington and the global financier failed to produce an alternative solution.
"We have tried to allow additional time to arrive at a mutually satisfactory solution by granting extensions in the past," said Mark Rodgers, director of public affairs for Citi. "We have had to proceed with litigation due to the city's failure to honor their contractual obligations, including the return of equipment we financed."
Citibank wants Burlington to dismantle the BT network and hand over the equipment and vehicles to Citibank; pay $33.5 million owed per the lease as well as punitive damages for breach of contract; and pay $3.5 million for continued use of the BT network. In addition, Citibank wants current and future BT customer payments to be placed in an escrow account or trust with the court.
Gulp.
Citibank refers to a 2007 letter from attorney Joe McNeil it claims misled Citibank into thinking Burlington could potentially use money from the general treasury to fund the lease. It was under the impression — from McNeil, the suit states — that not all the money in there could be claimed as "taxpayer revenues."
All that changed when Mayor Bob Kiss and the Burlington City Council decided not to appropriate any money toward the lease payments in the FY 2011 budget because all of Burlington's funds — regardless of their source — were deemed "taxpayer revenues."
Joe Reinert, assistant to Mayor Kiss, said city lawyers were reviewing the complaint. "CitiCapital's filing has no impact on Burlington Telecom's provision of services to its business and residential customers," he assured.
To date, city officials and McNeil's law firm have dodged state and federal criminal prosecution connected to BT's overspending and violations of its state certificate of public good. A state court judge also refused to find BT and city officials in contempt of a court order barring the city from spending taxpayer dollars to sort out the BT financial mess.