Two years ago, Burlington held the first annual A-Dog Day. The downtown celebration honored the life and legacy of DJ and skateboarding maven Andy Williams, who died of leukemia in December 2013. In addition to plentiful performances, workshops and events in A-Dog's honor that August, his longtime friend and collaborator DJ Nastee produced a tribute compilation album, titled Friends for A-Dog.
Two years later, things have only gotten bigger. A world-class skate park at the waterfront now bears A-Dog's name. The musical lineup for A-Dog Day this year is so big it will take over both Nectar's and Club Metronome. And the compilation series has returned with a bang: Friends for A-Dog Vol. 2 is a truly monumental project.
The big difference this time around: Vol. 2 is very much a rap album. It captures the spirit of many classic A-Dog mixtapes, blending skits and studio jokes with brilliant cuts, transitions and drops. The tone here is a true-school revival, bridging the gap between '80s and '90s kids and pledging allegiance to smart, lyrical hip-hop.
While it sounds like a polished product now, the album was a lucky accident. Late last year, Nastee discovered a folder full of beats produced by A-Dog and started planning the collaborations now featured on the compilation in early 2016. He tagged some talented local help with the ambitious project.
Local producer/techno-shaman Zach Crawford, aka SkySplitterInk, recorded most of these songs at the SkyLab, his Burlington project studio. Crawford has long been an asset to the local scene as a producer, performer and sound engineer. Since he moved downtown, his vocal booth has become a central hub for hip-hop in the 802. It's also where nine of the tracks here were recorded.
Once the sessions were wrapped, the files were sent to Nastee, who arranged, mixed and mastered the project at New York City's Cutting Room Studios. It's a testament to his deft touch that Vol. 2 sounds so cohesive.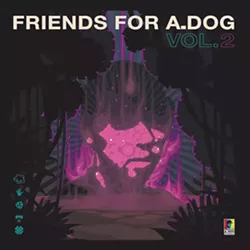 The beats are heavy on piano chops and funky drums, but the elements of world music and dance culture keep the mix unique. A case in point would be "Ready," a collaboration of Burlington rap technician Learic and longtime Aztext collaborator Tha Truth, appearing here as the Nite Caps. It captures the vibe of that Lyricist Lounge/Rawkus wave that brought us Black Star and the iconic Soundbombing compilations.
"The Nite Caps is a duo that arose out of Tha Truth and I doing shows together," explains Learic. "We're really more of a mini-group within the Aztext umbrella."
The prolific battle champion has been a constant presence at the SkyLab lately, preparing multiple album projects for later this year.
The hunger and energy on display throughout Vol. 2 set it apart from its predecessor. Most of the artists here opt to pay their respects by destroying the mic as best they can. "I think because the beats are all made by Andy, people felt a little less confined by the tribute thing," says Crawford, "and the importance of the project got people on their A game."
He ain't kidding. Some of the best moments here are new names taking full advantage of the opportunity. On "Broke," Jamell NYT (pronounced "night") turns a driving piano beat into one of the best cuts on the compilation. His flow is compelling, his writing confidently creative. He's a serious new talent.
Crawford was equally impressed with Jamell in the studio. "He came through with probably six verses to choose from," Crawford says, who speaks highly of Jamell's work ethic. "Working with him this year [as an engineer] has been an overall highlight for me."
Barre kingpins Bar None the Best deliver another standout, appropriately titled "Raw." The dark, thumping beat is tailor-made for Vermont's best purveyors of New York-style hardcore rap. J-Hess is all casual menace, and M. Rich kills the second verse, funny and full of quotables. "Bullets the size of Keurig cups" is just one of a dozen brilliant details. It's clear Bar None's next project will be worth the wait.
Some of the new names here were recruited from A-Dog's out-of-state friends and affiliates. NYC rapper Epick kicks off Vol. 2 with the enjoyably breezy "Applause." New Jersey rappers Juggla and Supreme team up to give an old-school clinic over some driving funk on a track simply titled "A."
There's also ample room on the comp for local veterans to show off. S.I.N.siZZle continues his reign of effortless-sounding singles with "Clean," a sharply written reggae-flavored summer jam. "I just want to make my money — and not let the money make me," he laments with a wink. Longtime VT Union collaborator MC B-Free does justice to the richly atmospheric beat of "100," crafting an anthemic single.
The returning artists deliver intense performances. On "Remembrance," Manus carves a melodic flow somewhere between Kid Cudi and Ol' Dirty Bastard that is both deeply sad and catchy as hell. It's a sharp left turn that comes at the perfect time.
VT Union reconvenes for "Overtime," one of the best cuts on the album. It starts off with a tightly written back-and-forth routine between Konflik and Dakota, then breaks out into a showstopper of a verse from Nastee, who is clearly channeling something serious. "VT U, what's larger than that? / in the state of Vermont, we're the fathers, facts."
That's all true. If Vol. 2 demonstrates anything, it's that the culture A-Dog and VT Union helped transplant in Vermont has flourished. It's also a testament to how much the hip-hop talent pool in Vermont has grown. The range of styles and sounds here is incredibly diverse, which is fitting. After all, that legacy isn't just about making music, it's about making music your own.
Nastee has crafted a top-notch tribute. The artists he's assembled all use their time to shine, of course. Yet what really stands out, after the music is over, is his talent as a producer. That job description has often been diluted to mean simply "making beats," but Nastee is a producer à la Motown's Berry Gordy. The album is carefully paced, the mixing is crisp and Nastee has a real knack for matching artists with the perfect tracks.
It's hard to imagine how Friends for A-Dog Vol. 2 could be topped — but it's safe to bet that it will be. This represents a living legacy and a thriving community. Stay tuned.