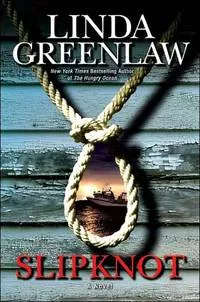 It's not every day a person comes home from a day of lobster fishing to find a voice message from a publisher offering a book deal. But that's exactly what happened to Linda Greenlaw, a former swordfish boat captain who was portrayed in Sebastian Junger's 1997 hit, The Perfect Storm. Now the author of four works of saltwater-soaked nonfiction and a newly released mystery novel, Slipknot (Hyperion Books, June 2007), Greenlaw will be making four stops in Vermont between July 19 and 24 promoting her first-time foray into fiction.
Greenlaw, 46, recalls the fateful moment when she was forced to contemplate writing a book: "A woman said, 'Hi, Linda, I'm calling from Simon & Schuster. We've read The Perfect Storm and we're intrigued with this female fisherman thing you've got going on. Do you want to write a book?'" She never returned the call, but other publishing houses wouldn't leave her alone. Finally, Greenlaw decided to give it a try. She got an agent and promptly wrote The Hungry Ocean in 1999, a book about swordfishing that stayed on The New York Times bestseller list for 26 weeks.
"I have friends who would literally kill for the opportunity I've had handed to me," Greenlaw says. But getting a ticket to write a book is a far cry from producing a bestseller, and she wasn't expecting her first book to be such a success. "Nobody was more surprised than I was when The Hungry Ocean did well," she notes modestly.
Part of the book's popularity was due to Greenlaw's appearance in Junger's runaway bestseller, but she capitalized on that head start with a boatload of hard work. It doesn't hurt that her natural, conversational writing style makes the reader feel like he or she is being told a story in a dark corner of a tavern on the north Atlantic seacoast. Also, Greenlaw is a rare specimen; swordfishing is one of the most dangerous ways to make a living and is dominated by men. So when a woman writes — very well — about a lifestyle that resonates with men, she lures readers from all over the spectrum.
During her book tours, fans encouraged Greenlaw to write a novel, which she originally thought would be easier than nonfiction. "You just make this shit up, right? How hard can that be?" She quips rhetorically. "But I quickly learned that that was not the case."
After years of writing true stories based on her own experiences, she found the abyss of the blank page dizzying. Her editor at Hyperion, William Schwalbe, suggested writing a mystery novel, and Greenlaw attacked it with the work ethic she had learned as a fisherman. She wrote seven chapters and handed them in to Schwalbe, who loved the setting, the characters and the voice, but said the plot was undeveloped. "I had a dead body on page one," Greenlaw admits, "and 100 pages later I didn't know who did it, why or how."
So she took a step back, wrote an outline, and honed her work into Slipknot, a classic mystery novel set in tiny Green Haven, Maine. It's the first in a planned three-book series featuring protagonist Jane Bunker, a former homicide detective from Miami. Each volume will represent a love/hate effort for Greenlaw. "I don't enjoy the writing process at all," she says, "but I love my books."
Greenlaw places a lot of importance on the discipline of sitting down at the desk every day to write, though distractions are legion. Most prominent among them is her first passion: fishing. Her boat-captain days ended in the late '90s, but she now hunts for lobster in the cold waters off Isle au Haut, the small island in Maine where she lives. Next month, after her book tour, she'll return to the boat in the height of lobster season.
Her writing success has allowed Greenlaw to finally settle down a bit — she has a house and mortgage now — but not without a twinge of regret. "I can tell you that it doesn't hold a candle to being irresponsible and having everything you own in a garbage bag that you can throw from the back of the truck to the deck of the boat," she says.