Courtesy of Mark Davis
Swanton Dam
For 50 years, the Swanton Dam has been of almost no practical use. That is one of the few points of agreement between a group of environmentalists and locals who have been sparring for more than a decade about the future of the eight-foot-tall span across the Missisquoi River.
Organizations including Lake Champlain International and the state's Fish & Wildlife Department want to remove the dam. They say it would go a long way toward restoring troubled fisheries in Lake Champlain by allowing sturgeon, walleye and other imperiled fish to reach fertile spawning grounds seven miles to the north of the dam for the first time in two centuries.
"It is the single greatest feasible habitat-restoration project that we could have in the Lake Champlain Basin," said Wayne Laroche, conservation director at LCI and a former Vermont wildlife commissioner. Spawning habitat for Lake Champlain's migratory fish would increase 99 percent if Swanton Dam were removed, according to a 2008 Fish & Wildlife report. The village of Swanton, which owns the dam, wouldn't have to pay a nickel for its demolition and would avoid pricey repair work as the structure deteriorates.
None of those arguments has convinced town officials who view the dam as a valuable part of Swanton's history — and regard those who want it gone as interlopers.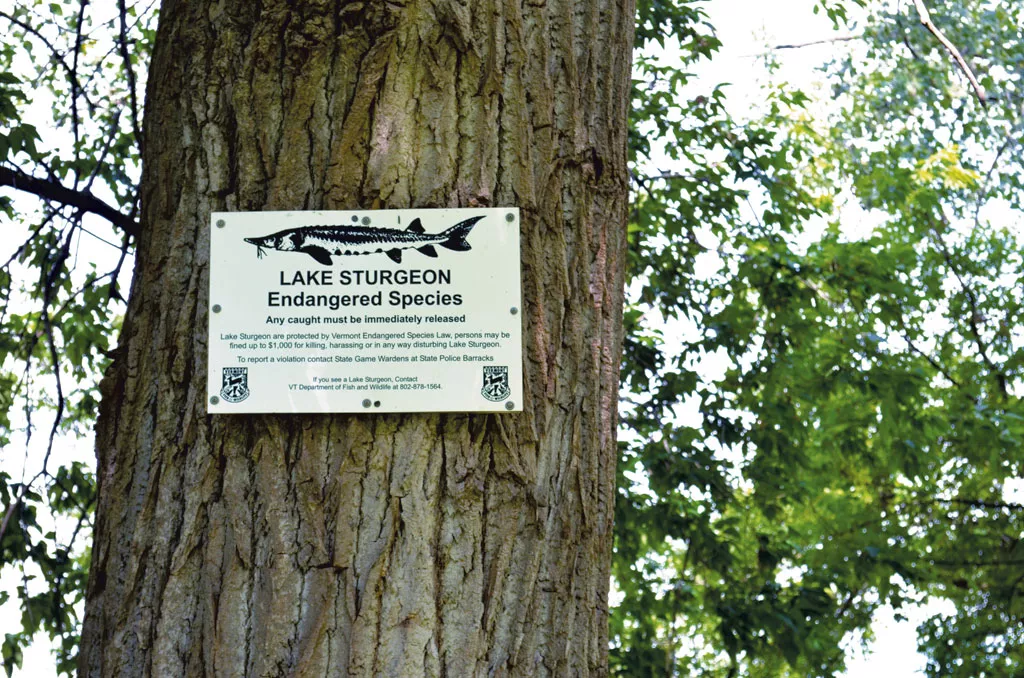 "We're not just saying, 'Save this piece of concrete.' We're saving our history," said Ron Kilburn, the town's zoning administrator and president of the Swanton Historical Society. "It serves no purpose to them, but to us it serves a very important purpose. You want us to destroy our environment for yours?"
A potential hydro project for the site may also work to the pro-dam side's advantage.
Federal surveys have registered 75,000 dams longer than six feet in the United States, and tens of thousands of smaller ones. The water-impounding structures helped build the country by allowing settlers to generate power, irrigate croplands, control floods and store water.
But in the past 20 years, removing dams has become an increasingly popular cause in the environmental community. Dams can slow and warm rivers, hold back silt — leading to erosion downstream — and make it difficult for fish to swim upstream to spawn.
American Rivers, a leading advocacy group, estimates nearly 600 dams have been removed since 1999. In what was billed as one of the biggest environmental projects in recent American history, workers in 2011 began removing a 100-foot-tall dam on the Elwha River in Washington to restore a salmon run.
Since 1996, 16 of Vermont's 1,200 dams have been removed, including the Dufresne Dam on the Batten Kill in Manchester, which came down last year to improve trout runs. Brian Fitzgerald, a recently retired dam expert from the Department of Environmental Conservation, said all have succeeded, to some degree, in restoring fish runs.
But experts have long viewed the removal of Swanton Dam as a high-priority project. Built in 1791, it was intended, as were many New England dams, to support a sawmill and grist mill. Industries, including a booming marble quarry, grew up around the dam, which was repaired and replaced several times.
When the last of the millworks was removed in the 1960s, the village took ownership, and the dam's useful life ended. But its devastating impact on local fish endured. The dam has prevented many Lake Champlain fish from reaching their natural spawning grounds just below Highgate Falls, contributing immeasurably to loss of fish in the river and the lake.
That includes lake sturgeon, which once thrived in Swanton waters and is now listed as endangered in Vermont. Biologists believe its 55-to-150-year lifespan may be the only reason the fish haven't disappeared entirely. The native muskie population in the area was wiped out in 1979.
Walleye still run from the lake up the Missisquoi every spring, but their population has been decimated. Swanton's old-timers remember when you could practically walk across the river from one fishing boat to another during walleye season. Today, more than half the walleye in the Missisquoi come from state stocks.
Biologists have placed mats at the bottom of the Swanton Dam and caught viable lake sturgeon and walleye eggs. That's proof that the fish are still trying to get to Highgate Falls, and, once turned back by the dam, try to spawn in the inhospitable grounds at the dam. Few fish are born.
"They're still trying to spawn," Laroche said. "We know they're there. We know the fish are still returning, and they don't have enough habitat to maintain sustainable populations."
From an environmental perspective, removing the dam is a no-brainer.
Holding back change, though, is a powerful force: human history. Few Vermont towns have worked harder to preserve their pasts than Swanton.
When the old railroad station was slated for demolition in 1999, a group bought it, moved it down the road and turned it into a museum. The same group restored a caboose from the old railroad company and put it on the museum's lawn. To replace a covered bridge destroyed by fire in 1980, the historical society learned of a decommissioned bridge slated to be torn down in Milton, and convinced state officials to ship it to Swanton and reassemble it over the Missisquoi River as a pedestrian walkway. While they were at it, they restored the tollhouse to the old bridge, and moved it next to the railroad station.
Thirty-four local schoolchildren attended a five-day summer history camp in July.
Kilburn said the dam, which is on the Vermont Register of Historic Places, is another vital piece of Swanton's history and should remain. Located at the heart of a town of 6,500 residents that draws more Québécois truckers than tourists, it anchors the most picturesque spot in Swanton, creating cascading falls below and a placid stretch of water above.
"We're proud of what we've been able to save," Kilburn said. "We focus on historical objects, and reminding people how important it is that we keep the historical objects that we have. The sound of falling water — take the dam out, the sound is gone. It's a very important part of who we are as a community. We love that sound."
Neighbors agree. Standing in their front lawns, Maryellen Barrows and James Barney, whose families have both lived across the street from the dam for decades, say it's the centerpiece of their neighborhood.
"People have wedding receptions so they can take pictures down there," Barrows said. "It's so beautiful, it makes you feel like you're camping all the time."
Environmentalists argue that not everything built by human hands is worthy of preservation. They estimate it would cost less than $1 million to take the dam out, and are confident that groups like LCI could raise enough money through private donations to pay for it.
"What we're dealing with was the dominant way of thinking about water resources for previous generations," said James Ehlers, executive director of LCI. "When I'm dealing with folks in their forties or younger, they don't look at a river as an industrial, utilitarian resource. They see it as part of an ecosystem that we occupy, and not something we can control with concrete and steel. It's a fairly recent shift in American attitudes."
For all the talk, there has never been an official proposal to remove the Swanton Dam. Rather than press the issue, advocates such as Laroche have maintained a regular presence at community events, talking to residents and trying to build a grassroots movement. Several years ago, the former commissioner offered tours of the dam in his boat.
Who gets to make the decision about whether the dam stays or goes? The village of Swanton — located within the town — owns the structure and its trustees have the final say. Several years ago, residents took a nonbinding vote against dam removal during the annual Town Meeting. They'd likely weigh in again on any new proposal to take the dam down, or sell it to a third party such as LCI, which would have the same effect.
Laroche acknowledges he has told Swanton residents that he will agitate for the dam's destruction until the day he dies. Swanton Village Manager Reg Beliveau said that kind of attitude has irritated many in his community.
"That's really the root — they're outsiders, and they're going to tell us to take our damn dam out?" Beliveau said. "We're not assholes. They started the fight. Would you like it if I came into your house and told you to get rid of that old couch? Nobody cares more about that river and lake than the people in Swanton, because we live with it."
Complicating matters: Two years ago, the village submitted a preliminary application to federal regulators to build a small hydroelectric facility on the dam to generate power for the electric utility that the village has operated for decades. (Swanton, which owns the hydroelectric dam at Highgate Falls, provides power to 3,600 local residents.)
Dam-removal advocates see it as a cynical delaying tactic designed to tie up the dam in years of red tape. They say a hydropower project on the Swanton Dam would cost millions and, given that the dam is only eight feet tall, would never generate enough power to make it economically viable.
"They said, 'If you're not going to use it, lose it,'" Beliveau said. "We said, 'OK, we'll develop hydro on it.'"
The village is waiting for $80,000 in federal money to pay for a hydropower-feasibility study. Tentative estimates for the project run anywhere from $3 million to $7 million, Beliveau said.
But environmental groups hope Swanton can be persuaded to give up the dam in favor of an even more historic resource — a free-flowing river that cut through the area long before humans arrived.
"What we are trying to get them to see," Ehlers said, "is they can give something better to their kids than a piece of concrete."