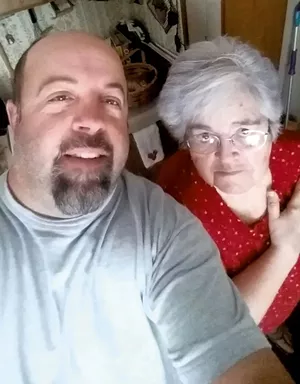 Courtesy Of Jason Little
Jason Little with his mother, Pat
After 38 years of marriage, Stewart and Patricia Little acted as a team. Because she had broken her arm in a recent driveway fall, he drove them to the grocery store on December 8. They set off together, from Irasburg for Newport, hours before a nor'easter would dump 15 inches of snow and knock out power in the area. When they arrived back home around 6 p.m., she walked ahead of him and opened the door to their trailer home. He grabbed a few grocery bags from the car and followed.
Suddenly Stewart, whose health had been declining for years, fell face-first on the ramp leading to the door — something they had added on to their home in anticipation of future disabilities. He couldn't get up. Snow and ice were pelting the home, and the storm was intensifying. Even if she'd had the use of both arms, Patricia wasn't strong enough to lift Stewart, who weighed more than 200 pounds.
The Littles' home, nestled behind a wall of trees on a small hill, wasn't visible from the road.
Pat, as everyone knew her, walked into the house and picked up the cordless phone to call for help, but the electricity was out. The phone was dead. Although the couple owned a cellphone, it didn't get reception at home. With her right arm in a sling, Pat wasn't comfortable driving, even in an emergency. She saw only one choice left.
The closest neighbors lived a half mile to the west, across a sloping hayfield, in a large house atop another hill.
Though she had been Stewart's caregiver for years, 71-year-old Pat was not in good health, either. She had been suffering from fibromyalgia, a disorder that causes pain throughout the body, and was taking strong prescription medication for backaches. Friends who had seen her in recent months thought she was struggling. She had recently fallen asleep while talking on the phone to a relative.
"I told her not to go," Stewart Little would later tell his son.
But Pat had spent her life helping others. She had worked as a nurse, first in area emergency rooms, then in doctor's offices and schools.
On that night, though, the lifelong caregiver had to leave her husband lying outside in the cold on the uncovered ramp to find help. She walked across her driveway and headed west, up the overgrown field in the falling snow. By then, it was dark.
'A Big Heart'
Pat was born at home in Island Pond, the second of three daughters. She learned to read and write in a one-room schoolhouse. She graduated from Brighton High School in 1961, and later attended Fanny Allen School of Nursing in Burlington.
After getting her nursing degree, she came home to the Northeast Kingdom to work.
She married Stewart, an Irasburg farmer, in 1976, and a year later they had their only child, Jason. Pat was the family dynamo. She worked full-time, shuttled Jason to baseball and basketball practice, and took on volunteer projects.
Her son said it seemed like she knew everyone in the Newport area — and that local celebrity followed her all the way to Florida. Pat saved for months to take Jason to Disney World when he was 6. It was as far as anyone in the family had ever ventured.
They hadn't been inside the park for two hours before someone from home came running up to them, saying, "Oh, my God, Pat!"
Pat was generous, but she wasn't a pushover. Jason's old basketball coach, Eugene Tessier, still remembers the day when Jason, 9 or 10 years old, ignored his instructions during a practice. Tessier threatened to kick him off the team.
A few minutes later, Pat walked up to Tessier. She wasted no time with pleasantries.
"Did you just tell my Jason to get out of here if he wasn't paying attention?" she asked.
"Yes, I did," he answered.
"Well, good for you," she said. "I've been looking for a coach like you."
Pat and Tessier became close friends. When they decided they didn't like the local youth league — too much competition and not enough fun, they thought — they launched their own. At its height, Border Hoop had more than 500 kids from the Northeast Kingdom and Canadian border towns gathering for games every weekend. For 25 years, Pat cajoled parents into running concession stands and raised money for the league by recycling glass bottles and holding three-point shot contests.
"She had a big bark and a big heart," Tessier said. "If you wanted something done, you handed it over to Pat, and it was done right. She followed it to the end."
Jason married a local girl, Kathy Fortin. They had a son, Jacob, and moved to North Carolina in 1998. Pat and Stewart Little used to drive to North Carolina twice a year to visit. But because of their respective health issues, they hadn't been able to make the trip in a couple of years.
So Jason Little decided to surprise them for Thanksgiving last year. He and Jacob made the 1,100-mile journey to Irasburg. Pat and Stewart spent the weekend telling old stories and doting on their grandson. But Jason Little said he came away feeling worried. He noted that his parents had aged considerably.
For the coming Christmas, he decided to gift them an emergency home lifeline, in case they ever fell and needed help. He said he lectured his mother, too, imploring her to focus on her own health rather than exhaust herself caring for Stewart.
"She was always out to help and put everybody out in front of her," Jason Little said. "She was always trying to take care of my dad. I was always talking to her about taking care of herself."
Only Fresh Snow
From his home in North Carolina, Jason Little called his parents on Tuesday morning, December 9, and got no answer.
Probably running errands, he thought. He called a few more times from the road that afternoon. No answer.
When his parents didn't pick up the phone on Wednesday morning, Jason Little began to panic. He called his cousin, Dale Newland, who lives in Barton, and asked him to check on the couple.
When Newland arrived on the scene, he called 911.
Vermont State Police responded. Their written reports suggest the troopers initially feared that they had come upon the scene of a terrible crime.
They found Stewart Little lying facedown on the living room floor, badly injured and incoherent. Outside, the door to the Little's Kia Soul was still open, and snow had piled inside the car. Bags of groceries were strewn outside the house. Pat's purse and keys were inside, but she was missing.
Police went through every room of the house. No Pat. They looked in the yard, and in woods surrounding the home. Everywhere they looked, there was only fresh snow. No footprints. No Pat.
Inside her purse, troopers found their first clue — the receipt from the grocery store. It showed that the groceries had been purchased two days earlier.
An ambulance crew took Stewart Little to North Country Hospital, where he was able to answer questions within a couple of hours. He told investigators everything that he remembered. After waiting for his wife to return, he had crawled inside the house. He tried to lift himself up on a piece of furniture, but crashed to the ground and stayed there — for two days. He had no idea what happened to Pat. (Still ailing, Stewart is now in a N.C. hospital near his son.)
Back in Irasburg, police, desperate to find Pat, let their rescue dogs loose. At 6:15 p.m. on Wednesday, almost exactly two days after she had set out in search of help, the dogs found Pat's frozen body in the field leading to the neighbors' house.
She was lying facedown, covered in snow. Her winter coat had been pulled over her head, as if she had been trying to shield her face.
Investigators concluded that she had fallen and passed out, either from her medical problems or from the pain of landing on her broken arm. Hypothermia had set in quickly, and she never woke up.
She was less than 100 yards from her destination.