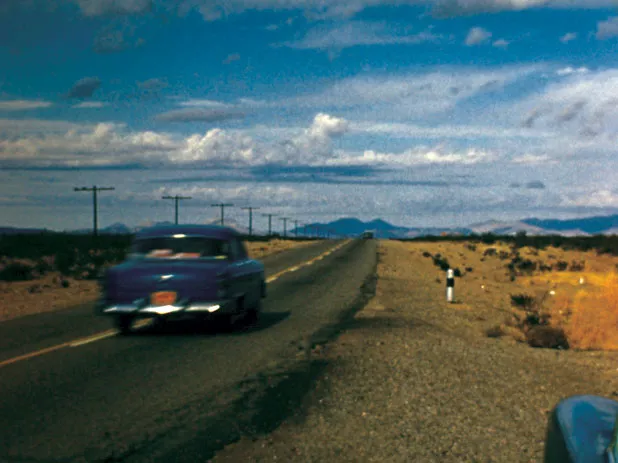 Rick Prelinger is many things: an archivist, preservationist and maker of films; an advocate for free speech and for revising America's copyright laws; a public speaker; and even, as the Atlantic has dubbed him, a national treasure. He describes himself, though, as a "historical interventionist" — someone who "infuses the present with the past so as to influence the future."
While he admits this definition is a bit glib, the San Francisco resident couldn't be more enthusiastic about that mission, which has been at the core of his work for more than 30 years. Arguably, no single person has done more to restore, preserve and disseminate America's moving-image history than Prelinger has. In coming weeks, Vermont audiences will have three opportunities to learn about Prelinger's projects: He will speak in a presentation and a panel discussion at the Vermont International Film Festival, and he will screen his latest film, No More Road Trips?, at the Hopkins Center for the Arts at Dartmouth College.
Prelinger's career as a film preservationist began during a paradigm shift in media: the move from film to videotape. For his work on a compilation-film project about American sexual habits, Prelinger dug into a vast trove of educational films designed to inculcate "proper" values in young Americans. "I started looking at the type of material that made us who we were: educational films made to socialize and train boys and girls, industrial films meant to turn us into good workers," he says.
Such films were, at the time, free for the asking. Producers were eager to dump celluloid in favor of video, so Prelinger started amassing what would soon become one of the most important private film collections in the country. That collection acquired sharper focus in the mid-1980s when Prelinger connected with Voyager, a forward-looking creator of new media. The collaboration produced a fascinating, interactive series of CD-ROMs called Our Secret Century, in which a digitized version of Prelinger presents highlights from his ever-expanding collection.
The work with Voyager got him thinking. "It made me realize that there were aspects to what I was doing that were like practicing public history — a significant project," Prelinger says. "There's the conventional wisdom about youth and gender in the '50s" — that everyone was straitlaced and repressed — "but when you look at the films, you see that the picture is considerably more complex. There's room for much more ambiguity and nuance."
Thus began Prelinger's long career of using archival films to recontextualize American history. "How can we help move history forward?" he asks — a question that underlies all of his work. "How can you use archival material to give us some new perspectives — rather than the same old ideas of dystopia, nostalgia and musical montages of interesting eye candy? How can you create a film that shows that the past is as riveting as the present?"
By the mid-1990s, Prelinger's collection had grown too large to handle, so he sought out an organization that could care for it. In 2002, he entered into an arrangement in which the Library of Congress would house Prelinger's collection of 200,000 cans of "ephemeral films." One of the conditions of the acquisition was that the films be made freely available to the public. It's an enormous and ongoing project.
Around the same time, Prelinger found himself uniquely positioned at another moment of media transition: the shift from analog to digital. He began a partnership with Brewster Kahle, the founder of the trailblazing Internet Archive. The result: By the end of 2000, more than 5000 films in the Prelinger collection had been uploaded to archive.org. "This was life changing," Prelinger says, "because we suddenly entered into a collaboration with hundreds and thousands of people around the world."
Those films have been downloaded — for watching, studying and remixing — upward of 90 million times so far, according to Prelinger.
In granting unprecedented access to previously forgotten films, Prelinger was encouraged to think about media access in general. "I became a copyright activist," he says. "We need to reengineer archives and public memory. If one's goal is to enable the creation of millions of new authors and to allow people to reconsider American heritage in their own way … you've got to make the stuff available for them to reedit and rework.
"I became aware that the highest form of archival activity is to be consumed," Prelinger says, "to let your material propagate freely."
He practices what he preaches. Prelinger's film No More Road Trips? reconstructs, from 9000 home movies, an Atlantic-to-Pacific road trip across an America that no longer exists. He describes it as "using people's home movies to trace a dream across the country." Prelinger hopes the film will encourage viewers to think not only about how the American landscape has changed but about how its changes reflect our shifting relationship with the past.
During the screenings of No More Road Trips?, Prelinger encourages audience members to talk, relating their questions and observations. "They don't always accept this offer of agency, but it's great when it happens," he says. "It's a completely different relationship to cinema."
Rick Prelinger presents a "Lost, Found and Remixed" double bill during the Vermont International Film Festival in Burlington: the presentation "Surviving Plenty: Archival Filmmaking in the Age of Mass Production," on Saturday, October 12, 11 a.m.; and a panel discussion at 2 p.m.; both at the Film House at Main Street Landing Performing Arts Center. $8-15. vtiff.org
"No More Road Trips?" will be shown on Wednesday, October 16, 7 p.m. at Loew Auditorium, Hopkins Center for the Arts, Dartmouth College, Hanover, N.H. $5-9. hop.dartmouth.edu