Matthew Thorsen
Steve Colangeli and Mira
D.H. Lawrence, never one to shrink from the erotic, wrote a poem called "Figs." Oddly, it chides "overripe" women of his day for their "self-assertion" while comparing female genitalia to the title fruit. This is described as "folded upon itself, and secret unutterable / And milky-sapped, sap that curdles milk and makes ricotta / Sap that smells strange on your fingers, that even goats won't taste it."
Lawrence's comparison of figs to lady parts was nothing new. In ancient Greece, sykon, the word for fig, also meant vulva. The parallel seems obvious: the soft tissue hidden within both, melting with sweet secrets.
Yet, unless you grew up in the Mediterranean, that parallel might be lost on you. Far from yielding, fresh fruits, the figs at the grocery store were probably shipped from California before they could ripen. The issue of food miles aside, travel simply doesn't suit the ficus fruit. As Lawrence put it, "ripe figs won't keep."
Steve Colangeli knows that well. A ripe fig has a shelf life of only three days after it's picked, says the Charlotte farmer, who has been growing seven cold-hardy fig varieties at his small Paradiso Farm. For the past year, Colangeli has been defying the conventional wisdom that figs are a warm-climate crop — and helping local chefs to rediscover the joy of the fruit in its freshest form.
Colangeli is no stranger to adventurous agriculture. He's tried his hand at growing apple and pear trees, exotic pawpaws, and goji berries. And though his grandparents once grew figs back in New Rochelle, N.Y., Colangeli didn't consider growing them in Vermont until 2012, when "farmdener" Lee Reich lectured on the subject at the winter Northeast Organic Farming Association of Vermont conference.
As Colangeli leads a reporter into his Charlotte greenhouse, the musk of 35 ripening fig trees, as well as turmeric and ginger plants, fills the nose. Mira, a 20-pound, blue-eyed miniature Australian shepherd, follows at his heels.
"I thought it would take four years to sell them, but look where we are," Colangeli says with wonder. He indicates an Italian honey fig tree laden with cream-colored fruit: "I counted 130 figs on that one."
Examining more closely, one can see honey oozing from some of the fruits' "eyes" — the tiny seam on their round bottoms — that indicates that they're ready for plucking.
When he was preparing to grow figs himself, Colangeli got to know one of his father's acquaintances, "an old Italian lady" in Old Lyme, Conn., who had a two-story fig tree in her front yard. In winter, she would bend the tree over and cover it in insulation to help it resist the chill. From her, Colangeli obtained clippings that produced floral-tasting figs, which he named after the town where he found them. They now grow in pots in the Charlotte greenhouse. In contrast to planting a whole new tree, Colangeli explains, a cut branch grows and produces figs quickly.
For now, his plants winter in "a big insulated closet." Future plans include experimenting with high tunnels to see which fig varieties might survive all of Vermont's seasons outside. Colangeli also hopes to expand his stock to 50 trees — not including the ones that he sells to other growers — so he'll have more figs to supply to restaurants and food producers.
In his second summer of reaching out to kitchens, he's already making a name for himself on the culinary scene. Chef David Hugo of the Inn at Shelburne Farms led the charge last year when he began plating salads and desserts featuring the fruit. One recent example showcased slices of honey figs, candied walnuts and Champlain Valley Creamery's triple cream, all piled atop greens and wreathed by plums.
This September, Adam Spell of Shelburne's Gusto Gelato has used a case of Colangeli's figs in a limited-edition gelato. And Bret Hamilton of Stone Corral Brewery is currently at work on a fig-and-ginger beer made from ingredients grown at Paradiso Farm. The new brew is set to debut on September 26 at his Richmond taproom.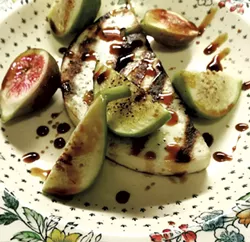 Courtesy of Taverna Khione
Sika Me Manouri
But no local chef has embraced Colangeli's figs with the fervor of Marc Provencher at Shelburne's Taverna Khione. Provencher discovered the farm this summer when he searched online for local figs to flavor his Greek dishes. "The fact that it came up with something right down the street was great," he recalls.
Paradiso still produces on a small scale, so Colangeli simply drops off a dozen figs in an egg crate whenever he has them. Rather than committing to a constant fig dish on the menu, Provencher has been using the fruit to create nightly specials. In a single salad, he'll include as many varieties as possible to showcase the particular aesthetic qualities of each one. "I make sure we cut up three different ones and present it so the fig is showing, so you can see how beautiful it is inside," he explains.
Besides selling to restaurants, Colangeli hopes that next year he'll be a vendor at the Shelburne Farmers Market and share the fruits of his labor directly with customers. The eventual goal is to have 10,000 figs available per season. Yet growth presents Colangeli with a unique quandary: As the only fig grower in Vermont, he has no competitors to help him set pricing.
He currently charges $1 a fig but is certain he could go much higher. "In Turkey, these are marketed as natural Viagra," Colangeli says with a naughty grin. "I could sell these for $20 apiece."
And the demand is materializing. As word gets out about his uncommon crop, people track him down. Most recently, Colangeli has been hosting Bosnian immigrants eager to buy trees to grow on their new land. As the figs dissolve in their mouths, he says, they recapture the lost flavors of their childhoods.
While Colangeli has big plans for his figs, he admits that, for now, most of them never leave the greenhouse. It seems that the sensuous appeal of a sweet fig can be too tempting for the farmer to share.
---
A Feast of Figs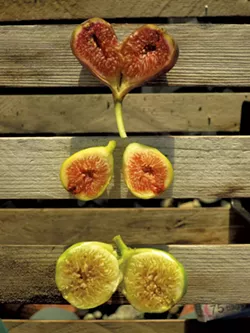 So you want to eat some fresh figs. Though they all share the same basic teardrop-shaped anatomy, different varieties can have starkly different tastes. Here's a guide to some of the types grown at Paradiso Farm.
Italian Honey Fig: White inside and out, this large fig does indeed betray a taste of honey. Perhaps more prominent is the light, wet flavor of watermelon.
La Goccia d'Oro (Drop of Gold): Even paler outside than the honey fig, once cut, this variety reveals a shy pink interior blush. But more color doesn't mean it has a stronger flavor. "It's a chardonnay compared to a cabernet," Colangeli says of the Drop of Gold versus the honey fig.
Hardy Chicago: This is also known as Bensonhurst Purple to describe its dark exterior; the interior is a deep red. It's particularly sweet and slightly vegetal, with a sharp tang at the end.
Old Lyme: Related to the Brown Turkey, this is the most common fig variety in the U.S. It's floral in taste and aroma, with a sweetness that coats the front of the mouth.
Celeste: These figs, deep red inside, are tiny, intense bonbons of flavor. The sweetness gives way to a jangle of tartness.
Taste for Yourself
Opa! Marc Provencher of Taverna Khione shares two of his favorite fig recipes with Seven Days.
Figs With Manouri Cheese
Ingredients
2-ounce slice of manouri or another grilling cheese, such as halloumi

Salt and pepper, to taste

2 to 4 fresh figs, sliced in half

Gai'a Assyrtiko Vinegar (Can't find this Greek balsamic vinegar made from Assyrtiko grapes? Provencher says to substitute 12-year-old traditional balsamic vinegar.)

Process
Preheat grill. Season cheese with salt and pepper. Grill cheese for two minutes per side, being careful not to let it melt. Place figs around the cheese on a plate and drizzle with vinegar. Serve warm.
Other possibilities include serving the cheese over bread or with mint or arugula.
Fig Cake
Ingredients
Butter (for greasing)

3 eggs, separated

3/4 cup sugar

1 ½ cups all-purpose flour

1 teaspoon ground cinnamon

3 teaspoons baking powder

4 tablespoons milk

1 cup chopped walnuts

1 cup chopped almonds

1 cup golden raisins

1 cup chopped fresh figs

Process
Preheat oven to 300ºF. Line standard loaf pan with parchment, then lightly grease with butter.

Beat egg whites until soft peaks form. Add sugar and beat until the peaks become stiff. Add egg yolks one at a time, until mixture is glossy.

Fold in flour, cinnamon and baking powder and finish with the milk.

Once those are combined, add the nuts and fruit carefully to avoid deflating the batter.

Pour the batter into the loaf pan and cook slowly for one hour or until a toothpick comes out clean and the top of the cake is lightly brown and firm.

Let cool on a rack and transfer to a cutting board to slice.