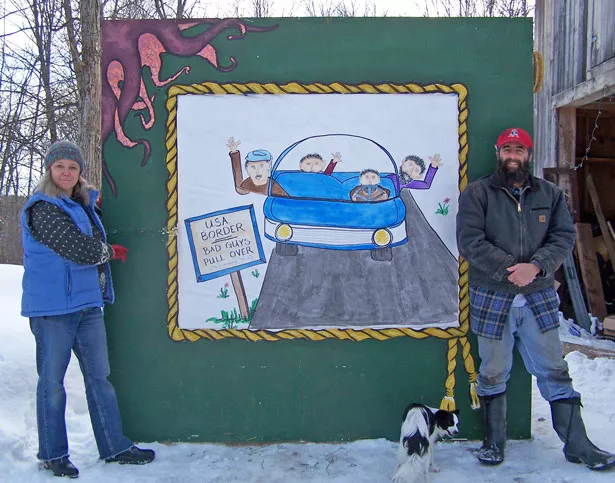 After the talkies come the crankies. Say what? Yes, Montpelier's 11th Green Mountain Film Festival literally winds up this Sunday with a quaint, no-tech entertainment: the Green Mountain Crankie Festival. A primitive "theater in a box," the crankie was reportedly created by Bread and Puppet founder Peter Schumann in the late '60s as another artistic, handmade medium for the troupe's countercultural message. So named because it is cranked by hand, the crankie - perhaps inspired by Japanese scroll paintings - is simply a roll of paper with pictures that tell a story as they're unfurled across a cardboard "window." Think hand-drawn, slow-moving 16mm film and you get the idea.
Younger fans of folk legend Tom "Banjo" Azarian, who "headlines" the GMCF, may be surprised to learn he's not the only crankie maker in Vermont. But he's certainly one of few who actively perform with one, using the crankie as a visual sidekick to his old-time songs. The first-ever crankie fest features a half-dozen other crankers, including Vermont folksinger and international teacher Karen Sutherland, who will lead a how-to-make-'em workshop; Justin Lander and Rose Friedman of the Bellows Falls-based Modern Times Theatre, who claim to make crankie shows for "the street, the school, the barn, the pasture and the subway"; Schumann himself, presenting a B&P classic or two; and fellow Glover residents Howie and Stephan Cantor with an 8-foot crankie show intriguingly titled "Jesus Went to Gitmo."
Oh, and expect guest appearances from out-of-staters, too: the RPM Puppet Conspiracy from Austin, Texas (a "bunch of stinky garbage men with trashy ideas"); and Wisconsin's The Dolly Wagglers, whose lowbrow stories are reportedly unscrolled on "the dirty sheets of America."
Sounds like a good time to me.