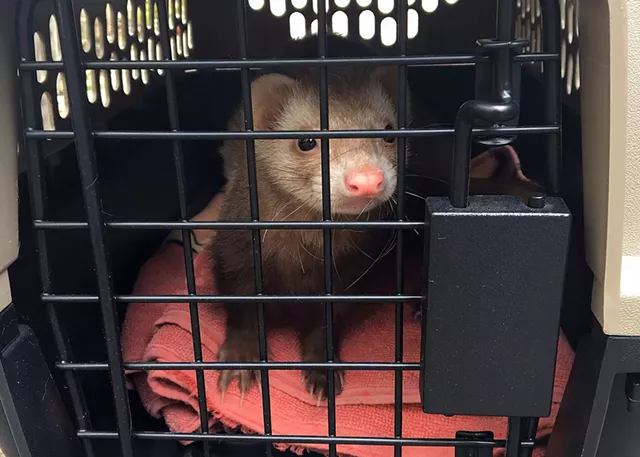 Tyler LaBelle
Craig the ferret
Tyler LaBelle thought the tail poking out from under a car in the parking lot at the Shelburne Road Hannaford belonged to a squirrel.
But when the furry critter came into view, LaBelle saw that it was a ferret. He watched in amazement as it wiggled its way up into the engine compartment of a parked car.
"It was cold that day, and he looked like he was shivering, so I think he was trying to find a place to stay warm," LaBelle recalled of his April 6 run-in with the mustelid. "I didn't want someone to start their car while he was up there."
So LaBelle recruited another shopper to help him corner the ferret. With no apparent owner in sight, LaBelle put the animal into his car. The plan was to keep it safe until the Humane Society of Chittenden County opened for the day.
During the nerve-wracking drive home, the ferret "was going pretty wild," LaBelle recalled. "He got into the back window, under the seats, and then I had to lean over and pull him out when he got under the brake pedal."
LaBelle owns two cats, so he grabbed a pet carrier, put the ferret inside and brought it into his home. The cats sniffed around the new guy but didn't get too territorial, he said.
LaBelle named the ferret Craig, short for Craigslist, which is where he considered publicizing his discovery of the furry fellow.
Instead, LaBelle dropped the animal off at the Humane Society, where Craig awaits his owner or a new home.
All the critter left behind was a distinctive smell in LaBelle's car and a story he will long tell about an innocent trip to the grocery store.
"I wasn't expecting to bring a ferret home," LaBelle said.