Occasionally, a dinner guest at my apartment will stop mid-sentence, fork poised in the air, wearing a baffled expression. The reason? A tinkle — made by one of my two cats, Jonathan and Mama — coming from the bathroom. The pause in conversation is usually followed by a remark such as, "Wait? Cats can do that?" The answer is yes. From the time they are kittens, cats can learn to do all their business on the toilet. Here's how.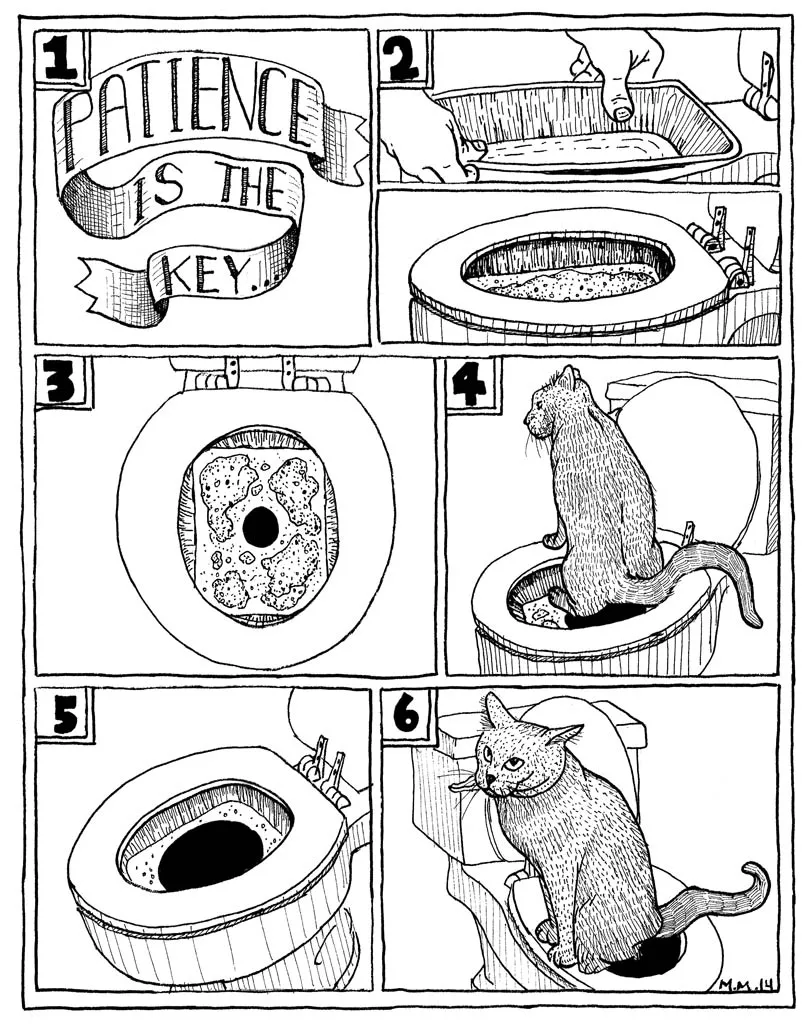 Step 1: Be prepared to spend several weeks on this process, allowing your cat to take two to three weeks for each step before moving forward. First, move the litter box into the bathroom to familiarize kitty with the space.
Step 2: Mold a foil baking pan securely under the toilet seat, making sure the seat doesn't wobble, then fill the pan with flushable litter. Always keep the toilet lid up and sanitize the seat after each cat use.
Step 3: Using a new pan, cut a 1.5-inch hole in the center. This helps cats learn to aim and develop proper posture. Sprinkle 25 percent less litter in the pan, replenishing as needed.
Step 4: Cut a 3-inch hole in a new pan and further reduce the amount of litter. At this point, your cat should be aiming for the hole and successfully urinating into the toilet. It will likely have its front paws on the toilet seat and rear paws in the pan.
Step 5: Cut a 6-inch hole in a new pan, adding just a touch of litter, with the goal of eliminating litter by the end of this stage. Kitty should have all four paws on the toilet seat before you remove the pan completely.
Step 6: Cat successfully uses the toilet.
The original print version of this article was headlined "Litter Quitter"