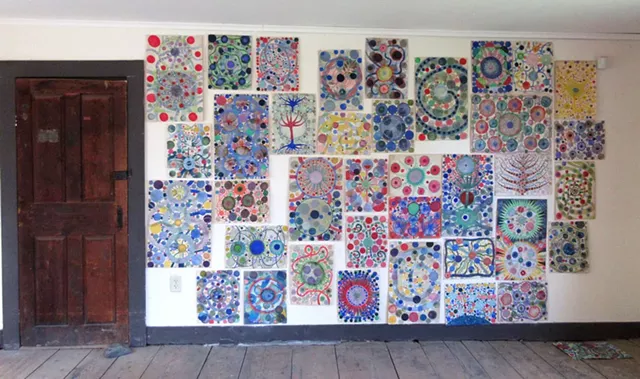 Amy Lilly
Watercolors by Julia Zanes
The Kent Museum, a row of connected 1830s structures built by Abdiel Kent in Calais, is open to the public only about one month a year. The occasion is Art at the Kent, an annual show of Vermont artists' work curated by Allyson Evans, Nel Emlen and state curator David Schutz.
The current show, which opened last weekend, aims to make of the former stagecoach stop and country store a kind of dream world. Called "Parables," the exhibit features paintings and sculptures fashioned from gourds and other materials, plus marionettes and a folding stage, all made by the Brattleboro couple Julia Zanes and Donald Saaf.
Visitors who venture to the tiny unincorporated community will first see two giant bird's nests. Positioned on the lawn in front of and behind the buildings, they were built from tree branches and hay by schoolchildren under Zanes and Saaf's guidance. The project makes sense in light of the art inside, which, at the time of Seven Days' visit, Evans and Emlen were still hanging.
Birds and other animals, typically out of scale with their surroundings, populate the couple's colorful, figurative paintings. Zanes' work, often inspired by dollhouses, depicts castles and other structures set among towering flowers. Birds figure literally large in Saaf's work, sometimes the size of the humans who share the canvas.
Amy Lilly
Puppets by Julia Zanes
The artworks invite viewers to guess at the stories they tell, and they seem to speak to children and adults equally. They could be parables, as the exhibition title indicates, but that's not the only interpretation. The artists derived that title from Goethe's Faust, which also serves as the basis for a single marionette performance they'll give near the end of the show. In the translation that Zanes and Saaf use, the relevant excerpt reads, "Everything destructible could only be a parable."
While both artists explore storytelling, they do so using distinct styles. Zanes' paintings lean toward dreamlike surrealism; Saaf's are more folk-influenced and often contain a layering of stories. Behind each bird he paints, for example, is a ghostly human face in outline, seemingly made of gusts of wind. Do these refer to folk beliefs or perhaps to the underlying destructibility of life itself? It's unclear.
In one room, Zanes' working fortune teller — a carnivalesque lighted glass box on wheels containing the bust of a crowned female figure — spits out actual fortunes when cranked. Like the paintings, it is an invitation to participate in narrative making.
The Kent's 14 rooms, including an upstairs ballroom where the marionettes and stage have been set up, are packed with the couple's works. This is an enormous show, and the sense of submersion in dream worlds is aided by the venue itself. Its interior walls are exposed lath and partially restored plaster, halted mid-work. A feeling of in-betweenness resides everywhere.
"This is not a gallery with pristine white walls and spotlighting," Emlen pointed out. "We let the building dictate what gets hung where."
Amy Lilly
Painting by Donald Saaf
The Vermont Division for Historic Preservation once planned to turn the Kent into a museum about country life. In 2001, Schutz, Emlen and Evans, who all live within sight of the building, joined other neighbors to form Historic Kents' Corner, a private nonprofit that helped augment state funding for restoration. The state managed to restore the brick exteriors and install handicap-accessible features, but it ran out of money for the project in 2008.
That's when Evans, Emlen and Schutz, all trained in art, hit on the idea of showing local artists' work. The area had plenty of artists but few galleries, they noted. And the Kent presented some interesting challenges. As Schutz put it during a phone call, "We discovered that the bare-bones state of the building offers a unique presentation for contemporary art. And we think that's possibly a more exciting mission than the original one."
During our visit, Evans and Emlen were still finding intriguing details in the works. As Evans entered a room containing enough wall space to hang two of the four large-scale paintings comprising Zanes' series "The Golden Game," she noticed something she hadn't seen before. In one of the works, the tree growing upside down in the attic of a house continues in a "ghost tree" branching into the dusk above the pitched roof.
"Nothing is clear at first glance," Evans commented about both artists' work.
Appropriately, the Faust-inspired performance, "The Green Gold Tree," will take place at dusk. Zanes will work the puppets while Saaf plays guitar in his accompanying Bluebird Orchestra.
Art at the Kent also includes a Sunday afternoon reading series at the nearby Old West Church. Called "Words Out Loud: Poetry & Parables, Fantasy & Fables," the series is organized by Evans and poets Mary Elder Jacobsen and Jody Gladding. This Sunday's reading is by young-adult authors Laura Williams McCaffrey and William Alexander, the latter of whom won the National Book Award for Young People's Literature in 2012. Readings are followed by receptions at the Kent.
Courtesy of Kent Museum
Fisherman," mixed media on paper by Donald Saaf
This year's exhibit seems particularly suited to the venue, which has hosted past shows featuring up to 30 different artists. Zanes' fascination with dollhouses echoes that of the woman who revived the Kent in the 1930s, Louise Andrews Kent. A Bostonian who had married into the family, she constructed and meticulously furnished a large dollhouse that now sits among Zanes' paintings above the country store. Kent also made a series of tiny, individually furnished rooms that are on permanent display on the ground floor.
Altogether, the Kent is rich with imagined worlds, both historical and dreamed, and is worth a visit.
"People who love historic buildings will wait all year to get into here, then say, 'Wow, I like this art.' And the opposite is true, too," said Emlen, meaning that those who come for the art find themselves appreciating the history.
Added Evans, "Every year, it's a once-in-a-lifetime experience."