Courtesy of Bill McDowell
Image from Ground
In Robert Louis Stevenson's adventure novel Treasure Island, a pirate is given the "black spot" — a black dot on paper — to symbolize a guilty verdict, which most likely means his death sentence. The simple mark is imbued with horror.
In his new book Ground: A Reprise of Photographs From the Farm Security Administration, photographer and University of Vermont professor Bill McDowell engages in a prolonged dialogue with a black spot, which similarly carries with it the implication of death. Ground's 84 images have been printed from archival negatives made for the Farm Security Administration in the 1930s. As the book's introductory essay explains, the FSA's Roy Stryker "was personally directing a vast visual survey of our land and its people during the Great Depression."
Every photo in Ground bears a circular black mark made by Stryker, who used a hole-punch to "kill" negatives he deemed unsuitable for his photo documentary vision.
How do you kill a photograph? How do you resurrect one? While the book certainly raises these questions, McDowell does not frame Ground as a salvage project. Rather, he views the images as collaborations of the FSA-commissioned photographers, Stryker and, finally, himself as curator. Of the hundreds of images McDowell downloaded from the Library of Congress' FSA archives, he selected a comparatively small group of works by nine photographers.
Besides the images, the volume includes an essay by Yale University Art Gallery director Jock Reynolds, lyrics by Rosanne Cash, a poem by Wendell Berry, and an interview with McDowell by outgoing BCA Center curator DJ Hellerman.
"The mark of the hole punch felt contemporary," McDowell told Seven Days during a recent interview. "Un-killed [negatives] are only about the past."
As one looks at these photographs, John Baldessari's use of dots — in black and various colors — comes to mind. The conceptual artist's playful, tweaked images are a far cry from, say, the famous "Migrant Mother" FSA portrait by Dorothea Lange. Meant as a mark of erasure, the incongruous dark spot had the unintended effect of making 1930s photographs relevant today — not least because it "references" artworks and movements that were still to come.
McDowell's selection of images reflects his deliberate departure from nostalgia. In his office, he explained the rhythm of the images in Ground, which flow from landscapes and natural settings to scenes of people working the land and maintaining rural lives. McDowell shied away from cityscapes, because "you could tell it was the 1930s," he said.
"What truly joins us to an earlier period?" asked McDowell. "It is physically the land we stand on." In some photographs, the black dot obscures the center of the landscape or a person's face; elsewhere, it lingers in a corner of the frame like a menacing celestial body. Sometimes it appears to be placed haphazardly, clipping only part of a face or a knee.
What also joins our era to the past, McDowell suggested, is economic hardship. In the book's interview with Hellerman, the author explains, "As I thought more about the linkage between the 1929 and 2008 economic crises, I selected subject matter that related to the most basic needs we share with the past. Food, shelter and water."
McDowell said he's certain that Stryker's placement of the hole was not intentional, further confounding the notion of "authorship" in these works. The photographer noted that, while much has been written about Stryker, "very little was written about [his] killed negatives — in fact, almost nothing."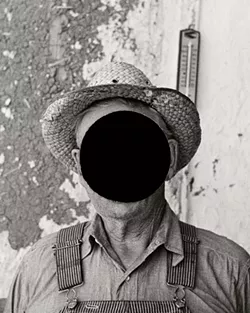 Courtesy of Bill McDowell
Image from Ground
With Ground, McDowell not only contradicts Stryker's intention to eliminate the photos but also treats the negatives as artifacts — physical objects that can be manually altered to become something else entirely. Asked about his relationship to material records, McDowell asserted, "Almost all of my work deals in some way with what I call 'the poetic document.'"
In an earlier series of photographs, "Ashes in the Sky," the "document" was McDowell's father's ashes. In his "Banner of Light" photos, it was the physical space of the Lily Dale spiritualist community in western New York.
McDowell's proclivity for physical archives extends to his process of developing Ground as a book. "I feel really strongly about bookmaking," he said. "There's an intimacy to holding a book in terms of dealing with the poetic nature of photographs."
The book's layout evolved over a series of incarnations, as McDowell arrived at choices such as including only one image per page. ("When I tried to place two photographs on a page spread, their respective black holes competed too much with each other," he wrote in an email.) He also decided to print horizontal landscapes across the gutter — the middle of the book where the pages are bound together. ("I liked the experience of having to read across the separation," he wrote.)
To prepare a prototype of Ground, McDowell worked with Burlington designer Ted Olson. Because of the placement of the dot, they decided to print some images smaller, so the gutter would not intersect with the mark. In its final version, the book offers four types of images, including close-cropped details of larger prints.
The simple, repetitive alteration of images by a black dot is surprisingly powerful, and looking through Ground is an enveloping experience. Whether the viewer is concerned with the images' graphic elements, their documentary content or their unique historical trajectory, the mark is a continual, and productive, disruption.