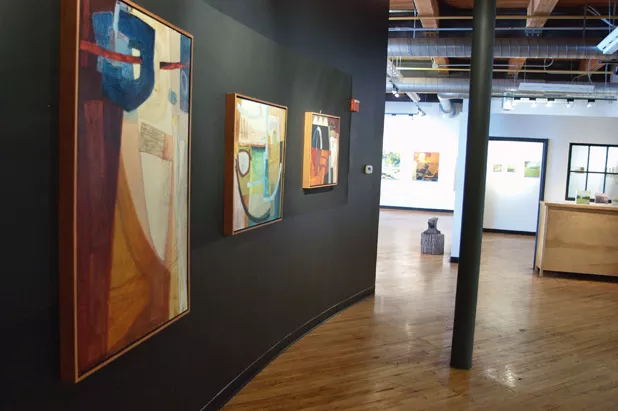 Inside its industrial-chic space on Flynn Avenue, Burlington brand-development studio Select Design creates logos, packaging and "identities" for a variety of clients. But that's not all the creativity going on. In the company's entry and exhibition spaces, a brightly hued group of original artworks currently dots the inky blue-black, white and exposed-brick walls. "Variations in Abstraction" was curated by Select Design/Love Tomorrow Today brand director Chris Copley in cooperation with Joan Furchgott of Furchgott Sourdiffe Gallery in Shelburne and Anni Mackay of BigTown Gallery in Rochester, Vt. The show features five contemporary abstract artists drawn from both galleries. It's an exhibition of fine art, but also of a new and innovative collaboration.
When Copley approached Furchgott with his idea to exhibit her gallery artists in his company's capacious quarters, the gallerist saw potential for both her artists and her own venue.
"I was seriously considering how to broaden awareness of our gallery and the artists we represent," she writes in an email. "Select Design has an amazing space, especially well suited to showing large work, and I'm thrilled we have the opportunity to work with Chris on this."
Copley, who first met Furchgott when he began collecting work from her gallery 15 years ago, was excited to put his business skills to work promoting artists and enlivening the walls of his workplace. "I am a salesman at heart and by profession, and I love telling stories and inspiring others to appreciate, and hopefully acquire, some great art," he says. "When I got involved [with Select Design], I kind of just started putting up a few shows just to make the place look better, because I'm not into seeing big, perfect walls without great art on them."
Mackay began working with Copley prior to last September's South End Art Hop, and saw opportunities for strengthening connections between Vermont's urban and rural communities. The small-town gallerist believes making those links "can firm up concepts that are in development in rural communities," and that "visits from urban centers to more rural areas can [also] bring a fresh infusion of energy to what's happening in cities … There are extraordinary things going on in out-of-the-way places," Mackay says.
All three are optimistic about the potential of creative-economy businesses working together. "I see a new horizon for art and artists here in Vermont to gain more exposure for their work if they are willing to work with off-site/pop-up/temporary gallery exhibitions," Copley suggests, and adds, "I also want to make sure that this does not negatively compete with the galleries that are working very hard to promote and sell the artists' work."
Copley seems to view himself as a booster and salesman for the galleries he patronizes, using the Select Design space to direct interested patrons to those galleries, rather than diverting traffic from them. But he also hopes to sell some works at Select. "It's just [that] sometimes people don't realize or acknowledge that some great work is right here under their nose, and it takes someone else to help expose it," he offers.
Mackay agrees, "What it takes sometimes is someone like Chris, who has a good eye and a lot of energy, to highlight the art for someone else."
Given the paltry number of commercial galleries in Burlington, collaborations such as this one can help expose Burlingtonians to art from outside city limits.
Furchgott believes that joining forces with Select came at the "perfect time," just when her business had weathered a difficult period and was looking for an infusion of energy. "Collaboration offers a number of solutions," she says. "We share resources for customer bases, expand limited physical spaces and, most important, gain from new energy, enthusiasm and experience."
In that same vein, Furchgott also plans to invite guest curators to show work in her Shelburne gallery.
For her part, Mackay says she's "always interested in how things can be made more fruitful for artists. Collaborating with Chris is something that's in development — I like his energy."
Copley's approach could be seen as a model for other business-minded art lovers who seek to support their favorite Vermont galleries, but he points out Vermonters also have immediate opportunities to advocate with their checkbooks. "The creative economy is now a major driver and employer in the state of Vermont," he asserts, citing the Art Hop and the South End Arts and Business Association's work in drawing people to galleries and studios in Burlington. "My only wish is that more people who attend the Art Hop would actually buy art and support local artists.
"It's funny," Copley adds, "people are into supporting local everything — local food, local business, etc. So why not support local art?"
Those visiting Select Design this winter will find many bright works, and a bright business idea mixed in.
"Variations in Abstraction" is at Select Design, 208 Flynn Avenue in Burlington, through February 17.