Enter Liza Cowan's Burlington home, and you might think you've walked into an eclectic art gallery. That's not surprising, considering she owned and curated Pine Street Art Works; ran Small Equals, an online store from which she sold her ephemera-inspired designs; and was co-owner of the short-lived cooperative gallery Winooski Circle Arts. Oh, and she's an artist herself.
At home as in her professional enterprises, Cowan's taste tends toward the bold — think cheetah-print carpets and polka-dot chairs. With her discerning eye for art and vintage collections, whimsical sense of humor, and knack for thrifty do-it-yourself projects, she has created unique and welcoming rooms in her two-story house. So if you're bored with beige, take a page out of Cowan's book and turn your home into a work of art. Here's a selection of her pro tips.
Go crazy for containers.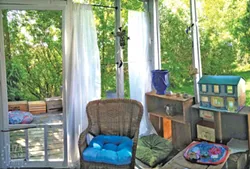 Courtesy Of Liza Cowan
A half-wall of wooden crates melds form and function.
Cowan uses wooden crates as short bookcases and end tables, and she stacks them on her kitchen counter to create shelving. There's even a halfwall made of boxes in her screened-in porch.
"One, it didn't feel cozy, and two, I was concerned about the cat scratching [the screen]," Cowan says of her porch. "But I couldn't afford to build a half wall ... This is simple because it's perfect storage, and I can take it down in the winter. And I can rearrange it. I'm all about adaptability."
Throughout her home, colorful clementine boxes hold knickknacks, small decorative boxes line her shelves, and large chests multitask as tables and storage units.
Cowan's advice for keeping track of the containers' contents? "Try labeling them with blackboard tape and a gold Sharpie."
Improvise and economize.
Courtesy Of Liza Cowan
Cowan made her own budget-friendly curtains using binder clips and discount fabric.
Look closely at Cowan's plaid living room curtains, and you'll notice they're just folded fabric hung with binder clips. When you can't spend a small fortune on new curtains, a few yards of draped cloth can provide the same effect.
Her other tips for thrifty decorating? "The stationery store is your friend," Cowan says, and she suggests watching for sales at Rags & Riches and Jo-Ann Fabric and Craft stores in South Burlington.
Add twinkle.
Courtesy Of Liza Cowan
Stacked crates offer additional countertop shelving.
The first thing you notice walking into Cowan's house is the light. Her walls are stark white — the perfect backdrop for collections of photographs, paintings and books. But regardless of wall color, this inveterate decorator has a few handy tricks for bringing light into any room.
Cowan recommends experimenting with strategically placed Christmas string lights, mirrors and shiny objects. Pay particular attention to dark corners and low coffee tables, which can recede into the shadows.
Limit the color palette.
Courtesy Of Liza Cowan
A common color palette unifies mismatched patterns.
"A variety of colors will harmonize if they're in the same color family," Cowan says. Consider her bed, with its breezy arrangement of mismatched, bluepatterned pillows, and blue-and-white polka-dot duvet. Even though the prints are different sizes and patterns, a common palette unifies them.
Edit, edit, edit — and reorganize.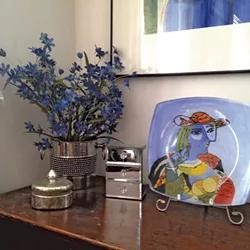 You don't need to spend a boatload of money redecorating to make your home feel special. Cowan says you will feel better about your home if you simply take the time to declutter and organize the treasures you already have.
While you're at it, "Switch things up," she adds. "Move the furniture around. Rearrange the things on your tables. Put some things away for a while. It's surprising how this can sometimes change our emotional outlook, as well."