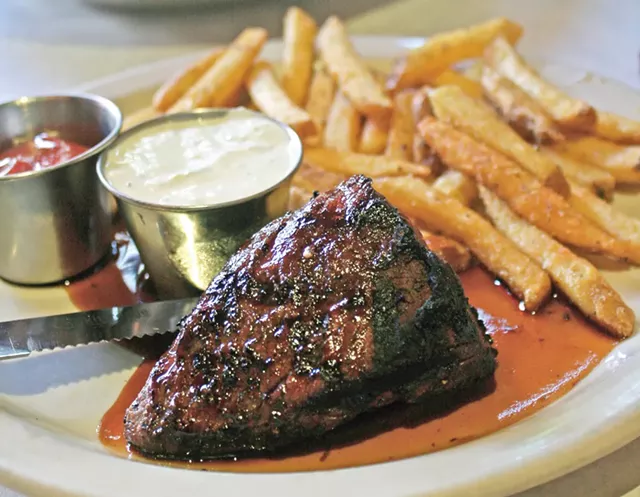 John James
Steak frites at Leunig's Bistro & Café
College meal plans aren't cheap. That's why eating off campus has to be. But downtown deals can be hit or miss. Sometimes that $10 all-you-can-eat Chinese buffet is a killer value — just what you need to stay nourished for that late-night study sesh. Other times it's your ticket to an evening spent worshipping the porcelain gods, and not because you drank too much at dinner.
With that in mind, we've rounded up some tried-and-true specials offered at Burlington bars and restaurants. Whether you're looking to get rowdy — with, say, $1 pints — or keep it classy for date night, read on for our recs for eating on the cheap, any day of the week.
Daily Specials
Alice Levitt
Spareribs at A Single Pebble
Bistro Dinner, Leunig's Bistro & Café: Every day from 3 to 5:30 p.m. and the last hour before closing, Church Street's Frenchiest joint offers a two-course dinner for $17.50. Start with a bowl of soup au pistou, then move on to salade Niçoise, steak frites or a hearty boeuf Bourguignon. Can't pronounce any of that? The delicious food, classy atmosphere and small(er) bill are worth the embarrassment of trying.
Chef's Tasting Menu, A Single Pebble: This upscale downtown eatery is a longtime locals' favorite well known for its authentic Chinese fare. Less well known is that ASP has quite possibly the best lunch deal in town. For $17, you get a little bit of everything on the chef's tasting menu. It's smaller than the dinner tasting menu but still more than enough to share. Or hoard.
Case of the Mondays
Courtesy of the Daily Planet
Lobster nachos at the Daily Planet
• The Daily Planet charges just $6 for a local beef or housemade chickpea burger. What more do you want?
• Up your Q rating with "BBQ-inspired" sandwiches such as the Hog Pile — that's pulled pork and grilled sausage — for $10 at Bluebird Barbecue's Between Bread Mondays.
• Head to El Cortijo Taqueria y Cantina for $2 off margaritas, or to the Gryphon for $5 fresh-squeezed margs. Or both!
• Manhattan Pizza & Pub offers a $7.99 Buffalo chicken wrap with fries, as well as half-price wings, to start the week strong.
Two-fer Tuesday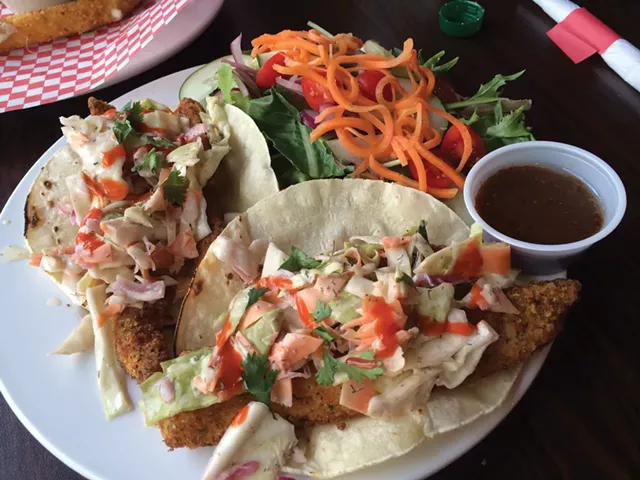 Alice Levitt
Fish tacos at Manhattan Pizza & Pub
• Hit up Manhattan Pizza & Pub for $2 tacos, $3 Switchback beers and $4 Sauza shots, or the Daily Planet for $2 tacos, Tecates and tequila shots.
• Score a $2.75 can of Miller High Life at the Other Place. Careful, though: Those cans are 24 ounces. Better munch on some of the free popcorn.
• Throw back oysters at Church Street Tavern's bar for $1 each. For $5, you get an Orange Crush, too.
Worth-It Wednesday
• Rí Rá Irish Pub's half-price burgers are a killer deal. Catch a game while you're at it.
• It's always a fiesta when El Gato Cantina pours $5 margaritas.
• Suck down a $1 draft at What Ales You, or $1 PBRs at Finnegan's Pub. If that doesn't do it for you, grab a pitcher of the Blue Ribbon brew for $3.50 at the Other Place.
Thirsty Thursday
Matthew Thorsen
The staff of Citizen Cider
• At Citizen Cider, $5 gets you a local hot dog and a can of cider.
• The skilled bartenders at Pascolo Ristorante shake up carefully crafted mixed drinks at half-price.
• Ten bucks at Rí Rá Irish Pub covers a pint of Sam Adams and a pound of wings.
• Bluebird Barbecue's three-piece fried-chicken dinner with waffles, gravy and two sides is a steal at $15.95.
Friday Feeding Frenzy
Matthew Thorsen
Fried chicken, collards, and mac and cheese at Nectar's
• Start your weekend right with local fried chicken, collards, and mac and cheese for $14.50 at Nectar's.
• Indulge your inner Pennsylvanian with $5.99 Philly cheesesteaks — and $5 Heady Toppers — at Manhattan Pizza & Pub.
Hey Hey, Saturday
• Sit down to a $10 two-course breakfast at Leunig's Bistro & Café from 9 to 10 a.m.
• Sip $5 Cuervo margaritas or $3 Coronas at the Other Place; $5 Long Island iced teas at Drink; or $3.50 craft brews at Manhattan Pizza & Pub.
SundayFun Day
Courtesy of Guild Tavern
Steak frites at Guild Tavern
• Keep last night's buzz going at the Other Place with $4 Bloody Marys and mimosas.
• Ten bucks buys you a local beef burger at Guild Tavern in South Burlington.
• Finish your weekend with $5.99 poutine and $3.50 craft brews at Manhattan Pizza & Pub. wg