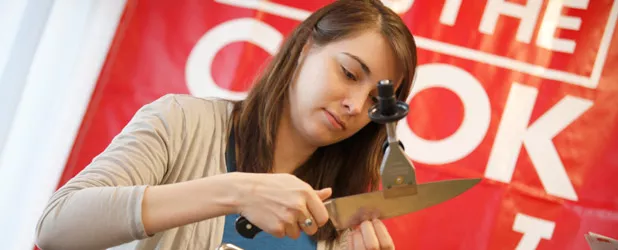 After two years of lunching at Seven Days headquarters, I can say with some authority that our kitchen utensils are ... lacking. As at any typical workplace, there are weeks when the dishes simply disappear — to run away with the spoons, perhaps? Other times, I'd sooner skip a meal than use — or, God forbid, wash — a fork caked with some unidentifiable crustiness.
But what really don't cut it are our knives. Too many times, I grabbed a paring knife too dull to slice my orange and ended up taking a monstrous, serrated bread knife to the fruit instead. I didn't know how much longer my fingertips would stay intact.
Enter Kristy Heppner, assistant manager of Church Street culinary utopia Kiss the Cook. Like the rest of the shop's employees, Heppner is on the cutting edge of knife knowledge — literally. Owner Mike Soulia trains each member of his staff in the ways of knife sharpening in a two-hour tutorial about the manual Tormek T-7 Sharpener, which retails for about $600. For $3 to $5 apiece, customers can have their blunt kitchen knives professionally polished on site. The two-year-old T-7 gets so much use that the grindstone needs replacing about every six months.
To 26-year-old Heppner, a baking enthusiast and Burlington native who's worked at Kiss the Cook for three years, sharpening is just another part of the job, along with stocking, ordering and working the register. When I hand over a particularly dull knife from the office, she and shift supervisor Henry Witte get to work.
Heppner narrates as Witte clamps the knife into the Tormek's jig, using the patended AngleMaster to set the angle of the blade against the grindstone. Slowly and deliberately he draws the blade back and forth over the turning wheel, which runs with cool water for lubrication and temperature control. Once the blade develops a sharp, new edge — called a burr — Witte pulls it in the opposite direction against the strop, a spinning wheel of leather, to smooth it. Depending on how dull the knife is, he'll do this several times.
After round one, Witte holds a piece of scrap paper up in the air and brings the knife down to it, testing its sharpness. The paper wrinkles but doesn't slice.
"This is not sharp enough," he says, marveling with Heppner over the extreme dullness of the blade. "It's not sharp at all." Guess he has his work cut out for him back on the machine.
To prevent blade debacles such as ours, I take the opportunity to grill Heppner on her knife know-how.
SEVEN DAYS: Why are sharp knives important, anyway?
KRISTY HEPPNER: Dull knives can be very dangerous, so sharp knives are a lot better. I mean, obviously, they're sharper, so you can cut yourself easier, but a dull knife ... could make [chopping] clumsy.
SD: So, it's actually safer to have a sharper knife.
KH: Definitely.
SD: I know my knife is dull when it bruises herbs rather than slicing cleanly through. What's your rule of thumb?
KH: That's a good one. One thing they say is, when you're cutting a carrot and the carrot kind of flies [up], then you know your knife is dull because you're putting a lot of pressure down.
SD: Say you're at a restaurant. Can you tell a chef's knife is dull from the chop of your carrot?
KH: No, no, you can't really tell.
SD: What kind of knife-sharpening skills does the average person at home need?
KH: I think something they should do is use a honing steel every time they use their knife, which will just help keep the edge and maintain it a little bit longer than usual. And then ... we can do sharpening here whenever they need.
SD: Any other knife tips?
KH: Make sure to use it on a wooden cutting board, or plastic. You don't want to use it on glass or marble. Don't put it in the dishwasher.
SD: Is that for the sake of the blade or the handle?
KH: Both. The really high heat and the soap, [which] is really harsh, can dull your knife faster.
SD: How often should people get a knife professionally sharpened?
KH: It really depends [on] how often they use it. We have chefs that come in every month, and then we have just your regular customer that comes in once every six months or once a year.
Definitely during the holidays, we have a lot more knives that come through ... just 'cause people are getting ready for Thanksgiving dinner and Christmas. And then we do have a lot of people coming after the holidays, because they realize their knives are dull.
SD: What kinds of knives do people typically bring in?
KH: Chef's knives, paring knives ... we don't do serrated knives. [Sharpening them is a] different process. You have to go through each serrate individually, so it's just very time consuming.
SD: Got any knife horror stories to share?
KH: [Laughs.] We've all been cut. Sharpening, showing knives ... I've definitely cut myself sharpening, just accidentally. You're done, and you're just putting the knife in the sheath, and you cut yourself.
SD: But nothing too horrific? You all have your fingers?
KH: [Laughs.] We all have our fingers, yes.