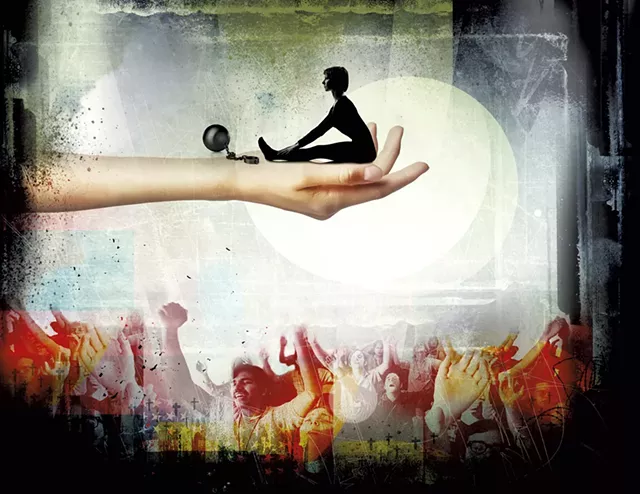 It's been eight years since Margaret Pitkin's world crumbled, but she's finally comfortable admitting to herself and others that she once belonged to a cult.
The 37-year-old Albany, Vt., native was introduced to Anusara Yoga in 2001 at Smith College in Northampton, Mass., after a friend talked her into enrolling in a class. Pitkin wasn't looking for spiritual enlightenment but for a way to exercise and improve her flexibility. She'd been a competitive cross-country skier in high school and at Saint Lawrence University before transferring to Smith.
"Physically, it felt so good, and I had so much stress from being in college," she said. Yoga helped her sleep, and she enjoyed singing the mantras at the beginning of class, "where it didn't matter if you sounded good."
Pitkin returned to Vermont in 2004 and found an Anusara class at the Craftsbury Public Library. When the instructor got pregnant, Pitkin was asked to take over teaching the class. That's when she was drawn into what's commonly considered a yoga cult.
Anusara Yoga was founded in 1997 by John Friend, a former financial analyst whose yoga school grew in the early 2000s to more than 600,000 followers in 70 countries. As Pitkin explained, Friend preached a philosophy of positive vibes through his mantra "Look for the good."
Pitkin, who described herself as "naturally skeptical," found looking for the good a refreshing approach. She was also attracted to being part of a kula, or "community of the heart," composed of like-minded people who continually praised and flattered her.
"A lot of what lured me into it was that I want to know the truth and the answer to things," she said. "You're accepted; you feel special; you feel smart. What's not appealing about that?"
Looking back, however, Pitkin recognizes that she was blind to the group's unhealthier tendencies.
"Everybody was so focused on 'looking for the good' that it was actually frowned upon to be critical or look for things that weren't good," she said. "There was no pathway to say, 'Hey, this is really messed up!'"
Soon, Pitkin was spending more than $10,000 a year on Anusara's complex certification process, which included 200 hours of instruction from Friend himself. She flew around the world and stayed at opulent resorts to attend Friend's pricey workshops, none of which she could afford on a yoga teacher's salary. As for Friend's spiritual teachings, she said, "Oh, yeah. I bought in hard."
Pitkin remembers the date her world crashed: February 3, 2012. That's when an anonymous whistleblower in Friend's organization published online disturbing allegations against the group's founder and guru, including charges of ritualistic group sex, illegal drug shipments and financial improprieties involving employees' pension funds. Subsequent stories in the New York Times, Daily Beast and Texas Monthly uncovered more lurid details. Hundreds of instructors denounced Friend and resigned en masse, Pitkin included.
Pitkin, a tall, athletic woman who until this point in the interview exuded strength, self-confidence and joviality, suddenly became emotional as she discussed the fallout.
"It was pretty hard," she said, choking back tears. "I had this whole future planned out, based on teaching this style of yoga." But the hardest part, she emphasized, wasn't the loss of her career; she's since become a physical therapist. As she put it, "I had shifted my entire worldview to fit inside this other worldview."
Pitkin's experiences may run contrary to many people's notions of how cults work. She and fellow Anusara devotees didn't live together in an off-the-grid hippie commune. They didn't dress in matching robes, bang tambourines in airports or talk about hitching a ride to heaven on a comet. Pitkin had her own home and yoga business — albeit one that was failing because most of her income went to the cult. She was free, at least physically, to leave any time.
But, cult awareness educator Gerette Buglion explained, Pitkin wasn't free. She'd surrendered her autonomy to a charismatic, coercive and abusive leader — a classic indicator of cult dynamics. Other signs, Buglion said, include financial dependence, isolation from relatives and friends, distrust of "outsiders," and loss of control of one's time, resources and mental clarity, even one's perception of reality.
Buglion is a Hyde Park-based writer and teacher who works with former cult members and their families and friends to help them process their experiences. At a rural retreat called Dream Haven of Vermont, she offers personalized getaways, Reiki and educational sessions in a rustic cabin. Though not a licensed therapist, Buglion leads support groups and offers workshops that explore the power dynamics inherent in all teacher-student relationships and how those relationships can be manipulated, often in subtle ways.
Since groups such as the Rajneesh movement, the Hare Krishnas and the Unification Church (aka the "Moonies") emerged in the 1960s and '70s, the public has become much savvier to how cults operate, Buglion said. Accordingly, cults and cultic groups have become more sophisticated at manipulating and exploiting their followers. She suggested that we're now seeing many cult dynamics play out in national and global politics.
"We think that shit's over, but it's not," she said. "It just went underground."
Buglion characterizes the cult that Pitkin belonged to as an "everyday cult," which is also the title of her book, due out later this year. She defines an everyday cult as "a group of any kind in which a charismatic leader or idea engages members to an extreme degree, exploiting their personal agency and resources while promising spiritual, political or financial reward and/or personal transformation." As she put it, "No one ever intentionally joins a cult."
At an interview in her cabin, where we were joined by Pitkin and Buglion's husband, Frederic Gluck, Buglion distinguished "everyday cults" from cults that are overtly destructive. Examples of the latter include the Peoples Temple in Jonestown, Guyana, where more than 900 followers of Jim Jones committed suicide in November 1978; and the Heaven's Gate cult in San Diego, where 39 members killed themselves in March 1997.
Closer to home, many Vermonters are familiar with the Twelve Tribes, a Christian fundamentalist cult based in Island Pond. In 1984, Vermont State Police raided the community and briefly seized 112 children after allegations of child abuse; a judge later ruled the raid unconstitutional. The group continues to operate today.
Buglion speaks and writes about cults from firsthand experience. Beginning in the 1990s, she and Gluck, a licensed mental health counselor, spent more than a decade in a Vermont-based cult. The group, she said, "slowly eroded my capacity for independent thought, emotional security and spiritual freedom."
Buglion, 58, is a Long Island native who grew up on a dairy farm in Dutchess County, N.Y. A Waldorf school teacher for 18 years, she and her husband discovered the Vermont-based group, which she refers to as the "Center for Transformational Learning," led by a teacher she calls "Doug." (For legal reasons, Buglion doesn't use the leader's real name or that of his organization.) Doug preached an alternative form of therapy that involved psychology, dream interpretation and other "new agey, self-help kind of stuff."
What initially attracted Buglion to him were the changes she saw in her friends who had joined.
"I could see this kind of radiance. I could see their enthusiasm, and they talked about how much they were learning," she recalled. "And I was like, Man, I want what they've got!"
Buglion emphasized that fellow cult members weren't young, sheltered or naïve. Most were well-educated, successful professionals who met regularly for classes, workshops and retreats to promote Doug's philosophy. The group had all the elements of an intentional community, she said, but people lived in their own homes and kept their occupations.
Buglion was eventually promoted to an executive committee of 20, who believed they were the group's decision-making body. Below them were about 60 "members" and several hundred more associates worldwide. Becoming a member required attending a certain number of retreats annually, committing to volunteer hours of work and outreach, and writing on the group's email list. On the list, Buglion said, members were expected to divulge their "deep inner work that included how screwed up you were.
"You would be challenged if you just wrote an email saying how great things were," she added. "You had to be continually exposing and digging into that dark side of yourself and how it was playing itself out in the group ... Shame was a major driver."
Unbeknownst to Buglion or Gluck at the time, the group had four other tiers above the executive committee. Secret hierarchies are another red flag for cults.
"And on the top was Doug," Buglion said. "He was the head honcho, the only one making decisions. The rest of it was all charades."
Eventually, Buglion and Gluck were spending tens of thousands of dollars a year on the group, which put them under enormous financial stress. For 18 years they never took a family vacation other than attending retreats. Gluck left the group after 16 years, two years before Buglion did. She said that if her husband had pushed her to leave earlier, she might have divorced him.
"It wasn't working for me anymore," Gluck said. Perhaps because of his innate skepticism, he explained, he was often derided by Doug as an outsider and critic, and thus became the group's scapegoat. "I didn't want to play that role anymore, so I left."
Gluck admitted that it was hard to accept the idea that he'd joined a cult, especially after devoting 16 years to it. "You don't want to condemn it totally," he said, "because, in a sense, it's like condemning a part of yourself."
Nevertheless, when he reflects on Doug's lavish lifestyle — luxury cars, Armani suits, global travel — it's hard not to feel that condemnation.
What distinguishes a cult such as Anusara Yoga or the "Center for Transformational Learning" from mainstream businesses, fitness trends and member organizations that are just out to make a buck?
One factor, Buglion noted, is the harm cults inflict on their members. There's nothing inherently wrong with belonging to a church, self-help group or organization that has a leader or guru who promises to improve your life or save your soul. But legit groups, she said, are transparent about where their money comes from, where it goes and who benefits from it. Leaders with integrity empower their students and encourage them to think for themselves rather than manipulate, control and exploit them.
Buglion's "awakening" was nearly as abrupt as Pitkin's. After a major rupture in the group, she came to believe she'd been "brainwashed" by Doug and had given him unquestioned authority over much of her life.
"What I now know from having snapped out of the consciousness that I was in," she said, "is that [he used] the very same techniques, strategies and underlying dynamics that existed in dangerous cults like Jonestown and Waco, Texas."
Buglion isn't eager to divide cults and cultlike groups into "good" and "bad," suggesting instead that they fall on a spectrum. For some people, she added, rigid control over their lives can even be beneficial.
Olive Ylin of Elmore began attending Buglion's "Cults & Cultures" discussion group, held regularly at the Morristown Centennial Library, after her sister joined a fundamentalist Christian church in California that Ylin believes is a cult. She recounted attending the church and meeting a woman who refused to interact with her after discovering that Ylin wasn't a member. She feared that Ylin would "soil her purity."
Though Ylin finds her sister's worldview closed-minded and abhorrent, she pointed out that her sister has been diagnosed with bipolar disorder and has had several psychiatric breakdowns. Through her discussions with Buglion, Ylin has come to see her sister's religious beliefs as the lesser of two evils.
When someone is emotionally or psychologically unstable, Buglion explained, sometimes the rigid rules of a cultic group provide a healthier alternative to other lifestyle choices, such as substance abuse or self-harm.
Is Buglion saying that psychological instability and past traumas make people more susceptible to cults? On the contrary, there's only one precondition for falling under cultic influence that she feels comfortable identifying: being human.
"A lot of people believe It'll never happen to me," she said. "But I would have said that, too, and I spent 18 years in one."
Correction, January 17, 2020: An earlier version of this story misidentified where Margaret Pitkin attended college. It was Saint Lawrence University.