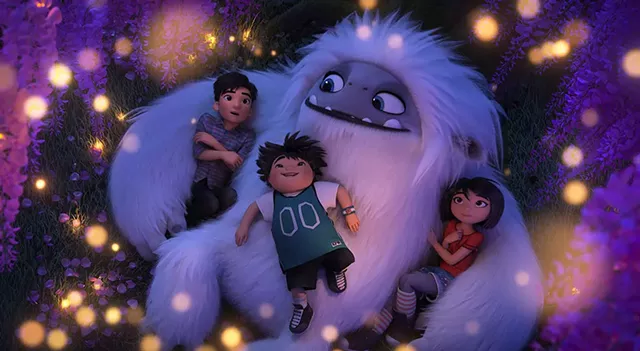 YETI AGAIN This year's third abominable snowman movie is an attractively animated odyssey set in China.
The latest from DreamWorks Animation, Abominable is the third animated yeti movie to hit theaters in roughly a year (after Smallfoot and Missing Link). If the concept of a cuddly abominable snowman (perfect for merchandising!) doesn't exactly feel fresh, the movie is a landmark in another sense.
A Chinese coproduction with Pearl Studio, Abominable takes place in the Middle Kingdom and features Chinese protagonists, voiced by Asian American actors in the English-language version. There's no central white character to serve as an "entry point."
While that may be nothing new to the increasingly numerous American fans of Japanese anime, Korean serial dramas or Hong Kong action movies — all easily accessible on streaming services — it is new for a big theatrical release. DreamWorks is undoubtedly less intent on cultural exchange than on making bank in the huge Chinese market, but the change is welcome.
Written and directed by Jill Culton, Abominable is above par for a family animation. It recycles a key element from DreamWorks' How to Train Your Dragon series: a nonhuman, nonverbal character who forms a touching bond with the human protagonist.
In this case, that's a young yeti (voiced by Joseph Izzo) who escapes from his billionaire captor and hides on the roof of the Shanghai building where teenage Yi (Chloe Bennet) lives with her mom and grandmother. She's mourning her dad, who taught her to play the violin. Yi's dulcet strings charm the yeti and call forth his own wordless, cello-like song, which has magical powers over the natural world.
Noting the creature's fixation on a Himalayan tourism billboard, Yi names him Everest and sets out to return him safely to his mountain home. Along for the ride are Yi's boisterous younger neighbor, Peng (Albert Tsai), and his vain, heartthrob cousin, Jin (Tenzing Norgay Trainor).
The trip takes the kids across China, a journey Yi had originally planned with her dad. While the movie is itself a tourism billboard — lots of natural beauty, no smoggy urbanscapes — the verdant animated landscapes are a pleasure to see, and the characters are good company.
The joyous horseplay of Everest and Peng — who seem roughly the same mental age — should satisfy the youngest audiences. Older kids will appreciate the evolution of Yi and Jin's relationship from one of disdain to mutual respect. The movie also boasts delicious comic turns from Eddie Izzard as the Monty Burns-esque billionaire villain and Sarah Paulson as his scientist sidekick; they manage to evolve, too, in ways we don't expect.
If there's a character that could use more evolution, it's the yeti. His powers are less consistent in their effects than convenient for whichever plot twist or set piece the filmmakers want to throw at us next, and it's not clear how this competence correlates with the bumbling immaturity that Everest shows in other moments. As a result, the film never quite sells the heartwarming notion that Yi and her yeti are growing up in tandem, as the boy and his dragon did in that other series.
While most of the story beats will be familiar to adult audiences, Abominable is still fascinating as a cross-cultural artifact. The English-language version introduces Chinese ideas — stars as watchful ancestors, carp as a symbol of persistence — without fussing over their exposition. Yi has a work-family conflict that, while not exactly typical of stories of American teens, is easily relatable. And the movie's solid box-office performance suggests that, for young Americans, crossing the gap might not be that hard.