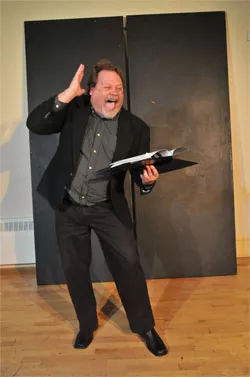 Director Gaen Murphree and actor Neil Flint Worden knew they were on to something during their informal kitchen-table rehearsal of Charles Dickens reading Charles Dickens: The guy spackling the walls around them burst into applause.
Now, they're hoping for a similarly enthusiastic reception at Middlebury's Town Hall Theater this weekend, when Worden will embody the popular 19th-century author for the evening in The Very Dickens! The one-man show includes scenes from Nicholas Nickleby and David Copperfield performed in much the way Dickens himself did during the last 12 years of his life.
"People went bananas over his readings," Murphree says. "It was almost like he created some completely different theatrical genre. He literally became all the characters."
Murphree began looking into this lesser-known part of Dickens' life while working on a production of A Christmas Carol at the American Conservatory Theater in San Francisco several years ago. She was fascinated by the reviews, which raved about the author's captivating stage presence.
Fame came quickly to Dickens. He was only in his mid-twenties when the publication of The Pickwick Papers made him a star, Murphree says. But he had always loved the theater, and very nearly became an actor.
"He had an audition set at one of the theaters in London," she notes. "And it just so happened that he had a cold that day, and he didn't go, and then Pickwick went crazy and he became an overnight success, so he never reinvestigated that other career."
Working from Dickens' original manuscripts, which she found at the New York Public Library annotated and edited by the author himself, Murphree has adapted the works to appeal to a 21st-century audience. For example, she has given more of a voice to Emily, the "ruined woman" in David Copperfield.
"What she actually says would fill about one page, and it's, like, an 800-page novel," Murphree says. "So, to give her any kind of voice at all, I had to go on this major sleuthing effort. Unlike the Victorian era, we're not going to be so happy with a major female character who doesn't speak."
The performance in Middlebury will be pretty bare bones: just Worden on stage in a tux. Margo Whitcomb, who teaches theater at Johnson State College, will lead a discussion after the show. Murphree is calling it a workshop, because she and Worden intend to take it on the road around New England next fall, à la actor Hal Holbrook's Mark Twain Tonight! touring show.
"We're hoping it brings out not just the people who already love Dickens, but people who are just discovering him," Murphree says.