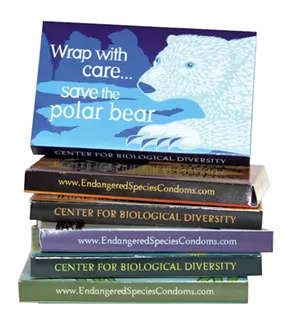 On Halloween eve in downtown Barre, as merchants handed out candy to costumed children, Kat Collins gave away condoms to adults. She was dressed up as "kind of a glamorous witch," she tells me in a recent interview. And her treat carried a bit of a trick: a message from the Center for Biological Diversity to have fewer kids and save the animals.
The conservation organization, based in Tucson, Ariz., advocates for endangered species, from the dwarf seahorse to the giant polar bear. It concocted the condom campaign as a way to address population growth. Collins, 59, who supports many animal-welfare causes and returned to her native Barre from Boston almost six years ago, saw a news posting about the condom campaign last fall on the CBD's website. She signed up as a volunteer distributor.
"It's a massive, massive crisis," she says. "The human population — we have ruined everything on this planet, and we still haven't corrected ourselves. We are consuming everything we can. We are polluting everything we can."
Each package of two LifeStyles brand ultra-lubricated condoms comes in a cardboard wrapper with a species-appropriate slogan: "In the sack? Save the Leatherback [sea turtle]." "Cover your tweedle. Save the burying beetle." "Don't go bare. Panthers are rare."
The artwork and the clever, colorful packaging clinch the appeal, Collins says. Because of the lighthearted approach, she has met with little hostility during her distributions.
"The packaging is so brilliant on this," she says. "It's fun. It's happy."
During her first distribution effort — that Halloween in Barre — Collins gave away about 150 packets. Everyone responded with enthusiasm or at least civility, she says, even a city official who took one of the samples. He told her, "This is a great way to do it," Collins recalls.
On New Year's Day, Collins passed out condoms on Church Street in downtown Burlington. Many college students laughed when they saw the messages and voiced their approval: "Oh, this is great!" she relates.
It was on the Marketplace, though, that Collins encountered her sole negative response to date. A man walking alone took the condoms, which were accompanied by Collins' cheery greeting: "Happy New Year from the Endangered Species Coalition."
After a glance at the petite packages, she recalls, the man stopped and burst out, "Are you serious with this crap?" He threw the condoms on the ground. Collins picked them up and gave them to the next passerby.
Detractors doled out much worse in Boston, Collins says, when she protested the mistreatment of elephants by the Ringling Bros. and Barnum & Bailey circus. That's one of various animal-welfare actions in which Collins has participated; she also assisted in efforts to shut down the Bushway Packing slaughterhouse in Grand Isle in late 2009.
For the CBD, Collins says, she disseminates only the prophylactic, not the platform. She simply tells passersby, "Happy Halloween" or "Happy New Year," citing the endangered-species affiliation as she hands over the packet.
"It's not coming from the aspect of 'Stop having kids,'" she says. "It comes from the aspect of 'Look what we're doing to the planet.'"
With 7.2 billion humans on Earth and one more being born every eight seconds, according to the U.S. Census world-population clock, people are crowding out wildlife, taking over animal habitats and resources.
"Some species are already extinct," Collins says. "They're not going to come back. Others are right on the brink. And it's all because of humans."
But is a condom wrapper the most effective way to deliver a protect-the-animals plea? In the throes of passion, isn't it a mood killer to think about the extinction of the poor little snowy plover or the beautiful jaguar?
Stephanie Feldstein, CBD's population and sustainability director, says the group has no real measure for the success of its campaign; there's no way to tally the number of births avoided by lovers' use of the rubbers. But she believes the condoms contribute to important intercourse of a different kind: discussion. By being "a little bit surprising and unexpected," Feldstein suggests, they draw attention to the population problem and raise awareness of related concerns, such as women's reproductive rights and access to contraception.
Media outlets have covered the CBD's crusade, including the Washington Post, which included it in a July report on World Population Day. Condom circulation has generated flurries of attention on social media, Feldstein says. And some volunteers have made videos, which the organization posts online, showing funny interactions on the street.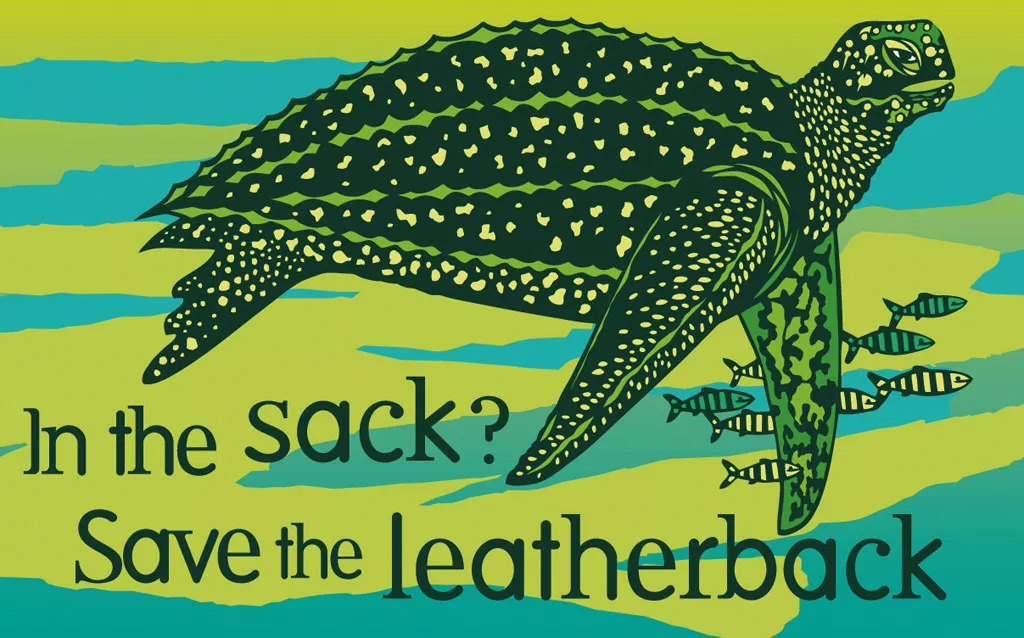 That's helpful publicity for a topic that many environmental groups, including the CBD, let fall "off the radar" in recent years, Feldstein says. "I think there's a misconception, especially in the U.S., that we've solved the problem."
Collins is among about 50,000 volunteers who hand out Endangered Species Condoms across the United States. Distribution is timed for events such as Earth Day, when the center has spread as many as 40,000 sheaths, and holidays such as Valentine's Day and even Christmas.
"Between stocking stuffers and New Year's Eve parties, it's a great time of year for people to hand out condoms and use them as a conversation starter," Feldstein says.
Occasionally that conversation starts with a misunderstanding. Take my own first encounter with the campaign — a few weeks before Christmas, when I ran into some of Collins' fellow volunteers on Church Street while walking my dog. I heard them say something about endangered species before handing me a small, rectangular package.
A fan of Endangered Species Chocolate, which is made by an Indianapolis-based company with a similar objective of protecting wildlife, I thought I had gotten free candy.
"I love this!" I told the condom-carrying couple. Only when I got home did I realize I had accepted contraception instead of chocolate.
Apparently, I'm not the only one who has made that mistake. Feldstein says the volunteers who staff the condom booths at family-attracting Earth Day events have to watch for kids who think the colorful packages contain something sweet to eat.
Collins noticed a similar response in Barre. "I think a lot of people, when they got it, they thought it was a piece of chocolate, because it was Halloween."
Collins plans to return to Burlington for more rubber rationing. She'd like to target college students during their nighttime escapades.
"There's more young people in bars," she says. "I think Nectar's would be a great place to hand them out."