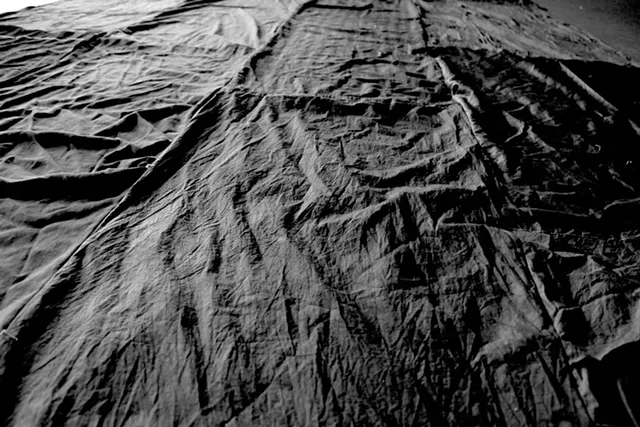 Courtesy of Ian Walker
"Mourning Cloth" by Sabrina Leonard
Earlier this week, Johnson State College sophomore Brittney Malik recited "Let America Be America Again," a poem written by Langston Hughes in 1935. Her reading was staged to mark the opening of the new collaborative exhibition "Awaken" at the Julian Scott Memorial Gallery. Ignited by the police-shooting deaths of Philando Castile and Alton Sterling, Underhill-based artist and recent JSC graduate Sabrina Leonard began organizing the exhibition in July. The show is meant to honor and memorialize "all the black lives oppressed and terrorized by slavery, Jim Crow segregation, lynching, mass incarceration and systemic racism."
"O, let America be America again— / The land that never has been yet— / And yet must be — the land where every man is free," wrote Hughes.
"[The poem] makes so much sense now, like it was written now," Malik tells Seven Days by phone. She got involved after seeing posters that Leonard had posted around campus in October, which featured in large bold letters a quote from Michelle Alexander, author of The New Jim Crow: Mass Incarceration in the Age of Colorblindness: "Something more is required of us now."
Below was an invitation to "End your silence and take action and accountability by collaborating with us." It was accompanied by exhibition info and Leonard's email address.
"I was definitely on board the moment I saw the poster," Malik says. "I haven't seen a lot of that kind of movement building near me in northern Vermont."
Leonard was not inundated with emails from enthusiastic collaborators. "I was hoping for a lot of emails and a lot of interest, and it didn't really happen," she says. So the project became "much more grassroots, [with] people pulling from their networks."
The central element of the exhibition is a massive "Mourning Cloth" made of pillowcases that have been deconstructed, dyed black and resewn together. Leonard, whose work as a sculptor frequently incorporates deconstruction, found objects and stitching, decided to use pillowcases after reading Ta-Nehisi Coates' Between the World and Me. In the book, Leonard says, Coates writes "so often of being asleep and dreaming" in relation to American racism.
Leonard's sister-in-law, Sara Baer Farrell, took to Facebook to solicit donations of pillowcases from friends and family. The final cloth is made from 70 to 100 pillowcases, most mailed in from eight states — and some, Leonard says, "dropped off on porches" locally. After the cases were deconstructed and dyed, community members helped assemble the piece with sewing machines in the gallery space. When the show comes down, the cloth will be rehung indefinitely in the college's library.
Leonard also reached out online to black female artists who have been vocal about their experiences as women of color and the significance of #BlackLivesMatter. On view are two abstract oil paintings by Bay Area artist A'Driane Nieves and collages by New York artist Christa David. In her "Speak Up" video for BonBon Break magazine, Nieves describes her three young African American sons to viewers, and issues a plea for their safety.
Other components of the installation include wall-hung mirrors bearing controversial phrases such as "I don't see color, just people." The names of African Americans killed by police are projected on one of the gallery walls — and on the bodies of viewers as they pass through the space. "Those names are now on you," says Leonard.
Visitors to "Awaken" also hear an audio component, which was compiled by Peter Reynolds Alsen of Winooski's BLiNDoG Records. It includes the Trayvon Martin 911 call, Eric Garner gasping, "I can't breathe," and an excerpt of '60s activist Angela Davis speaking about violence.
"I want to make this symbolic, but still very real, commitment to waking up," says Leonard.
Printed handouts distributed at the gallery entrance ask questions of visitors, including "Has this concept of 'dreaming' shaped the promotional imagery of our state of Vermont? Why or why not?"
Leonard notes that her neighbor brought her young son, who was adopted from Ethiopia, to meet the local state trooper — "so that he would know [her son] belonged there ... even in Vermont, on our idyllic dirt road," she says.
"I'm super-happy that Sabrina decided to do this," Malik says. "It's important to know, as a black woman in America, that there are people of different races out there that want to help the movement that we're trying to have."
Correction, November 23, 3016: An earlier version of this story omitted the credit on the main image.