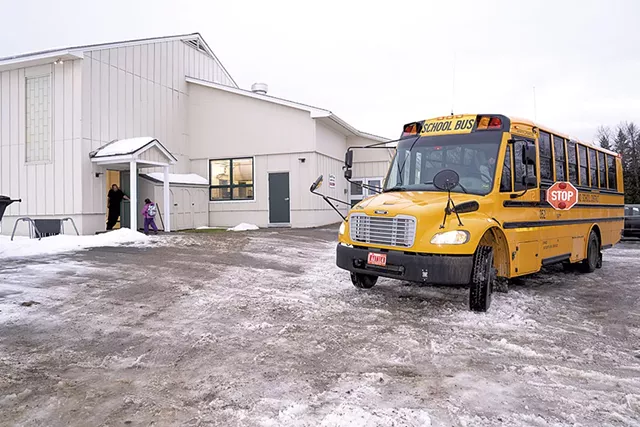 Don Whipple
Holland Elementary School
Last year, second and third graders at Vermont's Holland Elementary School rejected their teacher's lesson plan and proposed one of their own — to write a history of Holland. According to the staple-bound book they published, the remote town on the Canadian border started its first school in a barn in 1811. By 1882, it had eight schools, which cost a collective $940.67 to run that year.
As it turns out, the 10 students who wrote that book will be part of a pivotal new chapter for Holland; they're among the last kids to be educated there.
In September, residents fearing that the state would force their district to merge with a nearby one voted to close the town's only remaining school next summer.
The school, which serves 45 students from pre-K to sixth grade, is the center of civic life in Holland. It is, in fact, the only secular gathering spot in town.
"We don't have a post office. We don't have a general store. We don't have anything except the school, a town shed and the church," said school board chair Lincoln Petell.
"This is the hub of the community," confirmed school principal Kelli Dean. Throughout the year, spaghetti dinners, bingo nights and craft fairs serve both as school fundraisers and a reason for residents to come together. "When we have a Christmas concert, the gym is packed," Dean said.
The single-story, warehouse-like building will remain, but the main reason to congregate there — the kids — will have gone away. What does that mean for this tiny Orleans County outpost?
"Personally, I feel like the town is going to fall apart without the school," said Suzie Moulton, who's lived in town for 39 years and driven the school bus for 27. Every December, she ferries the students around town to sing carols to elderly residents. Moulton's daughter, who went to the school, now teaches there. "I just feel like everyone is going to go their separate ways," Moulton said.
In its heyday, Holland had multiple farms and sawmills, two stores, and a creamery.
According to U.S. Census Bureau figures, the town's population peaked in 1880 at 913. Then the sawmills shut down; later, dairy farms began to dwindle. Today, only seven farms remain, and the population hovers at just over 600.
"People have just been scattering to the wind," Petell said.
Last week, the only signs of life in the snow-blanketed town were at the elementary school. Nine children hoisted large clumps of snow and scrambled up banks under the watchful eye of Moulton, who was subbing for the pre-K teacher. Inside, Jason Marcoux was busy preparing Southern chicken and rice bowls for lunch; later that afternoon, the school chef would teach a cooking class. Holland's custodian also doubles as a teacher.
Don Whipple
Chef Jason Marcoux at the Holland Elementary School cafeteria
"Those lines get really blurred in a community this small," said Dean, who described her own role as "more social worker than principal." Dean works with the state Department for Children and Families to find counselors for kids, and she and other school employees go out of their way to provide food, clothes, rides and any other necessary supports to struggling families. That informal social service network may not outlive the school.
"The ripple effect is greater than what people realize," Dean said.
Holland residents worry that the extra distance will make it harder for parents to stay involved in their children's education. Some are also concerned that the absence of a school will discourage new families from moving to town.
Many put the blame for Holland's predicament on Act 46, the state's sweeping school-district consolidation law. Residents voted to close the school after the education secretary recommended in June that Holland merge with Derby.
"Before some yo-yo in Montpelier says, 'You're going to close and merge with this school,' we wanted to do as much as we could on our own," Petell said. "By voting to close the school and tuition our kiddos to Derby, we still have a little bit of voice in our kids' education and what happens to our school building."
The Derby Elementary School is 10 miles from the Holland school, though students in the farther reaches of town will have longer to travel. The town already sends its older students to North Country Union Junior High School in Derby and North Country Union High School in Newport.
In the end, the State Board of Education voted this month against the secretary's recommendation to force Holland to merge. Even so, the town is staying the course. In part, that's because declining enrollment would have forced the school to shut down soon anyway, Petell acknowledged.
That reality has done little to temper residents' resentment toward state officials, who, in this corner of the state, are often regarded as out-of-touch bureaucrats.
Holland's decision would seem to be self-defeating, but residents were also trying to preserve a sense of self-determination. "We're not a herd of cows that you can just move into another barn and just shut that other barn down to save on electricity," Petell said.
"It's becoming harder and harder for a town this small to feel like they're making their own decisions," he said.
At the same time, the value placed on local autonomy has grown, according to John Castle, superintendent of the North Country Supervisory Union, which includes Holland. "The once self-sufficient Vermont rural villages are no longer economically independent," he wrote in a document sent to state officials in response to Act 46. "Yet, this loss of economic independence has had the primary effect of reinforcing and expanding the importance of an independent, locally controlled school system. The schools, along with the town meeting, represent the last vestige of localism and self-governance in much of rural Vermont."
Castle himself attended Holland Elementary School; he later sent his children there and served for several years as its principal. The superintendent, who still lives in town, suggested that the state should do more to support, rather than discourage, small schools.
"I think community is much like health," he said. "We don't appreciate it until we lose it."
Don Whipple
Principal Kelli Dean (left) and secretary Nikki Bickford
Holland is hardly the only town confronting existential questions in response to what some residents consider a growing hostility toward small schools. In the rural Northeast Kingdom, those concerns are particularly pronounced: Of the 29 school districts that have pledged to take the state to court over Act 46, 13 hail from the region. Some, such as Irasburg, have been ordered to merge with other districts under the new law. While state officials maintain that Act 46 is not intended to force schools to close, many people don't buy that.
Other towns worry that the state will terminate their small-school grants, which amounts to a lifeline in some cases. Lawmakers have periodically tried to phase out these grants, which were created as part of the state's earlier landmark education law, Act 60. The newer law, Act 46, guarantees that money on an ongoing basis to districts that voluntarily merge, but other districts have no such assurance.
Losing the $108,000 grant would be a tough blow for nearby Charleston. The town of 1,000 operates a pre-K-8 school with 110 students. As in Holland, the school is the heart of the community. "Anything that the community does is pretty much tied directly to the school," said Charleston School Board member Pat Austin.
"Almost everybody that lives in Charleston has some sort of affiliation with kids in the building, or they went to school there themselves," said Jason Brueck, the school board chair.
And like Holland, Charleston doesn't have much else. "We have no industry in the town. We have a store and 10 to 15 farms," Austin said. He feels strongly about holding on to the institution. "The school's not going anywhere," he said.
In several Kingdom communities that have closed their schools in the past decade, there's no consensus about what the move has meant for the towns. East Haven, which has about 300 residents, decided to shutter its elementary school in 2011 after the student body dropped to 11 kids.
Two of its classrooms have been converted into a town library; in a third room, exercise classes for the elderly take place twice a week.
Residents say closing the school actually brought more families to the town. School board member Donna Loynd said the number of students living in the town has grown to 35, and multiple parents have cited school choice, which provides tuition vouchers for students to attend their preferred public or private school, as the reason they relocated to East Haven.
The arrival of new families hasn't necessarily bolstered East Haven's sense of community. Not all of the older residents have been thrilled by the additional youth, whom they feared would drive up property tax bills.
"It's not as tight-knit as it once was," East Haven Selectboard chair Kirwin Flanders said of the town. "The townspeople don't necessarily get together."
Nearby Norton, which has fewer than 200 residents, closed its elementary school around the same time. Up until last year, it rented the space to the local historical society, according to assistant town clerk Betsy Fontaine, but the group disbanded. It, too, suffered from declining membership.
The town of Morgan, which borders Holland, closed its elementary school in 2012. Students now go to school in Derby, and the town rents the building to the Turning Points School, which teaches students with emotional and behavioral problems. Morgan can still use the facility for public events, including town meeting.
"Everybody's used to it now, I guess," said Morgan Selectboard chair Robert Guyer.
Morgan is home to Lake Seymour, which attracts an influx of out-of-towners during the summer. It also features the Morgan Country Store, a cozy shop run by two sisters, which serves as a post office, weigh station, local watering hole and town square.
In Holland, where there's no such equivalent, Petell hopes residents will still come together, even if it requires greater effort.
"It really hurt," he said of the decision to close the school. But "we're also a tough bunch of meatheads, and we'll make it through."