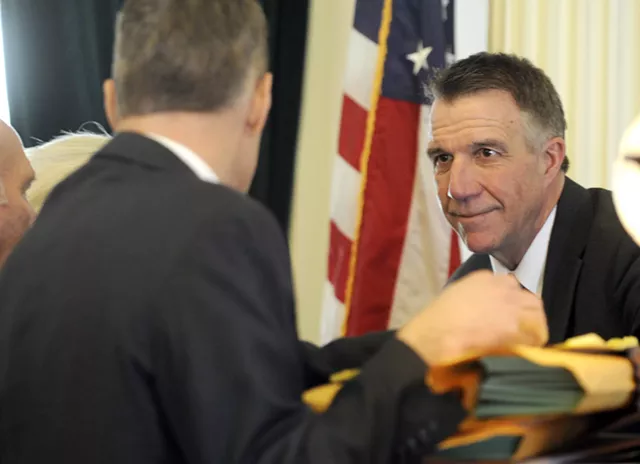 File: Jeb Wallace-brodeur
Lt. Gov. Phil Scott
After suggesting last month that the planet is warming due to a "combination" of human and natural causes, Lt. Gov. Phil Scott said Monday that he has studied up on the matter and has changed his view.
In a July forum hosted by Reddit and Vermont Public Radio, the Republican gubernatorial candidate was asked whether he believed that climate change "is a man-made problem."
"I believe the science is real," Scott responded during the online event. "Climate change is happening. And I believe as well it is a combination of man-made contributions as well as a natural phenomenon."
Most scientists would disagree with that assessment. According to NASA, the Environmental Protection Agency and the United Nations Intergovernmental Panel on Climate Change, humans are largely responsible for the warming planet.
Apparently, Scott has finally gotten the memo.
"Everything I've read since [the forum] has shown me that scientists believe it is man-made, and I believe in science," he clarified to Seven Days Monday afternoon. "So, you know, I evolve, as well. I am not a scientist — and I've never pretended to be."
Clearly not. Throughout his gubernatorial campaign, Scott has indulged climate-change deniers by arguing that it doesn't matter what's causing the existential planetary threat. Speaking on WDEV's "Open Mike" radio show in June, the LG said that "whether it's man-made or not is almost immaterial." At a Vermont PBS debate in July, he said the climate could be changing "for many different reasons."
"There are many who think it's caused by human behavior," he continued. "There are some that believe it's due to climate change on a changing worldwide basis."
Whatever that means.
Even now that he's "evolved" on the subject, Scott is still throwing a bone to the deniers.
"Again, I have to acknowledge that there are many out there that don't believe the science and believe that it's part of the evolution of weather," he said Monday.
"Are those people wrong?" Seven Days asked. "I mean, you keep saying you have to 'acknowledge' those people. But if those people were saying that dinosaurs still roam the Earth, you'd probably say those people are not right. Do you think those people are wrong?"
"Here's what I believe: I believe that we should focus on what we can agree upon," Scott said, arguing that most Vermonters concur that the U.S. should reduce its dependence on foreign oil. "So, even those who may not adopt the premise that it's man-made could agree that we should be energy independent."
Perhaps so. But according to Scott's Democratic rival, former transportation secretary Sue Minter, his argument is "problematic — particularly because it suggests that human activity does not need to be changed, and it suggests that we don't need to take responsibility for what is a very serious global challenge."
Indeed. While Scott says he supports the state's goal of obtaining 90 percent of its energy from renewable sources by 2050, he says he would do "nothing new" to actually reach that goal.
"Nothing different than what we've been doing," he said.
Scott's detractors clearly smell an opportunity to tag the generally moderate Republican as an extremist on the issue. Democratic Governors Association spokesman Jared Leopold, whose organization may dump millions into the race, said Scott's position "puts him right in line with [GOP presidential nominee] Donald Trump and the national Republican Party — and out of step with everyday Vermonters."
In a Monday morning interview with Seven Days, Minter said Scott's rhetoric "sounds like what I hear from climate-change deniers." That night, during a Vermont PBS debate in Randolph, she pressed him further on the issue.
"Phil, I know you've said that climate change is a problem," Minter said. "But you won't acknowledge that climate change is significantly driven by human activity — even though 97 percent of the world's scientists and [former] Republican governor Jim Douglas disagree with you on that point."
"Well, I think you're getting confused, Sue," Scott responded. "I actually believe myself that climate change is real, and it's man-made."
Actually, Mr. Lieutenant Governor, it appears that you're the one who's been confused.
Scaredy-Tax
While Democrats have been focused on Scott's climate-change conversion, Republicans have been frothing at the mouth over what they see as Montpelier's devious desire to raise the price of gasoline by 89 cents per gallon.
"The Carbon Tax Is Coming," the Vermont GOP warned last week in an email to supporters. It "will be rushed through by Vermont Democrats" if they retain their majorities in the legislature, Vermont GOP chair David Sunderland said in July. "Between now and Election Day, the three Democratic candidates for governor are going to promote a devastating carbon tax," executive director Jeff Bartley wrote last March.
So is it true? Not really.
In March 2015, 27 members of the Vermont House introduced legislation that would, over 10 years, ramp up an excise tax on gasoline, home-heating oil, natural gas and other fossil fuels. Ninety percent of the revenue raised would be returned to Vermonters through various tax reductions — and the remaining 10 percent would go to programs promoting energy efficiency and renewables.
The bill, like most others, was sent to committee to die an inglorious death.
Rep. Mary Sullivan (D-Burlington), a lead sponsor of the legislation, hopes to breathe new life into it when she returns to Montpelier next January.
"Yes, definitely," she said. "I know there are several of us who plan to really continue pushing this."
They'll be helped by Energy Independent Vermont, an advocacy coalition led by the Vermont Public Interest Research Group, which has collected more than 17,000 signatures in support.
But that doesn't mean the Democrats in charge want to see it happen.
"No, I don't think we're ready to pass that now," said Majority Leader Sarah Copeland Hanzas (D-Bradford), who is running for speaker of the House.
Minter agrees.
"Vermont is not an island," the gubernatorial nominee said, arguing that the state should look for a "regional solution" to reduce the use of carbon-emitting fuels. Minter hopes to expand the Regional Greenhouse Gas Initiative, a nine-state compact designed to cap carbon emissions generated by power plants, so that it includes transportation fuels.
"I am not supporting a carbon tax," she said. "What I would like us to do is look to a much larger air shed and see the impact we have when we work together."
Tom Hughes, a VPIRG employee who directs Energy Independent Vermont, calls Minter's proposal "a step in the right direction." But, he added, "I don't think it's adequate to fully address the issue or make Vermont a leader on global warming."
This being an election year, Republicans aren't letting the facts get in the way of a good scare tactic.
"I haven't heard Sue say that she is not in favor of a carbon tax," Scott said. "But maybe that could be the case. I just haven't heard that."
And I haven't heard Scott say that dinosaurs don't still roam the Earth.
Chicken Dance
Hope you enjoyed Monday's gubernatorial debate. It may be the last of its kind.
Earlier this month, Scott communications director Ethan Latour released a memo declaring that the GOP nominee would participate in just eight debates — and only those that met certain criteria. They would have to be hosted by media organizations — not "special interest groups" — and would have to include Liberty Union Party nominee and retired Boston Red Sox pitcher Bill "Spaceman" Lee.
"We've had a fair number of forums and debates thus far," Scott explained Monday. "I'm not sure what new information we're going to get."
Those new conditions threatened to kill that night's debate in Randolph, because it was hosted by the Vermont-National Education Association and featured just Scott and Minter. Though Scott's campaign signed off on the event last spring, it recently requested that Lee be added to the lineup.
"Our board was very clear that the conditions we laid out in April, as we planned the debate, were the ones that would continue to be used," said Darren Allen, a spokesman for the teachers' union. "The Scott campaign asked [to include Lee], and we declined."
AARP Vermont hasn't been so lucky. According to state director Greg Marchildon, Scott's campaign has said it plans to back out of the organization's October 10 debate.
"We are actively engaging the campaign in order to make sure that we can get the lieutenant governor to this debate," Marchildon said. "We strongly believe that we have a commitment that we received in May to participate. And we take Phil at his word."
The Scott ultimatum has already had the desired effect at Vermont Public Radio, which generally excludes minor candidates. News director John Dillon says the station prefers to include only those who "actually have a chance of getting elected to that position." Doing so allows for "a really spirited back and forth between two people."
"But ultimately we agreed to that condition, because it was that or no debate," Dillon said. "The stakes were too high."
The former Statehouse correspondent says he questions whether Scott is really seeking inclusivity.
"The political reporter in me wonders whether this is an effort to avoid a direct, 90-minute debate with his leading opponent," Dillon said.
According to the candidate, he's not afraid of debating Minter.
"No. No," Scott said. "In fact, I think this will be easier than trying to have five or six people on a stage at one time. I think this will be more concise."
Wait, what? The guy who's demanding that a third candidate take part in the debates thinks they're better with fewer people?
"He's getting quite a bit of attention for being a former Red Sox player," Scott elaborated. "If those devoted Red Sox fans decide they want to vote for him, they ought to know what he stands for."
At least Scott is willing to participate in eight debates.
Last week, Republican U.S. Senate nominee Scott Milne called on his opponent, Sen. Patrick Leahy (D-Vt.), to take part in at least four televised debates — on WCAX, WPTZ, Fox 44 and Vermont PBS.
Leahy's spokesman, Jay Tilton, refused repeated requests from Seven Days to respond to the challenge.
"This is the first we have heard of this, so we will wait until we are contacted by Mr. Milne's campaign before making any comment," Tilton wrote last Wednesday.
Reached Friday, Milne accused Leahy of "trying to dodge debates."
"I think he's trying to win the campaign by being a chicken, and it's very obvious," Milne said.
That was enough to prompt Tilton to finally respond.
"Mr. Milne has added Trump-style name-calling to his substance-free campaign of negative attacks," the Leahy flack said Tuesday. "The truth is, Scott Milne isn't campaigning for the Senate. He is issuing a series of negative press releases."
Tilton added that his boss would deign to participate in just three debates: on VPR, Vermont PBS and Burlington public access station Channel 17.
"Given [that] his opponent proposed four in his release to the media, this is a reasonable number with Sen. Leahy's Senate schedule and other campaign plans," Tilton argued.
Seriously? After 42 years in the Senate, Leahy can't find the time between ribbon-cutting ceremonies to debate his rival on the state's commercial television stations? He wants six more years representing Vermont in Washington, D.C., but he won't show up to more than three debates?
Cluck, cluck, cluck!