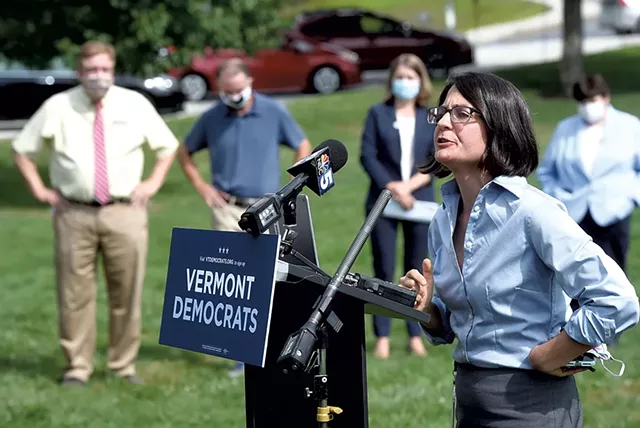 Jeb Wallace-Brodeur
Sen. Becca Balint
Days after his resounding reelection win last week, Gov. Phil Scott reflected on the fate of three other state leaders who took office alongside him in January 2017: Lt. Gov. David Zuckerman, Senate President Pro Tempore Tim Ashe (D/P-Chittenden) and House Speaker Mitzi Johnson (D-South Hero), all of whom lost their own races this year.
"Today, I'm the only person standing out of that group," the Republican governor said at a press conference in Montpelier, exhibiting just a touch of schadenfreude. "So it's going to be, you know, a clean slate."
Scott's overwhelming defeat of Zuckerman, his Progressive and Democratic challenger, will almost certainly strengthen his hand as he enters a fifth legislative session in January. The 67 to 27 percent margin was the widest since Howard Dean's 1996 reelection, and Scott won more votes than any gubernatorial candidate in Vermont history.
His Republican allies, meanwhile, picked up a seat in the Senate and three in the House, depriving Democrats and Progressives of the supermajority necessary to override his vetoes. Rep. Pattie McCoy (R-Poultney) described the outcome as "a stunning rebuke of the status quo" — perhaps a bit of an overstatement, given that Democrats and Progressives will still control 99 of 150 seats in the House and 23 of 30 in the Senate.
But the turnover in Statehouse leadership will undoubtedly bolster Scott's position relative to the legislature's. He'll enter the session with a seasoned team of advisers and cabinet officials who have been tried by fire during the coronavirus pandemic.
"They're already off and running," said Sen. Bobby Starr (D-Essex/Orleans), who has served in the legislature for more than four decades. "They've already got their crew and their team — and we're still talking about who's going to be the leadership."
The clean slate does present an opportunity for the House and Senate to reset relations with the Scott administration — and with each other. At times over the past four years, Ashe and Johnson seemed to battle with one another as much as with the Republican governor.
"Having been away for four years, it's the one thing that feels distinctly different: the deterioration of the relationship between the House and Senate," said senator-elect Kesha Ram, a Burlington Democrat who left the House in 2016 and was elected to the Senate last week. "It just feels like there's less trust and more animosity."
The likelihood that the pandemic will prevent legislators from convening in the Statehouse for at least the early months of the legislative session makes a reset all the more important, according to Sen. Ruth Hardy (D-Addison). "We can't just meet in the hallways and figure it out," she said. "We really need leaders who communicate and work well together."
The good news for legislators is that the front-runners for the top leadership posts have a history of working together. They're also mostly women.
Over the past week, Seven Days reached all 23 of the Senate's Democrats and Progressives, and every one of them said they would support Sen. Becca Balint's (D-Windham) bid to serve as president pro tem. That would make her the first woman to lead the 30-member body and the first openly gay lawmaker to lead either chamber.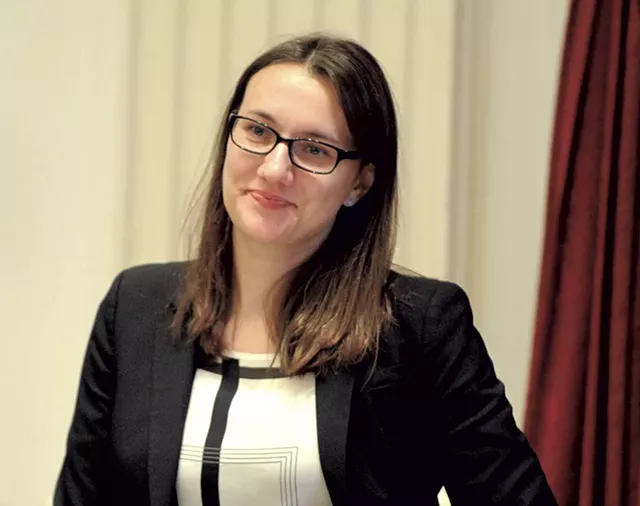 File: Jeb Wallace-Brodeur
Rep. Jill Krowinski
The picture in the House is far less clear. Johnson's unexpected loss in last week's election quickly triggered a leadership contest between the chamber's current and former majority leaders, Rep. Jill Krowinski (D-Burlington) and Rep. Sarah Copeland Hanzas (D-Bradford), as well as Rep. Charlie Kimbell (D-Woodstock), a moderate Democrat.
Meanwhile, Democrat Molly Gray is set to succeed Zuckerman as lieutenant governor. Though the position is largely ceremonial, its occupant is charged with presiding over the Senate — no small task during an era of legislating via Zoom, particularly for someone who has never served in the Senate.
The legislature faces other challenges in the nearly two months before the session begins. Johnson's chief of staff, Katherine Levasseur, and Ashe's, Peter Sterling, departed the Statehouse in October, leaving no experienced employees to guide their respective offices through the transition.
And though Democrats in the House and Senate are expected to nominate their new leaders in the coming weeks, the next speaker and pro tem won't be formally elected until the legislature convenes in January. They, in turn, will not be able to assign lawmakers to committees and appoint chairs until they take office.
"It's going to be very difficult, let me tell you," said Sen. Dick Mazza (D-Grand Isle).
There will, however, be some continuity next session. Every Senate committee chair and all but one House chair won reelection last week. Only Rep. Kitty Toll (D-Danville), who has run the House Appropriations Committee for four years, chose to retire.
And Balint, at least, has had time to prepare for her new role. As soon as Ashe announced in January that he would leave the Senate to seek the Democratic nomination for lieutenant governor — a race he would lose to Gray — Balint expressed interest in the job. Nobody has challenged her.
"She's the ultimate people person, and that's always of great value in a small group like the Senate," said Sen. Phil Baruth (D/P-Chittenden), a former majority leader who considered running for pro tem.
Even Sen. Joe Benning (R-Caledonia), the Senate minority leader, said he would be willing to vote for Balint. "I know she's somebody I can work with," he said. "She cares a lot about her constituency and the people who are in the building, even if they're not in the same party as she is in."
Balint, a 52-year-old educator from Brattleboro, certainly won't resemble her 75 predecessors, most of whom were straight white male Protestants.
"I come from an interesting background," she said. "Obviously, I'm a woman. I'm gay. I was an Army brat. I had family killed in the Holocaust. I feel like I cross class lines and gender lines, and I'm willing to listen to anyone about anything — and I think that's because I never felt like an insider."
Hardy points to another attribute that makes Balint stand out from the crowd of men and retirees who make up much of the Senate. "I'm especially thrilled to have a mom as pro tem," she said. "That means a lot to me as one of the few senators who is currently raising kids and has school-age children."
While Balint's election is all but certain, several senators are jockeying to succeed her as majority leader. Sen. Chris Pearson (P/D-Chittenden), Sen. Alison Clarkson (D-Windsor) and Sen. Brian Campion (D-Bennington) have all been calling colleagues in recent days to solicit their support.
Courtesy Of Vermont General Assembly
Rep. Charlie Kimbell
While most senators said they were undecided, Pearson appears to have an early edge, with five colleagues expressing support for him: Baruth, Starr, Sen. Anthony Pollina (P/D-Washington), Sen. Ann Cummings (D-Washington) and Sen. Mark MacDonald (D-Orange). Sen. Dick Sears (D-Bennington) is backing Campion, his district-mate, while no senators have publicly declared support for Clarkson.
One difference among the candidates is that Clarkson and Campion are Democrats, while Pearson has always identified himself first and foremost as a Progressive. "I think it's very important to have a Democrat as the majority leader," Clarkson said. "This is the majority party."
Pearson's supporters argue that his party label shouldn't make a difference in a caucus that includes both Democrats and Progressives. "I just don't see any great distinction," Baruth said. "It feels a little silly to me or flimsy given that, in the Senate, Progressives don't have their own caucus."
One position that appears unlikely to change hands is the so-called "third member" of the Committee on Committees. That senator, who is chosen by colleagues, joins the pro tem and lieutenant governor in making all committee membership and chairmanship assignments.
Mazza, who was first elected to the House in 1972 and the Senate in 1984, has held the third member job for so long that he can't remember when he took it, though he estimates it was in "the early '90s." Most members appear inclined to reappoint him to the post, in part because the other two members of the committee, Balint and Gray, will be new to it.
"Given the number of pieces that are in flux right now, I actually would really appreciate having him as third member," Balint said.
The House leadership contest is particularly unsettled, in part because few were expecting it to take place. It's also quite awkward, given the uncertainty around Johnson's fate. She has requested a recount, but it is not scheduled to take place until November 20 — roughly two weeks before her colleagues are set to vote on her successor.
Her deputy, Krowinski, attempted to forestall the race in the days after Johnson's defeat. But last Friday, when Copeland Hanzas announced in a written statement that she was "likely to step forward to run for Speaker," Krowinski followed suit.
File: Jeb Wallace-Brodeur
Rep. Sarah Copeland Hanzas
According to Krowinski, her colleagues are looking for an experienced leader. "I think because governing during the pandemic is very challenging, what I'm hearing is, people want stability and consistency," she said, noting that she served on the leadership teams of both Johnson and former speaker Shap Smith — and, early in her career, as former speaker Gaye Symington's assistant. "So I kinda know the job," she said.
Copeland Hanzas, who did not respond to interview requests, also has a great deal of experience. First elected in 2004, she served as Smith's third majority leader and currently chairs the House Committee on Government Operations. She challenged Johnson for the speakership in 2016.
Kimbell, a second-term member from Woodstock, argues that it's time for a change. He has criticized the House leadership for being overly partisan and failing to speak to all of the state. "Some of the legislation that was passed in the past four years didn't go over that well in rural Vermont," he said.
Like McCoy, Benning was heartened by the results of last week's election, particularly given that Republicans typically fare poorly in Vermont when presidential elections drive up turnout. "We were anticipating a blue-wave tsunami," the Senate minority leader said. "At the beginning of the election, we were wondering how many more seats we could lose and still be relevant."
The takeaway, he said, "is that we have seen the pendulum stop swinging to the left."
Most Democrats and Progressives appear to view the results differently, noting that few incumbent legislators lost their races. "I think this was a status quo election, frankly, and Vermonters went with the people that they know and trust and that they've been working through this pandemic with," Krowinski said.
Disclosure: Tim Ashe is the domestic partner of Seven Days publisher and coeditor Paula Routly. Find our conflict-of-interest policy at sevendaysvt.com/disclosure.