Courtesy of John Summa
John Summa
In the politically charged 1980 Clash song "Washington Bullets," Joe Strummer sang, "Please remember Victor Jara, in the Santiago stadium." Burlington's John Summa is doing just that, with a documentary film and several musical performances that celebrate the life and music of the outspoken Chilean folk singer. Jara was murdered in 1973 during the military coup that ushered in the brutal Pinochet regime.
On Thursday, December 8, The Resurrection of Victor Jara will be shown at Main Street Landing Film House as a fundraiser to help cover music licensing costs for the film. The feature-length documentary, written and produced by Summa and directed by the late John Travers, will be followed by a brief performance by the Victor Jara Tribute Band. The ad hoc quartet of local musicians, recently formed by Summa and singer Hugo Martínez Cazón, has just a few gigs to its name — including a well-received show at the Light Club Lamp Shop on November 17.
Summa, a lecturer in economics at the University of Vermont, has been a fan of folk music since he took guitar lessons in the 1960s as a grade schooler in Waterbury, Conn. He first encountered the music of Jara and the Latin American New Song movement in 1981, when he traveled to Nicaragua as a political activist and volunteered on a farm under Sandinista control.
As an iconic folk singer who spoke out against social injustices, Jara has inevitably been compared to Woody Guthrie and Bob Dylan.
"He's kind of a cross between a Woody Guthrie and a Dylan, because they both were voluminous in their output, but Woody stayed more political," Summa observes. "So, he's more politically like Woody ... but he's equally on par with Dylan in terms of songwriting gems."
Martínez Cazón is less accommodating; he thinks facile comparisons cheapen Jara's unique musical contributions.
"There's comparisons to people like Bob Dylan, and what I would say about Victor Jara is that he grew up with rural agricultural-worker parents, and he knew what it was to pull a plow and to work a field and to want, and I think that says a lot about his music," the singer said during his introduction of Jara's song "El Arado" ("The Plow") during the Light Club Lamp Shop concert.
The Resurrection of Victor Jara features interviews with an array of folk luminaries, including Arlo Guthrie, Peter Yarrow and the late Pete Seeger. U2's Bono makes a brief appearance, noting that, unlike the politically active Jara, "Most artists just want to sing the song; they don't want to be involved in the painful change that the song suggests."
The heart of the movie is an extended sequence, filmed in 2009, that documents the reburial of Jara's body. Thousands of Chileans joined a funeral procession through the streets of Santiago, led by the singer's widow, Joan Jara. She had presided over a markedly less celebratory funeral in 1973, when her husband's bullet-riddled body was recovered outside Chile Stadium (today known as Victor Jara Stadium) and hastily buried.
In Chile, the filmmakers also shot a sit-down interview with Joan Jara, and a number of conversations with pioneering members of the New Song movement. "We came back with a pile of interviews, and we knew we had gotten the film," Summa says.
That film has been a 12-year labor of love and a source of frequent frustration for Summa, who served as primary editor between teaching classes at UVM and raising two adopted children. He estimates he spent more than 1,000 hours in the editing room. A slightly different version premiered in 2015 at the Vermont International Film Festival, where it won the Ben & Jerry's Award as part of the Vermont Filmmakers' Showcase.
The International Festival of New Latin American Cinema in Havana recently accepted The Resurrection of Victor Jara for inclusion. Summa will travel to Cuba later this month for the film's Latin American premiere. He calls the honor "more important than Sundance."
But Summa's elation over the Cuban fest has been mixed with sorrow. On November 1, Travers unexpectedly died in his sleep at his Los Angeles home. He was 57.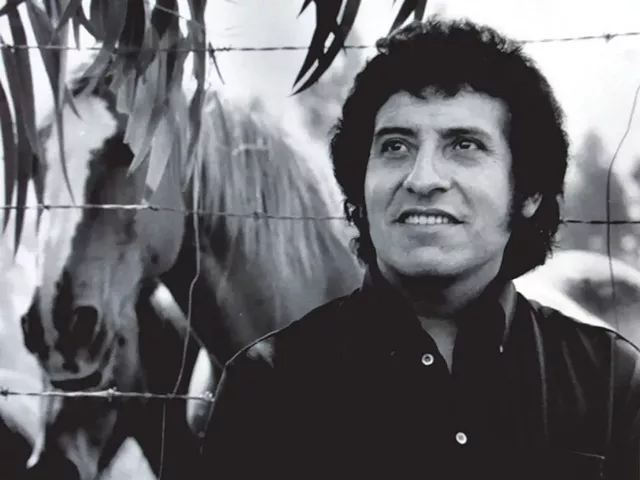 Courtesy of John Summa
Victor Jara
The veteran Hollywood filmmaker — the half brother of Mary Travers of the folk trio Peter, Paul and Mary — made his most significant mark as a writer and editor. At the time of his death, Travers was putting the finishing post-production touches on Never Surrender: The Ed Ramsey Story, a documentary he wrote about the World War II lieutenant colonel who led the last cavalry charge in U.S. Army history.
Summa recalls being speechless when he heard of Travers' passing. The two had recently exchanged emails and were planning to attend the film festival in Cuba together. Summa is thinking of ways to pay tribute to his friend and collaborator, he says, during a series of scheduled appearances on national TV and radio in Cuba.
"He was, like, an unsung hero in Hollywood," Summa says of Travers. "There's a lot of sleaze in Hollywood, a lot of arrogance, a lot of headiness and egos, and John didn't have any of that. ... He was a pure artist trying to break through with a film somehow."
It's only fitting, then, that one of Travers' last filmic acts was creating this portrait of Victor Jara, a man whom interviewee Judy Collins called "a poet, with heart and beauty in his writing."