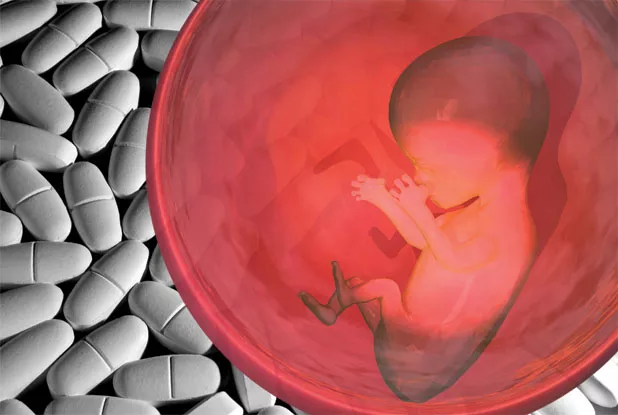 Ask N.B. to recount the lowest point in her life and she doesn't have to stop and ponder. In October 2006, the Jericho native recalls, the father of her child had kicked her out "for the 50th time." An intravenous drug habit had withered her down to 85 pounds, and both her arms were bruised, from wrists to shoulders. Then she discovered she was pregnant again.
"Something had to stop," says N.B., who asked to be identified by her initials only. "I wanted to keep the baby, but I knew my lifestyle wasn't going to allow that... I knew I needed help."
N.B. found that help at Fletcher Allen Health Care in Burlington, where a multidisciplinary team of physicians, social workers, mental health experts and substance-abuse professionals comprise CHARM — short for Children and Recovering Mothers. The goal of the team, which formed nearly 10 years ago, is to help pregnant mothers who are hooked on opiates overcome their dependencies so their babies can avoid the same fate.
In 2000, Fletcher Allen delivered its first baby from a mother on methadone. Since then, as opiate abuse in Vermont has skyrocketed, so, too, has the number of pregnant women seeking help from the CHARM team. Over the last decade, the team has seen more than 800 babies — 127 in the last year alone, according to the nonprofit KidSafe Collaborative of Chittenden County, which coordinates the program.
CHARM is now adding new clients at a rate of about 10 pregnant mothers a month. Similar programs have started up at other hospitals around the state, including at Rutland Regional Medical Center, Central Vermont Medical Center and Brattleboro Memorial Hospital.
The good news: By all medical measures, CHARM assists these moms in getting clean enough to raise normal, healthy babies. Babies of drug-addicted mothers are often born prematurely, with lower birth weights. Even worse, pregnant addicts who try to quit on their own can send the babies into withdrawal and even cause them to be stillborn.
"What we've noticed over time is that women are coming into treatment earlier, having more prenatal visits, and their gestations are actually a week longer, so their babies are just a bit bigger," observes Marjorie Meyer, a maternal fetal medicine physician at Fletcher Allen and a CHARM team member.
Earlier intervention also reduces the likelihood that the babies themselves will be born addicted. In the early days of the program, about 85 percent of the newborns required methadone or buprenorphine treatment, according to Anne Johnston, a neonatologist at Fletcher Allen's Vermont Children's Hospital and a CHARM team member. Currently, it's dropped to less than 30 percent. One year, the rate dropped as low as 14 percent.
Another plus: More babies are going home with their moms instead of into the custody of the state or another family member, and more of those women are breastfeeding.
Why has CHARM succeeded where so many other addiction-treatment programs fail? For one, there's no waiting list, unlike at most opiate-treatment programs in Vermont. Because timing determines whether the newborn comes out drug addicted or clean, the CHARM team does everything it can to help addicted mothers succeed, from treating their withdrawal symptoms to helping them secure reliable transportation, housing and daycare.
"A lot of times, it's the pregnancy that spurs them on to make that change of getting treatment for their opiate dependence," says Sally Borden, director of KidSafe Collaborative. "So, many of them really, really want to be the best mother they can be."
N.B. first got hooked on opiates after the birth of her first child, by Caesarean section, at age 18. Her oxycodone prescription soon turned into a daily habit of six 80-milligram oxys and a half-ounce of cocaine. As she puts it, "It took me out of myself and out of my misery."
At the time, N.B. was also in a violent and abusive relationship. Her partner was a heavy cocaine user and drug dealer, and the couple often disappeared for weeks at a time, leaving N.B.'s young son in her mother's care. One day, N.B. returned to pick up her son and her mother refused to turn him over. She reported N.B. to Vermont's Department for Children and Families, which subsequently removed the boy from his mother's custody.
"I don't think people understand that it's not that you don't love your kids. It's that you're trying to stay well and you're just wanting to function normally," N.B. explains. "But at that point, when you're addicted, you can't."
N.B. insists she never could have gotten clean without CHARM and the wraparound services it provided, such as home visits from the Visiting Nurse Association.
"They were amazing," she says. "They didn't make me feel like a horrible person for being in the situation I was in. Addicts have enough shame on their own that they don't need it from anyone else." Not surprisingly, most of their pregnancies are unplanned.
Overcoming a chemical dependency and the symptoms of opiate withdrawal is a difficult task. Equally challenging, according to Johnston, is convincing these mothers-to-be to engage with people who can help them get some structure and order back in their lives.
Pregnant addicts often have legitimate reasons for being wary of the medical community, says Johnston. Some have tried — and failed — in rehab repeatedly. Most have encountered doctors and nurses who are less than sympathetic to their plight, especially of mothers with a history of drug seeking. As Johnston puts it, "Dishonesty is a big part of this disease."
Meyer admits there's not a lot of other hard data to gauge CHARM's success, for the simple reason that drug-addicted mothers are notorious for avoiding prenatal care. Yet despite the limited data, Meyer says moms and their babies who go through the program compare "quite favorably" to the general population in terms of birth weights and overall health.
The team follows the babies and their moms for 18 months after delivery. Fewer than 10 percent of the newborns go into immediate foster care, and among those who are born addicted, nearly all are weaned off methadone within four months.
Due to staffing and space limitations, however, the mothers cannot receive long-term drug-replacement therapy through CHARM. Like other opiate-addicted Vermonters, they have to line up their own physicians to prescribe them methadone or buprenorphine — which can be very difficult, if not impossible, in many areas of the state.
N.B. has made it work. She walked out of Fletcher Allen on October 23, 2006, and has been clean and sober ever since. She still takes methadone for her addiction and is resigned to do so for the rest of her life. Meanwhile, she now has custody of both her son and daughter and, two months ago, bought her own hair salon in Essex. For the first time, she says, she's excited about her future.
"My life is normal now," she says. "Seeing me walk down the street now, you wouldn't think I was once an IV drug user... I'm a recovering addict and I always will be, but I'm not a user. I'm a business owner, I'm a mom and I'm a girlfriend. That's what I am today."