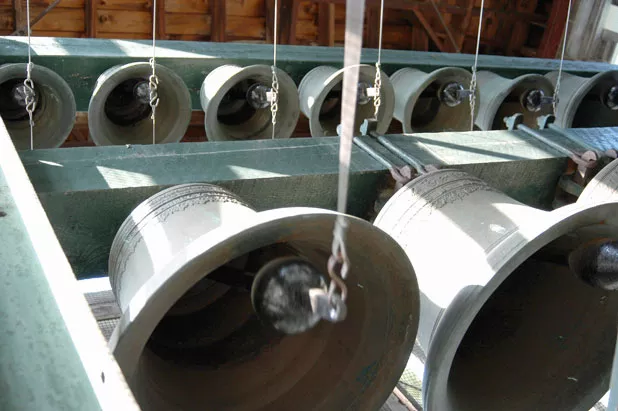 John Cage, who died in 1992, is best known for his composition 4'33", which consists of a musician walking onstage and not playing his or her instrument for four minutes and 33 seconds. Instead of hearing music — at least, as it's traditionally defined — the audience hears all the ambient sounds the mind usually filters out during a performance.
Cage also wrote music to be played on instruments. How conventional of him, one might think. Um, no. The composer's five pieces for the carillon, which will be performed at a concert celebrating the centenary of Cage's birth this Saturday at Norwich University, are a case in point.
Like Cage's other work, the carillon pieces "explore the edge of just what is music and what is sound," says Brandon-based carillonneur George Matthew Jr., who will give Saturday's concert. As written, the pieces are without musical staves, bars or, in some cases, notes; the final piece must be discerned largely by looking at the grain of five double-sided pieces of plywood. In performance, Cage's pieces titled Music for Carillon #1 through #5 are nearly as much creations of the carillonneur as of the composer.
As for the carillon, unless you live in proximity to a bell tower outfitted with one, the world's biggest instrument may be about as familiar as Cage's instrumental music. It consists of between 23 and 77 bronze bells of different sizes — the one that plays middle C weighs 600 pounds — arranged on a rack that's usually housed within a tower.
The bells are stationary, but their clappers are wired to a tiered keyboard of wooden batons that one plays by striking them with fists and feet. Carillonneurs can achieve different dynamics by using various degrees of force, but cannot stop the bells from ringing after they're struck, so compositions tend to be spare in notes. Carillons were invented in 1510 for churches in the European lowlands of Belgium, Holland and northern France to showcase their increasing wealth.
Of North America's 180 carillons, two are in Vermont. Norwich University acquired its carillon in 1956, and Middlebury College has had one since 1915. Matthew, 78, has been the carillonneur at both for the past 27 years. The musician says his inspiration came at age 4 at the 1939 New York World's Fair, when his grandfather held him above his head to watch the legendary Belgian carillonneur Jef Denyn play an open-air instrument.
"For carillonneurs, that's like an organist being able to say, 'I saw Bach play,'" Matthew declares.
Also an organist and pianist, Matthew began playing carillon as an undergrad at Columbia University and eventually studied under renowned Princeton University carillonneur Arthur Bigelow — who played at Norwich's 1957 commencement on the campus' then-brand-new carillon.
In concerts, Matthew plays everything from Bach to ragtime, including his own ragtime compositions. The second half of his Cage program hints at the extent of his repertoire. Subtitled "The Legacy of John Cage: Reconstruction, Assimilation, or Synthesis? The Works of Four Contemporary Women Composers," it explores works for carillon composed between 1986 and 2001 by composers ranging in renown from the acclaimed (Emma Lou Diemer) to the obscure (Sister Joyce Evans of the Music Society of St. Anne).
The first half of the program consists of Cage's Music for Carillon #1, #2, #3 and #5, all composed between 1952 and 1967. Cage "wrote" #2 by pushing pinholes into a piece of cardboard; turn the "page" upside down, and you've got #3.
The fourth piece involved even less agency than the third, according to Matthew: "[Cage] took a star chart and placed a staff over it. Wherever a note landed, that was the piece." Unfortunately, #4 also requires prerecorded percussion sounds made by hitting logs together, which Matthew was unable to arrange, so he'll skip that one. That's OK; as far as he knows, it's only been performed once — in Denmark.
And then there's Music for Carillon #5, with its plywood score marked only by short lines, which stand in for notes. "Only one other person has attacked #5 — no, 'addressed' would be a better word," says Matthew. "It was a German guy, but his version is totally different from what I did."
The German carillonneur, who left behind a recording, apparently agreed with Matthew on what to do with the swirls and knots in the wood. Matthew describes his own approach to these natural markings: "As the grain swirls around, I add a big swirl of music. If there's a solid knot, I use a tone cluster — half a dozen notes crashed together." But, he adds, the German failed to correctly interpret the score's short lines, the distances between which suggest whether there is a "space of silence."
Carillonneurs used to have to fork over $150 for photographs of the plywood blocks, but, because of the centenary, the work has been made available online for free. The move is part of CAGE100, a worldwide series of events organized by the Forum of Contemporary Music Leipzig, in Germany. Matthew's concert is one of 50 Cage carillon tributes, coordinated by CAGE100, happening between May and August in 10 countries.
The carillon may have appealed to Cage's preference for indeterminacy partly because of the unorthodox concert setting it entails. Audiences sit or stand outside the tower in the open air, unconstrained by the concert hall's formalities. At Norwich, people bring lawn chairs and blankets.
Diana Weggler, an editor in the communications office at Norwich University who arranges the summer carillon concert series — now in its 14th season — advises people to sit on the lawn outside the tower "further back than 100 feet. It's more pleasing when you're a little farther," she explains, speaking from experience. (Her old office was 20 feet from the carillon.)
If the sounds of traffic and birds accompany Saturday's concert, so much the better. Cage would be pleased.
George Matthew Jr. will perform "The Carillon Works of John Cage" and other pieces on Saturday, June 22, 1 p.m. on the Upper Parade Ground, Norwich University in Northfield. Free. Matthew will also kick off a series of six carillon concerts this summer at Norwich beginning July 6.
In addition, Matthew and Emory Fanning are co-organizers of Middlebury College's 28th Annual Carillon Series, with weekly concerts July 5 through August 16. All at Mead Chapel, most at 5 p.m. Info, 443-3168. middlebury.edu/arts