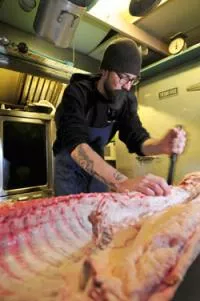 Joey Nagy at Waitsfield's Mad Taco
Taco lovers rejoice: Another outpost of Waitsfield's popular the Mad Taco will open on Montpelier's Main Street at the beginning of December.
The venture — also named Mad Taco — will mimic its Mad River Valley cousin with window seating, a chalkboard of farm-to-tortilla specials centered around fresh ingredients and a kaleidoscope of fresh hot sauces to choose from.
"People can expect all of the great food from Waitsfield, along with some specials," says co-owner Scott Kerner, part of the trio that owns Three Penny Taproom (with Matt McCarthy and Wes Hamilton), and who has again partnered with Waitsfield head chef Joey Nagy on the venture. Together, they leased the former Samosaman quarters and, in the next few weeks, will paint the space and retrofit the kitchen — though that won't include installing beer taps, at least for now.
Helming the kitchen will be Laura Thompson, the former head chef at Glover's Parker Pie Co. and a longtime friend of the partners.
"A lot of people make the pilgrimage down to Waitsfield, but we heard from the community that this is what they really wanted," says Kerner. Initially, Mad Taco will be open from 8 a.m. to 8 p.m., starting the day with Mexican breakfast dishes such as huevos rancheros and chilaquiles.
Once Mad Taco opens, the popular Friday taco nights at Three Penny will cease — but Kerner says that chef Matthew Bilodeau will pull from his bag of culinary tricks. "He does amazing food here [at Three Penny] and has another Friday food plan," says Kerner.
Meanwhile, changes are afoot in the Waitsfield taco joint as well: A long-awaited liquor license should be in place this week, says Kerner, and staff will open the doors to an adjoining space where patrons can linger to imbibe craft beers and wine. "It'll be the perfect après-ski spot," he says.