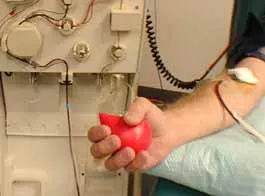 Lots of flags will be waving next week to commemorate the first anniversary of September 11, but some Vermonters will undoubtedly express their patriotism with just one color: red. At least, that's what local blood banks are counting on. Last year after the terrorist attacks in New York City and Washington, D.C., an overwhelming number of donors — in Vermont, half of them were first-timers — stood in long lines in order to literally give to the cause. The nationwide effort led to a surfeit of blood — a situation the Red Cross looks back on wistfully now, and hopes will be repeated to some extent next week.
"People remember where they were last year at this time, and a lot of them were standing in line to give blood," says Susan Parmer, senior director of the American Red Cross Blood Services for the New England Region. "We're hoping they'll do that again."
The blood supply is at a dangerously low level now, Parmer says — about where it was before 9/11 last year, which was "less than normal to begin with." But unfortunately, and ironically, the Red Cross is also being forced to turn away a whole new category of donors: those who have lived in the U.K. more than three months, or continental Europe more than six months, since 1980. The reason? Fear of so-called "mad cow disease."
There is some evidence, however slight, that the fatal neurological syndrome — officially called variant Creutzfeldt Jakob Disease, or vCJD — may be transmissible through the blood of individuals who have consumed meat from cattle infected with bovine spongiform encephalopathy (BSE), or mad cow disease. That condition began to appear in U.K. herds in the early '80s; more than 100 people in Europe ultimately died as a result, and hundreds of thousands of cattle were slaughtered. Nevertheless, officials say hundreds of thousands more may have previously entered the human food chain.
Vegetarians are not immune — at least not those who eat dairy: Any food product that comes from cows can theoretically be infected.
According to the Red Cross, there have been no verifiable cases of either mad cow disease or vCJD in the United States, but the federal Food and Drug Administration, which regulates blood products, isn't taking any chances. The dormancy period of the syndrome can be decades, and, until a test is developed to detect it, blood banks must err on the side of caution.
While the raison d'être of the Red Cross relies on the safety and integrity of its blood, this restriction is still a bitter pill to swallow. As regular donors know, the pre-drawing questionnaire and hematocrit test had already screened for a number of medical conditions and histories, including HIV/AIDS, hepatitis, malaria, sexually transmitted diseases, drug use and more.
Since the new travel deferral criteria were instituted last October 15, they have put a dent in the numbers of donors in Vermont and nationwide — 9.5 percent of the total turned away, according to the Red Cross.
A recent blood drawing at Dartmouth College in Hanover, New Hampshire, illustrated the problem. "We go there two or three times a year, and the students are fantastic," Parmer says. "We haven't done anything differently, but there have been more deferrals because of the travel restriction." She speculates that the typically affluent Dartmouth student has spent enough time abroad to make the difference.
"We've tried to focus on freshmen," adds Carol Dembeck, the corporate communications specialist at the Red Cross in Burlington, "before they've had their year abroad or have traveled a lot."
Some changes in eligibility over the past few years — uncapping the upper age limit, for instance — have helped to expand the pool of potential donors. Parmer notes that a lot of senior citizens lined up for the blood drive in Barre after 9/11, including an 80-year-old woman giving for the first time.
Roughly 60 percent of the national population is eligible to give blood, but on average only 5 percent does. Even accounting for all the restrictions, that leaves a wide margin of potential donors. "In Vermont, we have a higher penetration — about 9 percent in Vermont, 14 percent in Chittenden County — thanks to a loyal donor base and fantastic business support," Parmer says. But "in the past two years, system-wide, the theme is the same: We cannot keep up with the demand."
Where is all that blood going? For one thing, people are living longer, so there are more of us, period. Also, explains Parmer, chemotherapy treatments and surgeries are becoming more sophisticated — for example, organ transplants — resulting in a greater need for blood. The Vermont Red Cross' collection goal for 2002/2003 is 47,958 units (pints). The center reached only 93 percent of its monthly goal in August — though Parmer notes vacation times are difficult.
The organization's primary mission is to provide Vermont's 14 hospitals with its blood needs — about 21,000 pints per year — and secondarily the New England region. In addition, units may be sent anywhere in the country to meet emergency need, such as that on 9/11.
For the first time in its 50-year history in Vermont, the nonprofit Red Cross has a new, for-profit competitor. The Vermont Blood Center opened in Williston last month, invited by Fletcher Allen Health Care as a cost-saving measure. While the Red Cross charges hospitals $180 per pint of blood, the California-based company charges $115 to $145.
"We were perplexed when it happened," confesses Parmer. "It's a small state to have two… It's confusing to people."
"If this group succeeds, they'll provide the easy products," suggests Dembeck. "They don't have the special cases, specialty testing… leuko-reduced blood — that's with the white blood cells taken out." One of the most common adverse reactions to a blood transfusion is to white cells.
The cost of filtering out white cells does make the Red Cross product higher; however, the new blood center will sell "customized" blood products, including leuko-reduced, according to clinical supervisor Guy Smith, who notes that an outside company does its testing. The rules for donors, mandated by the FDA, are the same at both places. "I'm hoping the travel restriction will be temporary," Smith says.
Concern, and even a little defensiveness, about competition is understandable; Red Cross officials worry whether there will be enough donors to go around. The new deferrals will keep a lot of Vermonters from going with the blood flow at either location. "We have to recover those donors," Parmer stresses. "We need 7000 additional units per year to compensate for the loss. That's a recruiting story for us."
Burlington's Red Cross chapter is nothing if not creative in its myriad attempts to attract donors. A current advertising campaign, dubbed "Movers and Shakers," is counting on a follow-the-leader appeal. There are special promotions every month, such as August's "Dog and Cat Days of Summer," which included a pet photo contest and pet-related movies for donors. Dembeck's favorite holiday is Halloween, during which staffers are encouraged to wear costumes — and she's not above a little vampire humor.
"We do have our gimmicks and enticements," agrees Parmer. "We try to make it fun. We will stop at almost nothing to bring in donors."
While the Red Cross has long held blood drives at locations throughout the community, a new Blood Donor Coach has upped the ante on its "have needle, will travel" approach. Purchased secondhand from a chapter in Pennsylvania, the RV-sized coach made its debut at the Shelburne Museum's "American Wanderlust" exhibit on July 29. In a couple of visits to the Church Street Marketplace since then, the self-contained bloodmobile was a big hit. "We were even getting tourists!" exclaims Parmer. "It's one more way to entice a new donor base."
No matter what the facility, the biggest challenge is simply to get people in the door. What stops them? You might assume fear of the needle is number one. But that's only part of it, according to Gayle Ryan, a Red Cross training specialist. Mostly, "people just don't think about it," she says. "You talk to recipients, and they have a whole new view…"