Courtesy Of Cynthia Knauf
Landscape architect Cynthia Knauf in her office
Cynthia Knauf wants to help her clients live outdoors. No, not in tents or teepees. Rather, as the sketches in her office illustrate, the Burlington-based landscape architect designs extensions of their homes — in front yards, driveway perimeters, back patios, and often-overlooked nooks and crannies.
"You have to be creative and see the potential in any given space," she says.
Knauf's clients typically are looking for privacy, places to unwind and entertain, or room for kids to play. Others want to create backyard habitats or grow vegetables organically. Depending on their budget, wish lists can be simple or complex; desired features might include fireplaces or grills, stone patios, pathways, or water features.
In any functional outdoor space, it's the details that count. This is especially true for city lots of limited size, according to Knauf. One case in point: her landscape design for a traditional urban home in Burlington that was part of last summer's Flynn Garden Tour.
That project — a complete redesign of outdoor areas on a lot that measures less than a quarter acre — followed an extensive renovation of an 1894 home by Maclay Architects of Waitsfield and Burlington-based Redmond Interior Design. Knauf's goal was to create a private and peaceful sanctuary out of the steep, overgrown property in a densely developed neighborhood.
"How much can you make of an urban lot?" Knauf asks rhetorically, looking over the master plan. Quite a bit, apparently; her design won a 2016 industry award from Green Works, the Vermont Nursery & Landscape Association.
"It's rewarding when a small backyard design transforms an unusable and/or unsightly place into a sanctuary that ignites all of the senses," she says. "I think that the change can be more dramatic with a small space versus a large one, because the scale of a small backyard is more similar to a room inside — so the yard truly feels like an extension of the indoors."
Typical of hilly Burlington, slope issues and drainage were significant factors in the overall design. A two-track brick driveway, pervious joints in the stone floors and paths, and substantial drainage behind stone walls help mitigate stormwater runoff.
"The key to making this usable was to terrace on two levels," Knauf explains. "Each of these is broken into different areas of unique character."
Retaining walls and stairs built with Champlain fieldstone create a series of outdoor rooms. Stones from the home's original foundation — excavated during the renovation and likely quarried less than a mile away — were incorporated into the hardscape by Church Hill Landscapes.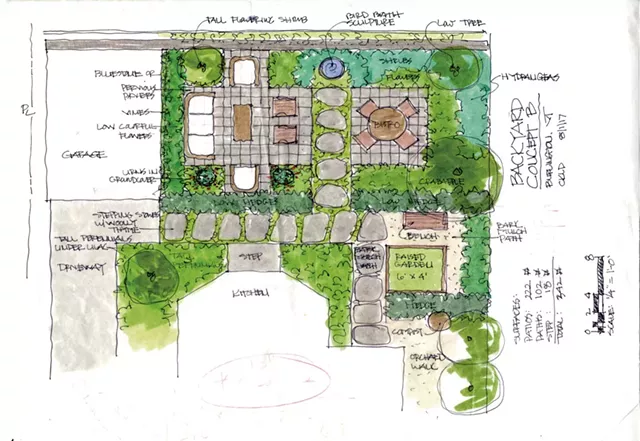 Courtesy Of Cynthia Knauf
Sketch for Hill Section landscaping
"The challenge of small spaces is that everything has to integrate well," says Nate Carr, owner of the Charlotte-based company. "We worked around a large black-walnut tree when building the fence and elevated the foundation of the shed to protect the tree roots."
Other mature trees — red cedar, pear and magnolia — were identified and protected throughout the construction process. Yews and boxwood were planted to help define spaces. Hydrangeas give the front-porch entry an old-fashioned look.
Carr also likes the sculptural stone that was added to a circular garden. That detail came about when his masons found a boulder with unique character during the construction process. Church Hill installed it as a stand-alone vertical accent.
Those who took the Flynn Garden Tour last July were likely impressed by the vegetable garden that runs along the west side of the property, as well as its lovely white-painted gate. With a stepping-stone path set in gravel and raised beds for good drainage, this area supports homegrown edibles such as salad greens and cherry tomatoes. Blueberry shrubs were planted nearby, and grapes now grow on the perimeter fence.
An outdoor breakfast nook near the rear of the lot offers early-morning shade and just enough room for a table and four chairs. Surrounded by drifts of feathery astilbe, ferns, bugbane and Japanese forest grass, the area is cool and calming. Soft Irish moss grows in between the fieldstone pavers.
Other notable details in this landscape include a garden shed with a pink door; Adirondack chairs in a back corner of the lawn; and drifts of flowers, such as white daisy, blue agastache, heliopsis, delphinium, purple monkshood, persicaria and shrub roses. Katherine Lee of Waterville-based Sisters of Nature designed the flower beds.
"Flow is important," Knauf observes. "One of the big goals during the design process is to create good circulation and gentle transitions."
She notes that Japanese landscape design principles can be employed on just about any property. "The composition of balance, contrast, scale, pattern, texture and perspective, which overlap and intertwine, is key to creating movement and sense of enticement through the landscape," Knauf says. "Also, it's important to keep the palette simple and subtle so that flow is almost Zen-like, gentle and unimpeded, as in nature."
These days, residential landscaping is as concerned with sustainability as aesthetics and functionality. On a sketch she's made for a proposed backyard project, Knauf points out the raised garden bed near the kitchen, a bistro seating space and a lounge area surrounded by fragrant greenery. The design allows for al fresco dining — with freshly picked veggies — in the middle of the city.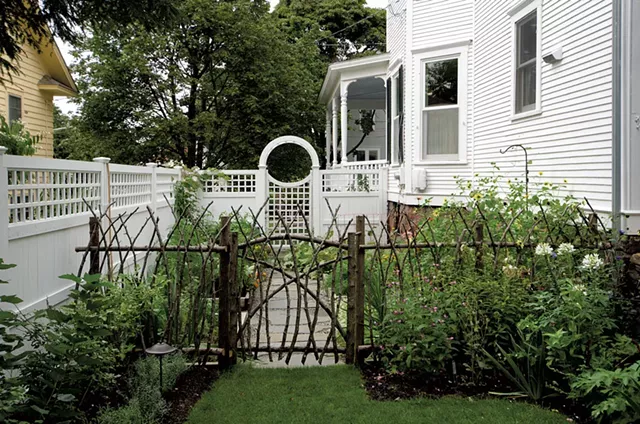 Courtesy Of Carolyn Bates Photography
The completed Burlington Hill Section project
"For me, a sustainable landscape is a gentle and comfortable coexistence of humans and nature," says Knauf. "However, the American Society of Landscape Architects has a clear and comprehensive description for it: 'Sustainable landscapes are responsive to the environment, regenerative and can actively contribute to the development of healthy communities. Sustainable landscapes sequester carbon, clean the air and water, increase energy efficiency, restore habitats, and create value through significant economic, social and environmental benefits.'"
That may seem like a tall order in a single residential backyard. But in cities, those lots are part of a larger ecosystem, and it's critical to follow sustainable practices that help protect the surrounding environment.
Knauf recommends that homeowners make space for a compost pile, so that soil can be renewed and enriched every year from garden cuttings and biodegradable kitchen scraps. (Besides, Vermont's Act 148 requires recycling or composting food scraps and lawn or garden debris to be phased in through the year 2020.) For clients who maintain gardens, she advises going organic, with zero pesticides.
To Knauf, creating sustainable landscapes also means supporting biodiversity. Those blueberry shrubs or tomato plants her clients want to grow need pollinators; using plants that support bees is increasingly important. Bee-friendly favorites that work for sunny, small-scale lots include native false sunflower, gayfeather, purple coneflower and late-blooming dwarf aster.
Some landscaping tactics are as easy as they are rewarding. On her latest sketch, Knauf recommends planting a diversity of thyme around the pavers on a pathway. "Thyme is a wonderful low ground cover that tolerates foot traffic, so it can be easily integrated into your patio, terrace or walkway paver system for added texture, color and even fragrance," she says.
Bonus: Thyme is a pollinator, entices butterflies and is an edible, healthful herb. Multipurpose and multisensory, the plant is but one of Knauf's sustainable solutions for the city she calls home.