Glenn Russell
Some of the ingredients "Bobby" uses to make cannabis-infused sausage and gravy
Chef Bobby
Position: Freelance cannabis chef who also has standard catering gigs this summer
Location: Burlington
Age: 30
Instagram: @hauteandheady
Cuisine type: Varied, including themed dinners of Italian, French Canadian and new American cuisine
Culinary training: Ran the snack bar at his boarding school; worked for a local caterer and a food truck. Also a lifelong home cook: "You can't go through 30 years of gluttony without learning how to cook a thing or two."
Bobby, a cannabis cook in Burlington, turned 30 last month and called it "terrifying." The career he envisioned has stalled. A decade ago, in a college course, Bobby wrote a business plan for a restaurant that would specialize in cannabis-infused food. Then as now, however, state and federal law would make such an enterprise illegal. (Bobby spoke to
Seven Days
on the condition that his last name not be published because his cannabis catering is prohibited under Vermont law.)
"I thought it would've been legalized by the time I graduated college," Bobby said. "And when I graduated from college, I thought within the next two years. State government has ruined and sunk bill after bill."
With a full-fledged career in his preferred field on hold, Bobby does a little down-low catering. He also makes prepared foods such as "Bobby's blackout barbecue sauce," whose ingredients includes cannabis, and sells them by word of mouth. A few times a year, Bobby holds multicourse catered meals, sometimes in his own backyard, other times at Airbnb rentals. He'd like to do that more often, but there are logistical challenges.
The meals cost $75 to $250 per person, depending on the number of courses, the type of food, the beer or wine pairings, if any, and the potency of the infusions. The price covers the food and the experience, Bobby said, with the cannabis infusion a gift from the cook.
"Generally, the [diners] are cannabis enthusiasts between 20 and 45, but I'd very much like to get into the boomer realm," Bobby said. "I know people like my parents would love events like this, but it's hard to network in the gray market."
Bobby grew up in suburban Washington, D.C., with a fondness for the traditional Jewish food — brisket, matzo ball soup, kosher chicken — that his artist mother cooked for holidays.
He also loved the everyday cooking of his Peruvian housekeeper. "I'd be off doing homework or playing video games, and the smell of garlic would lift me like a cartoon," Bobby said. "And suddenly I'd be standing next to her."
At his catered bar mitzvah, Bobby insisted on one menu item: a mashed potato bar. Guests could load up their potatoes with sides of butter, bacon, cheese, chives and sour cream. Bobby said he's pretty sure he was the only kid who "utilized" this food option.
"I walked around with a martini glass filled with mashed potatoes," he said. "It was great."
When Bobby was 19, he ate an ounce of weed in a fit of fear that he'd be caught by authorities. Chewing and swallowing the plant material took roughly — and it was rough — 15 minutes, but Bobby did it. "Prohibition will force you to do some crazy things if you think you're going to get in trouble," he said.
In Vermont, where he moved for college, Bobby developed a passion for beer; he didn't miss a release from Hill Farmstead Brewery for five years, he said. He has scores of beer bottles at his home, a "solid 80 percent" made in Vermont.
"I'm too big of a beer snob for my own good," said Bobby, letting out a big, booming laugh — an audible trademark.
Cannabis products could contribute to Vermont in the way craft beer has, Bobby believes. "Even as late as we are to the party, the quality of our goods [and] artisanal production is a very Vermonty mind-set," he said.
Over pizza and beer, Bobby talked with Seven Days about cooking with cannabis, the munchies and his family, including being the grandson of Holocaust survivors. "I'm very proud of that fact, especially in this day and age," he said. "There's a lot of hatred fomented toward minority groups, especially immigrants. And my grandfather did the American dream as an illegal immigrant. He came over here under someone else's name and was able to provide a living and an education for his kids and grandkids."
Glenn Russell
"Bobby" pouring marijuana flower-laced milk as he makes cannabis-infused sausage and gravy
SEVEN DAYS: How'd you get into cooking with cannabis?
BOBBY: It actually fascinated me well before I ever imbibed myself. My family's always been pretty big into weed. Both my parents imbibe. My sisters imbibe. It wasn't open knowledge as a child, but by the time I was in my late teens, it was all pretty obvious.
I went to a summer camp in Maine. There were a few things the counselors would always do on their days off, and one was go to a head shop called the Wake and Bakery. I was a fan of wordplay, despite the fact that I wouldn't imbibe for a number of years. But I thought that was the greatest thing on the planet.
Also, I have a cousin who's a well-known breeder and cultivator on the West Coast. Having never met him, just seeing the reverence in my parents' eyes whenever he was brought up in conversation made me realize that I could be accepted by my family should I decide to go in that route.
And cooking with weed was my two biggest passions meeting.
SD: How particular are you when it comes to pairing strains with certain dishes?
B: Not as particular as I'd like to be, simply because Vermont doesn't have that much that I can draw from. I'm very picky with the quality of flower and concentrate that I'm willing to use, so that really just limits me even further.
SD: What's the first thing you made with pot?
B: Oatmeal butterscotch cookies, and then mac and cheese.
SD: When you're cooking with cannabis, how do you balance its flavor profile with its potency?
B: Concentrates make it really easy to do that — using hash oil or distillate, various forms of concentrated cannabinoids. Most food-grade extracts are relatively flavorless, especially distillate, which is distilled THC. It doesn't taste like plant material at all; it has a little bit of an off flavor, but not much of one. It also makes it easy to dose.
SD: If you cook with the flower, how do you decarb it? [The process formally called decarboxylation activates the THC.]
B: I just simmer it in olive oil or butter for an extended time — at least an hour. It's been a long time since I made standard weed butter. I let my nose guide me.
SD: Not many ingredients have a million names — weed, ganja, spliff, dope, herb, grass, nug, cannabis, pot, flower, reefer. What word do you use?
B: I'm a stickler for "cannabis." I'll use slang terms every once in a while. I prefer not to call it marijuana, because the term is steeped in racist history. And I think referring to it by its scientific name is a big step in destigmatization.
SD: What do you make for the munchies that can top Cheetos, which have it all: salt, color, crunch, value and a big bag for grabbing?
B: That's a hard question. When you get stoned enough, you can put Ploughgate [Creamery] butter on anything.
SD: If you get paranoid smoking pot, can eating it instead help?
B: Honestly, it's probably gonna be worse. I know people that smoke like chimneys, and they'll eat a couple hundred milligrams of THC and suddenly they're in a cold shower trying to calm themselves down.
SD: Why not just smoke a bowl and call Leonardo's [Pizza]?
B: It's a valid point, [but] there's a time and place for everything.
Sample of Cannabis-Infused Feast
Fresh Ricotta: Cannabis-infused ricotta with crackers, honey and fresh fruit (~100mg)
Meatballs: Beef/pork-blended meatball on house foccacia with romesco sauce (~150mg)
Anglotti del Plin: Cheese-stuffed pasta with corn and bacon in a whey butter sauce (~150mg)
Porchetta: Roasted pork roulade with creamy polenta, broccoli rabe and mixed-apple mostarda (~150mg)
Olive Oil Cake: Olive oil cake with creamy lemon and pistachio gelatos (~150mg)
Sausage and Gravy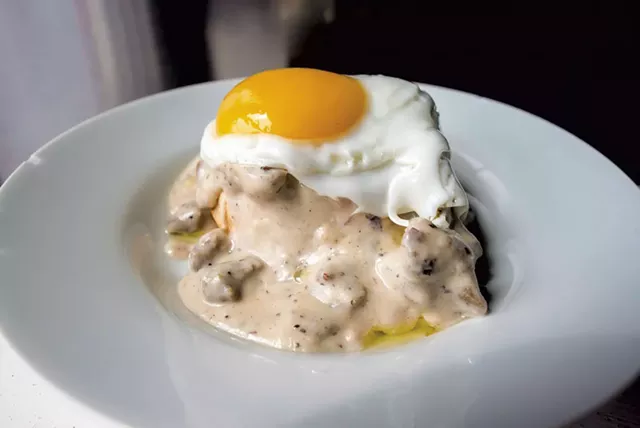 Glenn Russell
Cannabis-infused sausage and gravy
Bobby recommends this recipe for cannabis-infused gravy. It makes five to six servings.
Ingredients
4 to 5 cups whole milk
7 grams to 1 ounce ground cannabis, according to personal preference
1 pound breakfast sausage
3 to 5 tablespoons flour
Black pepper, cayenne pepper, salt and/or garlic powder to taste
Directions
Heat milk in pot on stove.
Add cannabis to heated milk. Simmer and let steep for at least 25-45 minutes, stirring regularly and ensuring that it does not boil.
Bring a large pan to medium to medium-high heat and add breakfast sausage.
Cook sausage until it begins to brown and render fat.
Slowly add flour until it begins to bind to sausage and sops up all rendered fat. Mix and continue to cook for another minute or two.
Strain cannabis from heated milk. Add heated milk to pan of sausage.
Add black pepper, cayenne, salt and/or garlic powder to taste.
Stir regularly as mixture reduces on low to medium heat.
Serve with biscuits.
Enjoy!