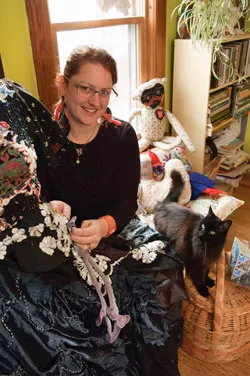 Matthew Thorsen
Wylie Garcia
Like every married woman who has "kept her name," Wylie Garcia has experienced the chagrin of receiving letters addressed to Mrs. [name of husband here]. And her reaction echoes the usual lament: "Mrs. Derbes is my mother-in-law!"
But Garcia, a Burlington artist and spouse of fellow artist Clark Derbes, has decided to embrace the married moniker for an upcoming performance-art project she's calling "Mrs. Derbes Is Home." Every Sunday from April 7 through June 16, she will hold "old-school visiting hours in a modern way." That is, Garcia will hand out calling cards — which she'll make by hand — to individuals she may encounter during the week, inviting them to stop in to her "living room/parlor" between two and four o'clock on Sunday.
An artist who works primarily with fabric, she says she'll probably embroider or sew while chatting with guests, and will offer tea and cookies.
"I've also made one dress that I'll wear on Sundays," Garcia notes. "It feels like a Victorian parlor dress, but I made it." And is there a dress code for guests? "I'm not requiring that people dress up, but it's welcome if anyone chooses to do that."
Known for her fabulous dresses, the artist last year completed a project called "The Dress That Makes the Woman." She wore a single frock each month for a year, constantly altering and adding to each one. Garcia kept a blog, with photos, about the process and noted how, as she changed the costume, it also changed her.
For "Mrs. Derbes Is Home," she says, "I'll also do some writing — about who I met, what we discussed." She won't set parameters for the chats, though. "I'm just going to see where it goes," Garcia says. "We'll have an intimate conversation."
The idea for this ladylike, domestic project came from watching period pieces such as "Downton Abbey," the artist says. "I've been thinking about how these shows have us enraptured with the upstairs/downstairs dramas, the expectations of a hostess, the polite conversation."
But in addition, Garcia notes, Derbes has been busy setting up a pair of exhibitions elsewhere in the state and "I've been staying at home a lot, being a full-time mom and keeping the home fires burning … I thought, since I'm home, I might as well have people over." (Her husband and young son will not be present, she says.)
"I like the nuances of connecting with people, being the catalyst for bringing other people together," Garcia adds about her prospective calling hours. "It's like Facebook, but it's face-to-face."