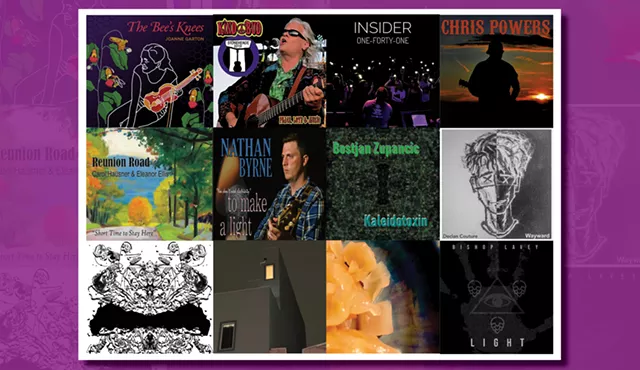 Those of us in print media have a tricky little problem to deal with on a regular basis: cramming all of our thoughts, observations and feelings into the limited space on the page. It's often the bane of our existence. We have so much to say and sometimes too little space in which to say it. It's one of the reasons so many local albums go unreviewed in the Seven Days music section. As much as we'd love to shine a light on each and every one of the eclectic works submitted to us, there are only so many slots.
With that in mind, let's take a quick look at some albums from 2019 that we didn't have space to properly review.
Joanne Garton, The Bee's Knees
Central Vermont fiddler Joanne Garton presents a fine assemblage of music primarily in the Scottish tradition on The Bee's Knees. Garton tapped a number of musicians associated with the Montpelier scene for instrumental assistance, such as Colin McCaffrey, Katie Trautz and Aaron Marcus. Garton and co. string together dozens of largely old-world pieces, collecting them in festive medleys.
Kind Bud, Peace, Love & Music (Live)
Live-looping local crooner Kind Bud is sometimes referred to as a two-man band. After creating the base rhythm loop, he overdubs lead guitar. He showcases his live act in selections recorded at Pennsylvania's Stonehenge Music Festival on Peace, Love & Music (Live). Stacked with covers, Kind Bud puts a casually cool spin on Talking Heads' "Psycho Killer" and the Grateful Dead's "Althea," "Beat It on Down the Line" and "Wharf Rat," among others.
Insider, One-Forty-One
Milton rockers Insider pack a mean wallop on their debut EP, One-Forty-One. Calling on '90s rock excesses, the group hacks and slashes through power chords and effusive hooks, such as rambunctious opener "Over It." The band quickly followed up the five-track suite with 2020's full-length LP, Thousand Mile Drive. The EP acts as a scrappier introduction to the expanded sound put forth this year.
Chris Powers, Chris Powers
Upper Valley rock singer-songwriter Chris Powers shows no mercy on his self-titled debut. Another yowling '90s die-hard, Powers summons the grungiest chords and sings with a most guttural drawl. Local folk-rock legend Bow Thayer makes a special appearance on "Ends Meet," a Southern blues-inflected stinger.
Reunion Road: Carol Hausner & Eleanor Ellis, Short Time to Stay Here
Folk-roots singer-songwriters Carol Hausner and Eleanor Ellis have been friends for more than three decades. Here, they team up as Reunion Road for a hefty and heartfelt collection of twangy tunes called Short Time to Stay Here. The two women's voices blend in blissful harmonies over heartily plucked banjo and saucy streaks of fiddle. Their take on the traditional bluegrass song "You've Been a Friend to Me" sums up the album, both musically and conceptually.
Nathan Byrne, To Make a Light
Waterbury's Nathan Byrne displays pleasant acoustic guitar chops on his debut album, To Make a Light. Crisp and clean, Byrne's contemplative lyrics sit prominently atop his sure-fingered strumming. He occasionally brings in some additional instruments courtesy of a few guests, such as a couple of evocative appearances from Rick Redington (Rick Redington & the Luv) on mandolin.
Bostjan Zupancic, Kaleidotoxin
A chameleonic figure in local music, Bostjan Zupancic is always unpredictable. Russ Hayes seems to slap the moniker on whatever wild music he's currently making — except for Prognosis Dire, an album he released earlier this year under the name Naegleria Fowleri. Kaleidotoxin is aptly named. At exactly two minutes each (except for the final track, which is just shy of the two-minute mark), its tessellated tracks diverge into rapturous metal and video game electronica, creating a dizzying, slightly unpleasant yet overall intriguing dichotomy.
Declan Couture, Wayward
Vermont's young singer-songwriters sure do have a thing for '90s rock. St. Albans native Declan Couture sends out serious Goo Goo Dolls vibes on Wayward, particularly on the opening title track. The six-song EP is a fairly measured affair. Couture is cool and collected, with sudden bursts of emotion, such as the intense peaks of closer "Fire."
Sam Egan and the Perineal Excoriations, Junior Police Academy Fundraiser
Perhaps one of the strangest and most idiosyncratic submissions of 2019 (from a band with the year's most thoroughly stomach-turning name), Sam Egan and the Perineal Excoriations' Junior Police Academy Fundraiser is a mind-fuck of clashing elements. Egan, a formerly Plattsburgh, N.Y.-based musician, assembles an experimental hodgepodge of lo-fi, punk-centric songs. Brash and screwy, the album is unique in its bizarre architecture and a satisfying, if puzzling, listen.
Expected Guest, Upon Arrival
Ambient composer Logan Patnaude has dropped a series of releases over the past couple of years, including 2020's Hold & Forfeit, an eight-track album that originated as part of the annual RPM Challenge. Upon Arrival, a six-song EP, is pure mood. Reverb-soaked guitars mingle with field recordings, resulting in an interpretive sound brimming with meditative qualities.
Thai BlueJeans Salesman, To Be Just So
Thai BlueJeans Salesman is the moniker of Windsor-based folk-rocker Tim Halteman. He dropped two records in 2019, One Thousand Miles of Mud and the quickly released follow-up To Be Just So. Halteman is one of the more unclassifiable local recording artists. He cherry-picks influences from psychedelic rock, world music, new-age electronica, folk and alternative and smashes them together in beautifully strange concoctions.
Bishop LaVey, Light
Recently, Bishop LaVey (real name Kane Sweeney) introduced the world to Knife to a Skin Fight, the debut of his death-metal side project, OrphanWar. Aside from a proclivity for capital letters that appear mid-word, the new release bears little resemblance to Sweeney's solo work, which he calls "doom-folk." Light, a somber, seven-song rock album, surges with passion in string-assisted anthems that recall the glory of the mid- to late '90s.